Samantha Power Bashes Isolationism in NYC School Visits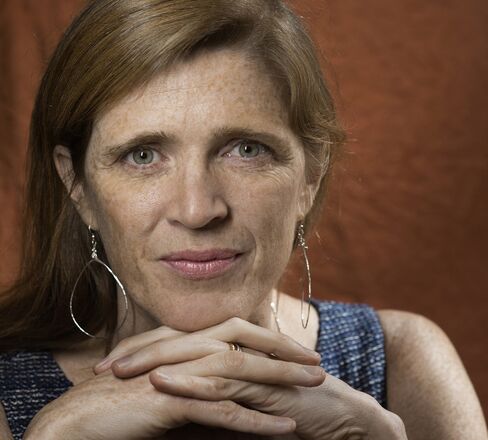 Samantha Power is taking a 40-minute break. Her legs are outstretched, and her shoulders are relaxed. She smiles and doesn't parse her words for political correctness. She is recharging.
The U.S. ambassador to the United Nations, who has called herself a "humanitarian hawk" and "the genocide chick," is not at a spa. She's at a high school auditorium in Brooklyn.
"I don't get out much," Power told students at the High School for Global Citizenship last month. "I spend most of my days at the Security Council negotiating with the Russians, or trying to bring peacekeepers to different parts of Africa and so forth."
"I'm really excited to be here," she said.
Earnest as always, she meant what she said. At a time when fewer and fewer Americans support U.S. engagement in overseas conflicts, it's a treat for the former war correspondent and Harvard University human-rights professor to promote her enthusiasm for a larger world view to young New Yorkers whose horizons may not lie far beyond their own boroughs.
"There is an isolationist current in this country that has existed forever, but that has particular traction now in some circles, by virtue of the resources expended over the last year, and of course the length of the wars and the men and women who didn't come home from the wars," Power said afterward. "But we need to make the case for internationalism."
"Having an informed citizenry and getting out there to make the case that America can make a difference and that citizens can be part of that difference -- it seems this is a good moment to be doing more of that," she said.
Five Boroughs
So Power has set a goal for herself: try to visit as many middle schools and high schools as she can in all five boroughs of New York City and talk to students about the importance of thinking beyond borders and being curious about the world.
She previously spoke at Hunter College High School and the International Rescue Committee's Refugee Youth Summer Academy in Manhattan. So after last month's Brooklyn jaunt, Queens, the Bronx and Staten Island remain on her list.
Power isn't doing this because she has time on her hands. At 43, she's a mother of two young children who holds a cabinet post. She's making the time to give back to youth of the city that hosts the UN headquarters, to explain that the world body for "all of its flaws, is dedicated to the right things: peace and security, human rights and basic dignity."
Power said it's also a good use of her time to make the case for internationalism to students at a formative age, in the hope that as adults they'll help reverse the isolationist trend.
Best Investment
"Most people my age, they are already on their course," Power said. "When you think about the kind of investment you make of your time and where you're most likely to have more impact, it's people who are still figuring themselves out and, you know, still capable of potentially being inspired and taking up the mantle."
Power, whose family immigrated from Ireland when she was a child and doesn't speak any foreign language, originally aspired to become an expert on baseball, America's pastime. Only by chance in 1989 did she discover her passion for foreign affairs and human rights.
Video of the Tiananmen Square protests in China broadcast next to an Atlanta Braves-San Diego Padres game she was watching as a sports intern at a television station in Atlanta shifted her focus for life.
'Ignite Something'
While Power concedes that her "little visits are only a drop in the bucket," she hopes her meetings with students may unexpectedly "ignite something in them that was latent all along but can actually change course."
She faces a tough battle. For the first time in almost four decades, more than half of Americans say the U.S. "should mind its own business internationally and let other countries get along the best they can on their own," according to a Pew Research Center poll released in December.
President Barack Obama's decision to heed such domestic demands and avoid military options -- while Russia wages a covert battle in parts of Ukraine, Syria seethes with violence and China flexes its growing might in Asia -- has cost the U.S. some credibility. Obama has struggled to rally international coalitions and reassure allies that the U.S. will be there for them as it has been in the past.
While Obama sought to dispel criticism of his less-is-more foreign policy in his May 28 commencement address at the U.S. Military Academy at West Point, New York, multiple UN diplomats say no explanation can undo the damage that was caused in September when Obama balked at attacking Syria after President Bashar al-Assad's regime used chemical weapons on rebel fighters and civilians.
Poor Job
The U.S. and its European allies haven't been able to find a diplomatic solution to the Syrian conflict, as the Security Council remains deadlocked due to Russia's use of its veto power to protect its main Mideast ally and weapons buyer. While more than 160,000 Syrians have died and more than 9.5 million have been forced to flee their homes, attempts at peace talks have failed, with no sign of a resumption.
In the wake of failures in Syria, almost six in ten Americans say the UN is doing a poor job, according to a Gallup poll in February. The same poll shows that 61 percent of Americans say they're dissatisfied with the U.S. standing in the world.
UN Spotlight
Nobody perhaps better understands the shortcomings of diplomacy than Power, who rose to fame in 2002 for her Pulitzer Prize-winning book, "A Problem From Hell: America and the Age of Genocide," which argued that the U.S. has a moral obligation to lead the world to prevent, stop and intervene in mass atrocities.
Now that she's in a position to promote the policies she's preached, the expectations, attention and pressure on her are greater than ever, given the gap between her approach and Obama's reticence.
While it's been 10 months since Power arrived in midtown Manhattan as the U.S. envoy, UN ambassadors still stop to snap photos of her when they spot her in the hallways. Diplomats and journalists dissect her every word and analyze her whereabouts: Who did she have lunch with in the delegates' dining room? Does her absence mean she doesn't care?
The three words Security Council diplomats use most to describe Power are "real," "relentless" and "passionate."
Some career officials find her less formal, unorthodox approach to negotiations refreshing. Some older envoys trained in more traditional methods of diplomacy say that at times she's too emotional. One European diplomat was exasperated by her use of too many exclamation marks in an e-mail thread.
'Shot of Energy'
With so much light on her, it's not a surprise that Power craves at least momentary refuge from the whirl of activity in and around the 38-floor UN headquarters building -- especially when all it takes is an eight-mile (13-kilometer) drive across the Brooklyn Bridge to a different world.
"Frankly, I'd do something like that every week," Power said backstage at Global Citizenship High's auditorium. "Also it helps me because it's sort of a shot of energy to bring back to whatever awaits me at the office."
The only public record that remains of her Brooklyn trip is her tweet: "Nice break from tough UN negotiations to visit @GlobalKids School for Global Citizenship -- but got grilled by students!" It was posted two hours after her return to Manhattan -- in between afternoon negotiations.
Before it's here, it's on the Bloomberg Terminal.
LEARN MORE