Puma's World Cup Strategy: The Flashy Counterattack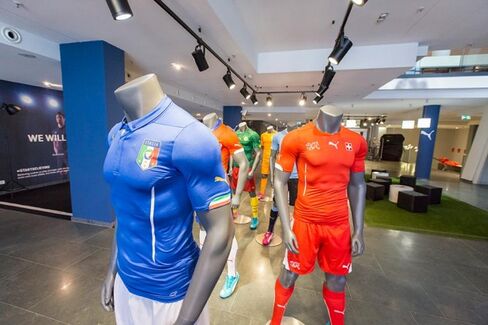 It is highly unlikely that the riotous gang hoisting the World Cup trophy next month will be wearing jerseys made by Puma.
The German sportswear company has been struggling and knows it can't compete with Adidas and Nike in the tournament's sponsorship arms race. In soccer terms, Puma is Australia in a match against Argentina.
Here are the countries Puma will outfit for the big tournament: Italy, Switzerland, Algeria, Cameroon, Ghana, Ivory Coast, Chile, and Uruguay. The heavy favorites went to, well, the heavies. Nike is dressing Brazil, Portugal, and the Netherlands, to name a few, while team Adidas includes Germany, Argentina, and Spain.
There are some upsides to Puma's bargain-basement team. Switzerland, for example, is in a relatively weak group and has decent odds of advancing. And in terms of population per country, Puma is covering more than 10 percent of the market. Still, the late rounds don't look likely—at least when uniforms are concerned.
The cleats are a different story, and constitute somewhat sacred ground in the sponsorship game. FIFA, the sport's governing body, says footwear is one of the only pieces of "equipment" that doesn't have to be "produced consistently by the same manufacturer" (PDF). In other words, individual players are free to wear the cleats they want. (Read: the cleats they are paid massive sums to wear.)
This is where Puma steps up its game. It might only get to show off its Algeria jerseys three times in the Wold Cup, but it struck deals to make sure its new boots—dubbed the Tricks— are represented on some of the most talented squads.
Spanish playmaker Cesc Fabregas will be wearing them, as will Argentine striker Sergio Aguero, German midfielder Marco Reus, and French powerhouse Olivier Giroud. Puma also locked up Italian bad-boy Mario Balotelli, a natural scorer who is sure to generate headlines in Brazil, regardless of how well his side performs.
Then there are the shoes themselves. While Nike and Adidas focused on fins, ultra-light synthetic materials, and intricate knitting that fused the boot with the sock, Puma kept its strategy simple: really bright shoes in different colors. "The right boot is pink, the left boot is blue," reads the straightforward pitch. Here's Balotelli's endorsement of the cotton-candy coloring:
"In the end, it is exactly the reason why chose to be with PUMA, They dare to be different, and everyone knows that I do as well."
Not only will the cleats be instantly recognizable in a cartoon-blur of legs, but they are a dream for supply-chain managers. In making production and distribution decisions, the company has to worry about only three models: the ultra-expensive pair ($200), the cheap ones ($75), and the mid-range offering ($185). Nike's Battle-Pack, a range of five different kinds of cleats, is plain confusing—and the bane of every parent with a pushy young player.
Why haven't we heard more about this? That's part of Puma's playbook. The company doesn't want to get drowned out by the marketing blitzes of Adidas and Nike. "You die quickly," Puma Chief Executive Officer Bjorn Gulden recently told Bloomberg.
So the company will wait until after the Cup to launch its big ad campaign, when media space is a lot cheaper and back-to-school (back-to-soccer) season is about to start. In soccer, that would be called a counterattack. Nike and Adidas—whose corporate teams are stocked with former players—ought to be familiar enough with it to be wary.
Before it's here, it's on the Bloomberg Terminal.
LEARN MORE