Newark Schools Chief Anderson to Stay on After Mayor's Race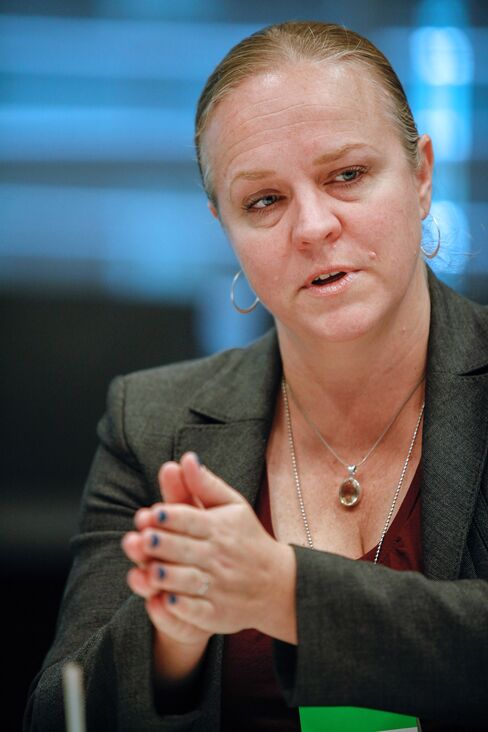 Cami Anderson, superintendent of schools in struggling Newark, New Jersey, said she plans to stay on amid opposition from the mayor-elect and community activists over her plan to remake the city's schools.
Anderson, 42, said she's received an "intent to renew" notice for the state-appointed position. Her plan, dubbed One Newark, calls for closing some of the city's 71 public schools and cutting 1,000 teachers during the next three years.
Newark's district serves about 43,000 students in a city where about one in four people live in poverty. More than a third of high-school students drop out before graduating.
"I have every intention to stay on," Anderson said today in an interview at Bloomberg News headquarters in New York. "You have to plant the seeds of the long-term change and make sure things take root."
Governor Chris Christie, a Republican, appointed Anderson to run the state's largest school district in 2011, opting not to renew the contract of predecessor Clifford Janey.
One Newark aims to improve the city's schools by giving parents an option to send children to other district schools or charters based on an open enrollment system rather than geography. She said the plan allows parents to "vote with their feet" in selecting schools.
Contentious Plan
The plan has proven contentious in the state's largest city, where students staged a sit-in in May. It became a factor in the May election to succeed Cory Booker, a Democratic ally of Anderson, who moved to the U.S. Senate in January. Mayor-elect Ras Baraka, a former principal at Newark's Central High School, has called for her ouster.
"We're trying to overturn decades of failure," Anderson said. "We're trying to do it as quickly as possible and as mindfully and as diligently and respectfully as possible while also recognizing that the status quo is going to make really, really tough decisions for a whole generation of kids."
The Newark system, which the state took over in 1995 citing low standards and a lack of progress, is among the 31 districts statewide called Abbott Schools after a series of court decisions that ordered New Jersey to equalize their funding with the wealthiest. Newark's district spends more than $1 billion a year.
Before it's here, it's on the Bloomberg Terminal.
LEARN MORE