Las Vegas Back From the Bust Revives Dead Projects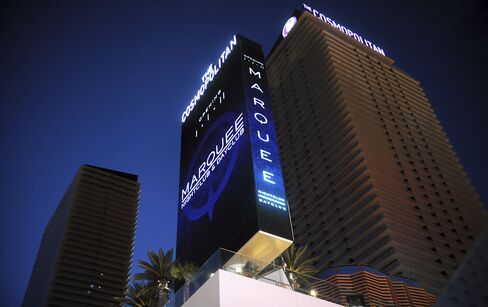 For almost five years, the desert plot at the western edge of the Las Vegas valley was home to hulking steel skeletons -- ghostly ruins of a construction project halted by the recession.
Now the 106-acre (43-hectare) site bustles with hundreds of workers building the first phase of Downtown Summerlin, an office, entertainment and retail complex that's scheduled to open in October. Howard Hughes Corp. revived the development last year after the previous owner, General Growth Properties Inc., shut it down in 2008.
The commercial real estate market in Las Vegas, littered with vacant buildings and abandoned construction sites by overreaching developers during the U.S. property crash, is coming back to life as the local economy improves and tourists return to the nation's gambling capital. Blackstone Group LP's deal to buy the Cosmopolitan resort and Genting Bhd.'s proposed resurrection of an abandoned project on Las Vegas Boulevard are further signs of investor confidence in the nascent recovery.
Las Vegas "kind of went through this frozen period," said John Matt Stater, research manager for brokerage Colliers International in the city. "Over the last year we really got the blood pumping now, and things are moving fast."
Blackstone, the world's largest alternative-asset manager, agreed last month to buy the two-tower Cosmopolitan complex on the Las Vegas Strip from Deutsche Bank AG for $1.73 billion. The bank had foreclosed on the hotel and casino after developer Ian Bruce Eichner defaulted on a construction loan in 2008. The resort cost more than $3.9 billion to build and hasn't turned a profit since opening in December 2010.
Raising Eyebrows
Blackstone's purchase is "a big signal," said Charles Moore, a property sales broker at CBRE Group Inc. in Las Vegas. "It raises eyebrows and awareness that Las Vegas is back."
For years, investors shunned Las Vegas as it struggled in the aftermath of the housing bust and economic downturn, which sent the jobless rate to as high as 14.5 percent. Las Vegas was the center of U.S. housing speculation during the real estate boom that peaked in 2006, and followed with the nation's worst foreclosure crisis.
Home prices in Las Vegas slid 62 percent before bottoming in March 2012, according to the S&P/Case-Shiller index. They've since climbed 46 percent, fueled in part by investors such as Blackstone buying foreclosed single-family houses to rent out.
In April, the unemployment rate in the area dropped to 7.4 percent, the lowest since 2008, Bureau of Labor Statistics figures show. Visitors to Las Vegas have also picked up, helping support leisure and hospitality jobs, the biggest part of the workforce at 31 percent, according to Francis Yuen, a senior real estate economist at CoStar Group Inc.
"It's one of the last markets to recover," he said.
Luxury Apartments
Demand for apartments is rebounding along with the labor market. Tenants paid an average of $829.62 a month in the first quarter, data from Reis Inc. show. That's up from $774.86 two years earlier, the lowest point in the real estate slump.
Rental projects under construction include the Calida Group's 360-unit Elysian at the District, scheduled to open early next year in Henderson, a Las Vegas suburb. The luxury complex will have three clubhouses, a gym and pet spa, according to Eric Cohen, managing director at the Las Vegas-based developer.
"We're believers in the Vegas market long-term," said Cohen. His company plans to start work on two other properties, one with 124 apartments in Downtown Summerlin, a joint venture with Hughes Corp.
Office Struggles
The office market is still in the doldrums. The challenge for landlords, who added excess space in the boom, is that the leisure, hospitality and construction industries, drivers of the local economy, are "light on office use," Yuen said.
Asking office rents averaged $23.73 in the first quarter, compared with $23.85 a year earlier, according to Reis. The vacancy rate was little changed at about 26 percent -- the second-worst among 79 U.S. markets, trailing only Dayton, Ohio.
Casino operators are building nightclubs, dining venues and retail centers to appeal to visitors who want other entertainment options as gambling spending falls. Gaming revenue in Clark County, Nevada, which includes Las Vegas, was $9.7 billion in 2013, below the peak of $10.9 billion in 2007, according to the city's Convention and Visitors Authority.
MGM Resorts International, the largest casino operator on the Strip, and Los Angeles-based AEG are constructing a $375 million, 20,000-seat arena that will host boxing and other sporting events, concerts and awards shows. AEG, a unit of Anschutz Co., owns the Los Angeles Kings National Hockey League team and part of the National Basketball Association's Los Angeles Lakers.
'Smart Money'
MGM, based in Las Vegas, is also developing the Park, a complex of bars and restaurants that will connect its New York-New York and Monte Carlo resorts. Both the Park and the arena are scheduled to open in 2016.
Genting, a casino operator controlled by Malaysian billionaire Lim Kok Thay, bought an 87-acre site on the Strip last year from Las Vegas-based Boyd Gaming Corp. for $350 million. Boyd stopped work on what was to be known as Echelon in 2008. Genting plans to restart construction this year on the $4 billion project, now called Resorts World Las Vegas.
"MGM, Genting -- all these are companies that could make investment decisions all over the world," said Kevin Orrock, president of Summerlin, the 22,500-acre master-planned community that includes the Downtown Summerlin project, for Dallas-based Hughes Corp. "This is smart money coming in, or smart money that's been here, that realizes that there's future potential for this community."
Grand Bazaar
Also under construction on the Strip are the $415 million overhaul of the former Sahara, scheduled to debut Labor Day weekend as the SLS Las Vegas Hotel & Casino, and Grand Bazaar Shops, outdoor mall with more than 150 stores that's being developed by a group including casino operator Caesars Entertainment Corp. The retail project, at the entrance to Bally's at Las Vegas Boulevard and Flamingo Road, is expected to open by year's end.
The budding recovery hasn't breathed life into all mothballed projects. The Fontainebleau, with its bluish exterior, remains an unfinished hulk on about 27 acres at the north end of the Strip. Billionaire investor Carl Icahn won court approval in January 2010 to buy the casino resort for $156 million after it went into bankruptcy. Construction was about 70 percent complete at a cost of $2 billion.
Icahn, who hasn't publicly disclosed plans for the site, didn't return a phone message seeking comment.
Blackstone Bets
For Blackstone, the Cosmopolitan purchase was its latest investment in the area. The New York-based firm owns single-family rental homes and the Hughes Center, a 1.4 million-square-foot office campus in Las Vegas that it bought last year for $347 million. Blackstone also owns and operates warehouses in Reno, Nevada.
"We really believe in a Vegas recovery," Jonathan Gray, Blackstone's global head of real estate, said last week at a conference sponsored by the National Association of Real Estate Investment Trusts in New York. "Las Vegas got hit by the double whammy -- tourism, gaming went down, the proliferation of gaming around the country, housing -- I mean, it all came to Las Vegas. When we started looking a couple years ago, we were seeing the trend starting to reverse itself."
Even as gambling revenue shrinks, Gray said, "the entertainment infrastructure that exists in Vegas is impossible to replicate" anywhere else.
Summerlin Project
About a 20-minute drive from the Strip is the site of Hughes Corp.'s Downtown Summerlin, which eventually will encompass 400 acres. It's part of the broader Summerlin community, which has been under development for more than 20 years and has about 100,000 residents. Hughes Corp. inherited the development in its 2010 spinoff from Chicago-based General Growth, the second-biggest U.S. mall owner.
Downtown Summerlin, where an eight-story office building is under construction and scheduled to open this year, is "one of the most strategically located real estate developments in the country," Orrock said. "We expect to draw from the entire region, not just the Summerlin community."
Summerlin, 8 miles (13 kilometers) west of downtown Las Vegas, has nine golf courses and is adjacent to Red Rock Canyon National Conservation Area, according to Hughes Corp. The land was once owned by billionaire Howard Hughes, who bought the property in the 1950s and named it after his grandmother, Jean Amelia Summerlin. The first homeowner moved in in 1991, Orrock said.
"We've gone 23 years without a major retail component to the project," he said. Downtown Summerlin "will be one of the more successful projects in the country."
Before it's here, it's on the Bloomberg Terminal.
LEARN MORE