It's the World Cup? Putin to Merkel All Book for Brazil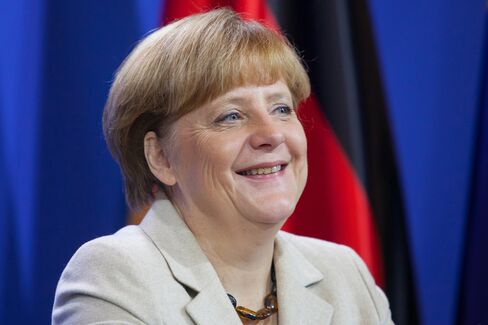 German Chancellor Angela Merkel, U.S. Vice President Joe Biden, the King and Queen of Belgium and the president of Ghana all have appointments in the same place in coming weeks: Brazil.
A list issued by President Dilma Rousseff's office shows an illustrious roll call of leaders descending on her country during the World Cup. Most of the leaders' national teams are in Brazil at the same time to play in the competition.
Among the visitors are Russian President Vladimir Putin, who will also attend a conference of the so-called BRIC countries, the premier of Croatia and the presidents of Ecuador, Honduras and Uruguay. Willem Alexander, the King of the Netherlands, will be there, as will his neighbors King Philippe and Queen Mathilde of Belgium, who may cross paths in Brazil with their prime minister, Elio di Rupo.
Biden, Merkel and Chilean President Michelle Bachelet will all have an audience with Rousseff. The president's office wasn't able to say whether each visitor will also attend a game.
There's little mystery about Merkel, a soccer fan who follows the German national squad and has attended both previous World Cups. Rousseff expects her in Brasilia on June 15, one day before Germany plays its first game of the world's most-watched sporting tournament, against Portugal.
The German chancellor's chief spokesman, Steffen Seibert, confirmed her trip, telling reporters in Berlin today that she'll make the journey from the Brazilian capital to Salvador in Bahia province, where the German squad open their championship run.
"I'll be able to visit the first group-stage game," Merkel told the Leipziger Volkszeitung newspaper last month. She added that she hoped the team would have "six more successful games after that."
Before it's here, it's on the Bloomberg Terminal.
LEARN MORE