Imperial Tobacco Intends IPO of Logista Unit in Spain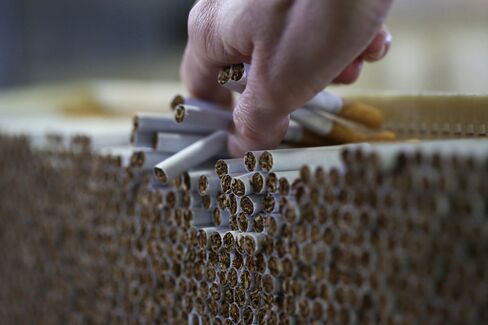 Imperial Tobacco Group Plc plans to sell shares of its Logista unit on the Spanish stock exchange in an initial public offering that analysts estimate may value the European logistics company at as much as $2.5 billion.
Imperial Tobacco will retain a majority of the stock, while selling a portion to institutional investors, the Bristol, England-based company said today. Logista won't receive proceeds from the sale, which is slated for the first half of July.
Bought by Imperial Tobacco in 2008 as part of its takeover of cigarette maker Altadis SA, Logista distributes goods from customers including tobacco producers and pharmaceutical companies. The IPO will enable Imperial to pay down some of its
11.1 billion pounds ($19 billion) of net debt, giving it leeway to participate in deals that may become necessary should Reynolds American Inc. bid for Lorillard Inc., according to Erik Bloomquist, an analyst at Berenberg Bank in London.
"It gives it a bit more flexibility if it were interested in picking up any brands that could come up for sale after a Reynolds/Lorillard merger," Bloomquist said. He estimates that at least four brands -- Kool, Salem, Winston and Maverick -- could become available for as much as $5 billion.
Imperial Tobacco spokesman Simon Evans declined to comment on the speculation, adding that the company has always viewed the U.S. as a growth market.
Logista is the fifth company to announce plans to sell shares this year in Spain as the country's economy emerges from three years of economic contraction. That's putting 2014 on track to be the best year for IPOs since at least 2011, according to data data compiled by Bloomberg. Applus Services SA raised 1.1 billion euros ($1.5 billion) in May, the country's biggest listing in almost three years.
Imperial Gains
Logista's IPO is likely to value the company at 1.1 billion pounds to 1.5 billion pounds, according to Damian McNeela, an analyst at Panmure Gordon & Co. in London.
"Although any potential transaction would be dilutive, we think it would be well-received," McNeela wrote.
Imperial Tobacco rose 0.7 percent to 2,621 pence at 9:52 a.m. in London trading.
The maker of Gauloises cigarettes inherited a 59.6 percent stake in Logista at the time of the 12.6 billion-euro Altadis takeover and later bought the rest in a deal that valued the logistics company at 2.3 billion euros.
"This is a business that even on a superficial basis drags on the financial performance of Imperial," Philip Gorham, an analyst at Morningstar, said by phone. "It's capital intensive and detrimental to profitability. And strategically it doesn't really give them that much."
Gas Stations
Logista distributes goods to outlets such as bookshops, gas stations and convenience stores across southern Europe. The business posted economic sales of 1.01 billion euros in the year ended Sept. 30, Logista said in a separate press release.
"We are well-positioned to benefit from economic recovery in our core markets," Luis Egido Galvez, Logista's chief executive officer, said in the statement. "We continue to focus on managing costs and generating new growth opportunities to drive profitable development of the business over the long-term."
Credit Suisse Group AG and Goldman Sachs Group Inc. are joint global coordinators for the IPO, and joint bookrunners together with Morgan Stanley. Banco Bilbao Vizcaya Argentaria and Societe Generale SA are joint lead managers.
Before it's here, it's on the Bloomberg Terminal.
LEARN MORE