Russia, Ukraine to Resume Stalled Gas-Supply Talks Today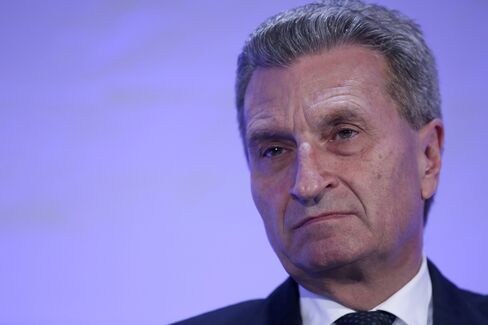 Russia and Ukraine will resume talks with the European Union on a gas-supply deal today after failing to reach agreement in discussions earlier this week.
Negotiations between Russian Energy Minister Alexander Novak and his Ukrainian counterpart, Yuri Prodan, along with EU Energy Commissioner Guenther Oettinger, will restart at 9:30 a.m. in Brussels and will follow bilateral meetings, the European Commission said late yesterday. The talks were postponed from last night because the Russian delegation was scheduled to arrive very late in Brussels, the EU executive said.
Novak and OAO Gazprom Chief Executive Officer Alexey Miller met in Moscow with Russian President Vladimir Putin before they departed for the Belgian capital, said an official who declined to be named as the gathering was private. Gazprom declined to comment when contacted by Bloomberg.
The EU, dependent on Russian gas piped through Ukraine for about 15 percent of its supplies, is trying to broker a deal to avert the threat posed to shipments from a dispute between the two nations over payments for the fuel and territorial claims. In Ukraine, clashes between rebels claiming allegiance to Russia and government forces continued in the east of the country.
Oettinger said yesterday that he was optimistic an agreement to end the gas-price dispute can be found in the next days.
Export Monopoly
Gazprom, Russia's natural-gas export monopoly, was waiting for the money that Ukraine owes, said Sergei Kupriyanov, a spokesman for the Moscow-based company. This month, Gazprom said Ukraine should settle its debt or pay for gas upfront, with the threat of being cut off if the money doesn't arrive by June 10.
Prodan declined to say if Ukraine would start paying.
Gazprom had already delayed the deadline from June 2 after receiving $786 million for February and March supplies.
"I asked the company to postpone this with the hope of reaching an agreement," Putin said on June 6 after a first meeting with new Ukrainian President Petro Poroshenko in France.
Gazprom and NAK Naftogaz Ukrainy have been at loggerheads over both debt for past supplies and the level of future prices since April, when Russia raised prices by 81 percent.
Gazprom rescinded a discount granted in December because of Ukraine's mounting debts, while Russia stripped its neighbor of a 2010 export-duty break that it exchanged for a lease on its Black Sea fleet's port in Crimea, which Putin annexed in March.
Ukraine has refused to pay the increased price of $485 per thousand cubic meters, instead demanding a return to the first-quarter level of $268.50.
Before it's here, it's on the Bloomberg Terminal.
LEARN MORE