Stanley Cup's N.Y. Return After 20 Years Averaging $1,640 a Seat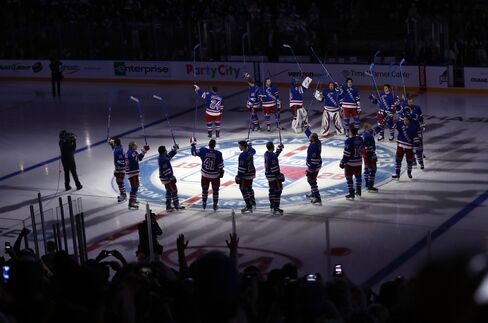 June 9 (Bloomberg) -- The New York Rangers' Stanley Cup Final hole isn't deep enough to keep fans from shelling out record-setting money for Game 3 at Madison Square Garden.
With the Los Angeles Kings holding a 2-0 lead in the best-of-seven championship, thanks to successive overtime home wins, the average price paid yesterday for a ticket to tonight's Game 3 in New York was $1,640, according to secondary-market ticket aggregator SeatGeek. That's $16 less than the average since the start of the playoffs. It's the first Stanley Cup game at MSG since the Rangers won the title in 1994.
"Demand has been surprisingly steady for Game 3 tickets, even with the Rangers facing a 2-0 deficit," Connor Gregoire, a spokesman for New York-based SeatGeek, said in an e-mail. "I might have expected a sharper decline in prices yesterday after the Game 2 loss, but at least for now, Rangers fans haven't given up on this team."
The average price for Game 3 is about three times' that of Game 1 in Los Angeles, which the Kings won 3-2 in overtime, overcoming an early two-goal deficit. They rallied from a two-goal hole in the third period of Game 2 two days ago, eventually winning 5-4 in double-overtime on Dustin Brown's deflection past New York goalie Henrik Lundqvist.
Resale prices fell below face value for both games in Los Angeles in the 24 hours prior to their starts. Face-value prices for general-public tickets to Stanley Cup Final games at Madison Square Garden range from $480-$2,490.
"Needless to say, we're not close to seeing Game 3 prices fall anywhere close to face value," Gregoire said.
The least expensive ticket for Game 3 is $812, a 22 percent decline from the $1,046 price a week ago, according to SeatGeek. The average price paid has dropped about 14 percent since the middle of last week, when it was $1,912.
Obstructed View
"That $812 will only get you an obstructed view from the 400 level," Gregoire said. "Unobstructed tickets start at $900 and up."
SeatGeek estimates that $9.6 million worth of tickets have been exchanged for Game 3, the most for any single National Hockey League or National Basketball Association game since the company began tracking the market in 2009. The high for a World Series game was $11.7 million spent last season for the Boston Red Sox's championship-clinching Game 6 win over the St. Louis Cardinals. An estimated $38.3 million was spent for February's Super Bowl at New Jersey's MetLife Stadium between the Seattle Seahawks and Denver Broncos.
To contact the reporter on this story: Mason Levinson in New York at mlevinson@bloomberg.net
To contact the editors responsible for this story: Michael Sillup at msillup@bloomberg.net Jay Beberman