South African President Zuma Discharged After Hospital Check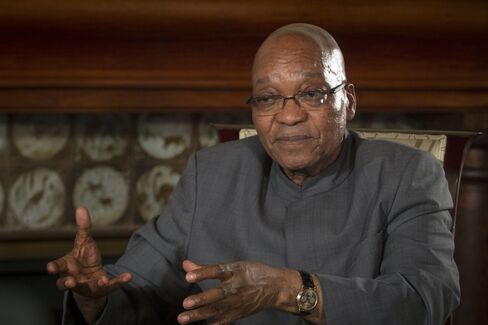 South African President Jacob Zuma was discharged from the hospital late yesterday after undergoing a routine checkup for two days, the presidency said.
Zuma, 72, will rest for a few days after leaving the hospital in the capital, Pretoria, and work from home, Minister in the Presidency Jeff Radebe said today in an e-mailed statement.
"The president undertakes two major medical examinations per annum, the first one in January and the second one in June," the Presidency said in the statement. "The doctors felt he needed to be hospitalized for a thorough checkup following a demanding schedule. The doctors are happy with the results."
Zuma was sworn in for a second presidential term last month after his ruling African National Congress secured 62 percent of the vote in the country's fifth democratic elections on May 7.
Deputy President Cyril Ramaphosa stood in for Zuma at engagements that he was unable to attend due to exhaustion, the ANC said on June 6. Zuma won't attend a special three-day meeting of the cabinet that starts June 10, and Ramaphosa will lead it instead, the president's office said today in an e-mail.
"We had quite a punishing schedule of the elections so it has taken its toll on many of us; we asked the president to go and rest," ANC Secretary-General Gwede Mantashe said in an interview with Johannesburg-based radio station PowerFM. "He must rest for some time, recover and come back to do the State of the Nation address more energized."
State Address
Zuma is scheduled to deliver South Africa's second State of the Nation address this year on June 17. The country has two in an election year to outline the government's plans.
Zuma's doctors haven't specified the length of his rest period and will continue monitoring him, his spokesman, Mac Maharaj, said in a phone interview. The Presidency hasn't appointed anyone to stand in for Zuma at public engagements, Maharaj said.
"There are no forthcoming events on the diary, so we do not expect that there will be anybody sent on his behalf," Maharaj said. "There is no need to make a pre-appointment as the president is on duty and attending to his duties."
The Presidency denied unspecified media reports that Zuma made unscheduled visits to hospitals in Durban in his home province of KwaZulu-Natal earlier this year.
Before it's here, it's on the Bloomberg Terminal.
LEARN MORE