Putin Meeting With Internet Executives Spurs Yandex Gain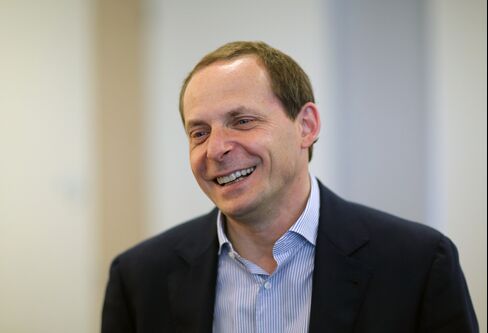 Yandex NV and Mail.ru Group Ltd. gained amid speculation that President Vladimir Putin will adopt a more conciliatory stance toward regulation of Russia's biggest online companies at a meeting today.
Shares of Yandex rallied to a three-month high yesterday, recovering from a one-year low reached on April 25 after Putin said the government needs to impose greater controls over the Internet. Mail.ru Group Ltd., which closed at a 2011 low after the president's remarks, climbed to the highest level since April 1 on the London Stock Exchange. The Bloomberg index of the most-traded Russian stocks in the U.S. gained 0.2 percent to 92.53 while RTS Index futures increased in U.S. hours.
Putin will meet with Internet executives as he attends an entrepreneurship forum in Moscow today, the Kremlin said in a statement. The gesture would signal a friendlier approach than in April, when he suggested Internet businesses relocate servers handling Russian traffic inside the country and store user data for six months. The former KGB colonel has called the World Wide Web a creation of U.S. spy agencies.
"It looks like authorities are reversing their tactics and are now willing to consult with businesses before imposing any more regulations," Konstantin Belov, an analyst at UralSib Capital in Moscow said by phone yesterday. "An era of Internet regulation in Russia is just beginning and as Putin meets with businesses there is a hope that further decisions in that sphere will be mutually acceptable by both authorities and the Internet business community."
Internet Law
Belov's recommendation on Yandex produced the best total return over the past year, data compiled by Bloomberg show. He has a hold recommendation on the stock.
Nineteen of 25 analysts covering Yandex are giving it a buy recommendation this month, the most ever, data compiled by Bloomberg show. One analyst recommends selling the stock and five have a hold on it.
The Internet regulation law, signed by Putin in May, will require Russian-language bloggers with 3,000 or more readers to register with the communications watchdog and will make both them and their hosts liable for content.
Yandex, based in Amsterdam, dominates Russian Web searches with an average monthly share of about 62 percent from January through May, compared with global leader Google Inc.'s 27 percent, according to Moscow-based researcher LiveInternet.ru.
Arkady Volozh, founder and chief executive officer at Yandex, will participate in Putin's meeting with heads of Internet companies today, Vladimir Isaev, the company's spokesman, said by e-mail from Moscow yesterday. He declined to comment on the implications of the event. Matthew Hammond of Mail.ru didn't respond to a message seeking comment sent outside of regular business hours in Dubai.
Ukraine Progress
Decreasing geopolitical risk is also bolstering Russian shares, with the Micex Index gaining 20 percent since a March low. Ukraine's Foreign Ministry said yesterday peace talks with Russia in Kiev yielded progress. Ukraine, whose army is fighting pro-Russian separatists in the country's east, blames Putin for stirring up the unrest after annexing Crimea in March. U.S. and European allies have imposed sanctions on Russia and threatened to tighten them unless Putin acts to ease tensions.
"Yandex and Mail are gaining as the geopolitical risk seems to be coming off amid signs of progress in the Ukraine talks," Timur Nigmatullin, an analyst at Moscow-based research firm InvestCafe, said by phone yesterday. "People are willing to take more risks. And they take Putin's meeting with heads of the Internet companies as a promising sign that a compromise will be reached on how the industry should be regulated."
ETF Gains
Mail.ru, which operates social networks and Internet games, rallied 2.6 percent to $36.79 in London yesterday, trimming the decline this year to 18 percent. Yandex gained 0.8 percent to $34 in New York yesterday, the highest level since March 6. Yandex is down 21 percent this year, the worst start to a year since its 2011 listing in New York.
The Market Vectors Russia ETF, the biggest U.S. exchange-traded fund that holds Russian shares, increased 0.4 percent to $26.46 yesterday, the highest close since Jan. 23. The RTS Volatility Index fell 1.7 percent to 27.78 in U.S. hours and RTS Index futures rose 0.5 percent to 135,060.
United Co. Rusal, a Moscow-based aluminum producer, rose 1.4 percent to HK$3.61 in Hong Kong trading as of 10:47 a.m. local time.
Before it's here, it's on the Bloomberg Terminal.
LEARN MORE