Draghi Confined by China $4 Trillion Reserves: Chart of the Day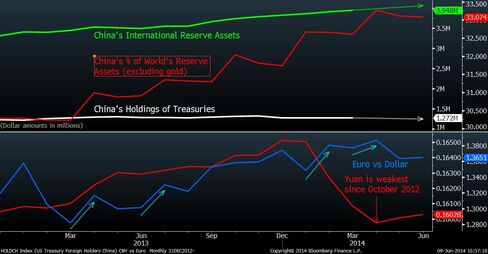 European Central Bank President Mario Draghi's plan to weaken the euro to aid exporters faces a $4 trillion challenge: how to cope with China's efforts to diversify reserve assets, most of which are now in dollars.
The CHART OF THE DAY tracks China's total reserves, Treasury holdings and share of global foreign-currency reserves, along with the performance of the yuan and euro since the start of 2013. The People's Bank of China buys dollars to help stop the yuan strengthening and these purchases helped boost its currency reserves by $126 billion to a record $3.948 trillion in the first quarter. China holds about a third of the world's international reserve assets excluding gold.
"The euro's strength has been a puzzle for much of 2014," Steven Englander, managing director at Citigroup Inc. in New York, said in a June 6 e-mail interview. "One possible explanation relates yuan weakness to intervention by Chinese authorities. When this occurs, Chinese reserve holdings of dollars increase. In order to prevent the dollar share in reserves from rising, the authorities have to sell the dollar for other currencies, primarily the euro."
The yuan slid 1.4 percent versus the dollar in February as China's central bank sold the currency, contributing to a $47.1 billion increase in its foreign reserves. The euro jumped 2.3 percent that month. When China's currency slumped to an 18-month low of 6.2676 on April 30, the euro gained 0.4 percent. The yuan closed at 6.2404 per dollar in Shanghai yesterday when the common currency traded at $1.3641.
Draghi is counting on a weaker euro to counter deflation and revive the region's economy. When the currency climbed to the highest in 2 1/2 years on May 8, he stepped up his expressions of concern about its strength and said officials were ready to ease monetary policy.
"The Chinese authorities have not published second-quarter reserves data, but we note that periods of rising dollar against the yuan have also been periods of upward pressure on the euro. While the euro has underperformed when the yuan strengthened," Citigroup's Englander said.
Before it's here, it's on the Bloomberg Terminal.
LEARN MORE