Emerging Market Shares Gain, Bonds Fall; S&P 500 End Flat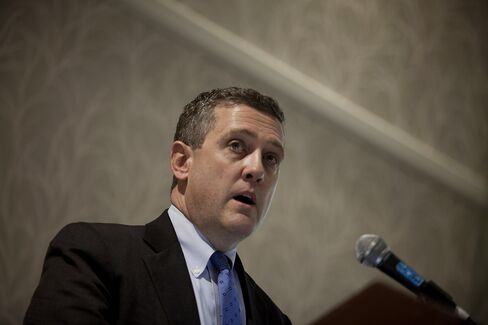 Emerging market stocks rose to a 13-month high while Treasuries fell amid optimism about growth in China and the U.S. The Standard & Poor's 500 Index closed little changed following a four-day rally, while the yen gained.
The MSCI Emerging Markets Index added 0.8 percent to 1,057.79 at 4 p.m. in New York, its highest level since May 2013. Ten-year Treasury yields touched an almost one-month high and rates on Spanish and Italian bonds rose at least 7 basis points. The Standard & Poor's 500 Index slipped less than one point while the Stoxx Europe 600 Index added 0.3 percent to close at a six-year high. The yen rose against 14 of its 16 major peers.
Economic data today showed U.S. job openings and wholesale inventories topped economists' forecasts, after new measures by China to encourage lending boosted the outlook for growth in the world's second-largest economy. The S&P 500 was little changed after closing at a record the past four days, pushing its valuation to 16.5 times projected earnings, the highest level in four years.
"This is a temporary reprieve from a market that's been seeing highs," Chad Morganlander, a fund manager at Stifel Nicolaus & Co., which oversees $160 billion, from Florham Park, New Jersey, said in a phone interview. "It shouldn't be a shock to anyone that we're seeing softness after a blistering recovery."
The S&P 500 has advanced almost 7.5 percent from a low on April 11 as data showed the U.S. economy is recovering from the impact of extreme weather earlier this year. The gauge rallied last week after the European Central Bank announced a stimulus package and American jobs data topped estimates.
Too Far
"The bulls have clearly been in the lead," Francois Savary, who helps oversee about $9.5 billion as chief investment officer at Reyl & Cie., said by phone from Geneva. "But even with improving economic data, I think that the U.S. market may have gone too far too fast, and I don't see too much potential from here. I would pull out of U.S. equities and go into emerging markets."
Among U.S. stocks moving today, eBay Inc. dropped 2.7 percent after saying David Marcus will step down as the head of its PayPal unit to join Facebook Inc. Facebook rallied 4.6 percent. RadioShack Corp. plunged 10 percent after reporting a wider quarterly loss. Molson Coors Brewing Co. jumped 5.4 percent for the biggest gain in the S&P 500.
Treasury Yields
Benchmark 10-year Treasury yields rose as much as five basis points to 2.65 percent, the highest since May 12. The extra yield investors demanded to own the notes instead of their Group of Seven counterparts was little changed after climbing to 70 basis points yesterday, the most since April 2010.
The U.S. sold $28 billion of three-year securities at the highest yield since May 2011 amid signs the economic expansion is strengthening. Yields on current three-year notes rose to a three-month high as small-business optimism rose to the highest level since before the worst recession since the Great Depression, adding to speculation the Federal Reserve will start raising interest rates next year.
Goldman Sachs Group Inc. said it sees yield spreads between U.S. government bonds due in more than five years and their euro-area counterparts compressing. The U.S. plans to sell $21 billion of 10-year securities tomorrow and $13 billion in 30-year bonds on June 12.
Job Openings
Job openings in the U.S. climbed to an almost seven-year high in April as employers sought more workers to help manage stronger demand in a rebounding economy. The number of positions waiting to be filled in the U.S. rose by 289,000 to 4.46 million in April, the highest since September 2007, the Labor Department reported today.
The Hang Seng China Enterprises Index of mainland companies listed in Hong Kong and the Shanghai Composite Index both jumped 1.1 percent. China's central bank yesterday announced a 0.5 percentage point cut in reserve requirements for some banks, giving details of a policy move aimed at supporting smaller companies and agriculture. The change will take effect June 16, the People's Bank of China said in a statement on its website yesterday.
In Europe, Bank of Ireland Plc dropped 3.2 percent after U.S. billionaire Wilbur Ross put on sale his remaining shares in the country's largest lender by assets. Gemalto NV climbed 2 percent after saying China Telecom Corp. chose it as a supplier of chips that enable contactless payments via mobile phones.
Spanish 10-year bonds reversed earlier gains, sending the yield up 7 basis points, or 0.07 percentage point, to 2.64 percent. Rates on Italian 10-year debt added 10 basis points to 2.81 percent.
Yen Gains
The yen advanced for the first time in three days against the dollar before a Bank of Japan meeting this week, while a gauge of expected price swings for the currency pair remained near a record low and trading in Japanese government debt almost ground to a standstill.
The yen added 0.2 percent to 102.37 per dollar. One-month implied volatility was at 5.43 percent after touching a record 5.25 percent yesterday. Japan's currency strengthened 0.5 percent to 138.64 per euro.
Palladium and platinum advanced more than 1.3 percent after negotiations to end a 20-week pay strike at mines in South Africa ended yesterday without an agreement. South Africa is the biggest producer of platinum and second-biggest in palladium. Both metals are used in catalytic converters to cut automobile emissions.
Before it's here, it's on the Bloomberg Terminal.
LEARN MORE