Ukrainian Leader Says Eastern Violence Must End This Week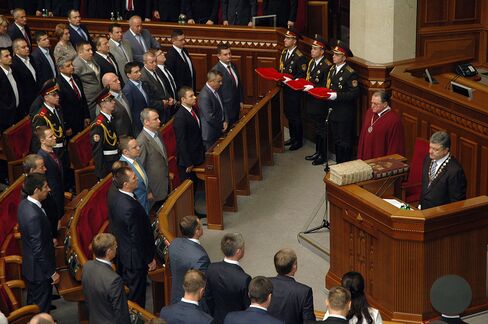 Ukraine's new leader, Petro Poroshenko, said the violence that's rocked the former Soviet republic's easternmost regions must end this week as peace talks began involving an envoy of Russian President Vladimir Putin.
Poroshenko, who took the oath of office June 7, said negotiations should be held daily. Yesterday's three-way talks in Kiev included the Ukrainian ambassador to Germany, Pavlo Klimkin, the Russian envoy to Ukraine, Mikhail Zurabov, and Heidi Tagliavini, a special representative of the Organization for Security and Cooperation in Europe.
"We must stop the violence this week," Poroshenko said on his website. "Every day when people die, every day when Ukraine pays such a high price is unacceptable."
Poroshenko, who was sworn in a day after discussing cease-fire proposals with Putin, used his inauguration speech to present a plan to bring peace after more than six months of unrest that's pitted the U.S. and Europe against Russia in the worst standoff since the Cold War. After his May 25 election victory, the 48-year-old billionaire's ability to repair relations with Russia will be key to success in pacifying the Donetsk and Luhansk regions, where the military is battling a separatist insurgency.
Gas Talks
Talks between Russia's gas export monopoly, OAO Gazprom, and Ukraine's state-run NAK Naftogaz Ukrainy on resolving a dispute over prices and money owed for past supplies were set to take place in Brussels today, Ukrainian Energy Minister Yuri Prodan said by phone. Russia has set a deadline of tomorrow for Ukraine to start pre-paying for gas. Russia's Vedomosti newspaper reported that Ukraine will pay $1 billion today for gas supplied in November and December.
Russia's Micex stock index rose 0.3 percent as of 4:15 p.m. in Moscow. It's climbed more than 20 percent from a March 14 low. The ruble headed for the strongest level in two weeks, appreciating 0.4 percent to 39.8907 against the central bank's target basket of dollars and euros.
Ukrainian government dollar bonds gained to a five-month high, with the yield on debt due in July 2017 falling 13 basis points to 8.84 percent, down from 14.7 percent five weeks ago.
Meanwhile, unrest continued in eastern Ukraine. Insurgents attacked a military building in Torez, 70 kilometers (45 miles) east of Donetsk, and two people died from gas inhalation after a fire broke out, the local Ostrov news service reported late yesterday.
Base Attacked
Ukrainian soldiers repelled an insurgent attack on a military base in Artemivsk, about 80 kilometers north of Donetsk, Vladyslav Seleznyov, the spokesman for the military operation, said on his Facebook page today. The rebels have changed tactics and are now working in small groups attacking military convoys, he said.
In his speech, Poroshenko switched between languages to address Russian speakers in their mother tongue, pledging to "preserve and strengthen Ukrainian unity and ensure lasting peace." He said he'd steer the nation toward closer ties with the European Union, create jobs and stamp out graft.
Poroshenko, a businessman with investments including chocolates and media who's Ukraine's fifth president since the collapse of the Soviet Union in 1991, has said he's not seeking revenge, offering safe corridors for "Russian mercenaries" to leave the country and an amnesty for those who didn't kill. He's said he'll present a plan to decentralize power and urged early parliamentary elections.
Peace Window
"There's a window for peace now, but it won't stay indefinitely," U.S. Vice President Joe Biden said at a meeting with Poroshenko. "We look for Mr. Putin to meet his end of the commitments and deliver on the pledge to actually work with your government."
Pro-Russian separatist leaders denounced Poroshenko, with Alexander Boroday, leader of the self-proclaimed Donetsk People's Republic, saying he's the "president of another country," according to the Russian state-owned RIA Novosti news service. Boroday and his Luhansk counterpart, Valeriy Bolotov, said the Kiev government must withdraw its army before any talks are possible, RIA reported.
Putin ordered security services to enforce the border with Ukraine on June 7, according to RIA. The two countries earlier agreed to close sections of the frontier, Poroshenko said June 6. The Foreign Ministry in Moscow said it was notified by the authorities in Kiev that eight checkpoints were shut.
Obama Meeting
Poroshenko and Putin had a brief meeting June 6 in France, where the Russian president also spoke face-to-face with U.S. President Barack Obama for the first time since the crisis in Ukraine escalated in February.
The U.S. and its European allies say Putin is behind the unrest in eastern Ukraine, where hundreds have died. Russia has condemned the administration in Kiev's use of armed forces against its own people.
"The Ukrainian leadership must show its goodwill and wisdom," Putin said at a news conference in Normandy June 6. "They have to immediately stop the operation and announce a cease-fire. There is no other way to create the conditions for negotiations."
Before it's here, it's on the Bloomberg Terminal.
LEARN MORE