For Buyers, Annie's Serves Up Recipe for Growth: Real M&A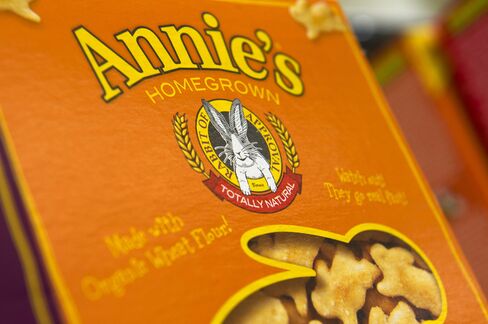 Hungry foodmakers might want to put Annie's Inc. on their shopping list.
The $479 million company, whose organic macaroni and cheese and bunny-shaped crackers were at one time exclusive to natural-foods retailers, has been expanding into mainstream grocery stores, boosting sales more than 20 percent last year. That growth, coming from a brand with healthy-food appeal, could draw the attention of a larger company -- especially with Annie's shares down 26 percent in the past year. JPMorgan Chase & Co. says that at some point, bigger companies are probably going to take an interest.
"Larger packaged-food producers are struggling to find growth because the older brands don't resonate as well as they used to," Mitchell Pinheiro, a New York-based analyst at Imperial Capital LLC, said in a phone interview. "Given Annie's growth rate and strength of the brand, it makes an excellent M&A candidate."
Dealmakers in the food industry have been busy lately, with about $100 billion of transactions in the past 12 months, including the bidding war for Hillshire Brands Co. and the purchases of Ragu pasta sauce and Wish-Bone salad dressings. For buyers keeping watch of Annie's, it's never been cheaper. That's because even though revenue is growing, disappointing earnings and accounting mishaps have driven the shares lower. Royal Bank of Canada sees two scenarios in Annie's future: it either substantially improves margins, or it gets bought.
CEO Queried
Annie's Chief Executive Officer John Foraker was asked on an earnings call last month whether the company would ever be interested in selling itself. Foraker responded by saying that interest in the brand will probably increase as it gets bigger and that he's focused on doing what's best for shareholders.
"We think we've done a very good job growing the top line in this business," he said. "We obviously have done a much poorer job growing the bottom line with strong visibility. So we need to execute better. And we're going to continue to try to grow the company independently, focused on our mission and values. But as I said, we also have to do the right thing for shareholders."
Ed Aaron, a spokesman for the Berkeley, California-based company, didn't respond to a phone call or e-mail seeking comment.
Annie's shares peaked in October at $51.84, valuing the company at about 37 times its trailing 12-month earnings before interest, taxes, depreciation and amortization at the time, according to data compiled by Bloomberg.
Stock Drop
After four straight quarters of profit that fell short of expectations, the stock ended last week at $28.10 and with a record-low Ebitda multiple of 16.5. By comparison, the median ratio was 12.6 for North American food manufacturers with market values exceeding $100 million, the data show.
Today, Annie's shares posted their biggest gain in more than two years, rising 7.8 percent to $30.29.
Annie's said last month that its margins have been impacted by higher food costs, especially organic wheat.
Last week, the company said it identified material weakness in its internal controls over financial reporting, resulting in changes to audited fiscal fourth-quarter figures and "immaterial misstatements" going back to 2012. It also said that PricewaterhouseCoopers LLP resigned as its auditor, noting that there were no disagreements on "any matter of accounting principles or practices."
Biding Time
Strategic acquirers "may sit on the sidelines until they have a better sense of comfort that Annie's has fixed its internal issues," Robert Moskow, a New York-based analyst at Credit Suisse Group AG, wrote in a report May 30. In January, he noted that brands similar to Annie's -- such as Kashi, Larabar and Bear Naked -- have been acquired by larger companies, and that Annie's could be next.
Given lackluster revenue growth in much of the food industry, the likelihood of a strategic buyer stepping in for Annie's is increasing, according to David Palmer, a New York-based analyst at RBC. Ken Goldman, an analyst at JPMorgan in New York, agrees.
"At some point, Annie's will probably attract interest from larger strategic food producers, we suspect," Goldman wrote in a May 30 report.
The largest makers of packaged foods include Nestle SA, Kellogg Co., General Mills Inc. and Campbell Soup Co.
Kirstie Foster, a spokeswoman for Minneapolis-based General Mills, said the $34 billion company doesn't comment on speculation. Representatives for Nestle, Kellogg and Campbell Soup didn't respond to requests for comment.
Brand 'Beauty'
Pinheiro of Imperial said that the "beauty" of Annie's is that it's a single brand. Any of the large packaged-food companies are possible suitors, with the exception of Kraft Foods Group Inc. because it has a macaroni-and-cheese product that competes with Annie's, he said.
Over the next few years, sales will climb less than 10 percent annually for most of the major food companies, and in some cases, less than 5 percent, analysts' estimates compiled by Bloomberg show. Meanwhile, Annie's growth will top 15 percent the next two years, according to analysts. One is even forecasting an annual rate of 20 percent beginning in 2018.
Growth could prove to be a double-edged sword for Annie's, said Peter Zeuli, chief investment officer of Voorhees, New Jersey-based Philadelphia Investment Partners LLC. Becoming a more mainstream brand or being owned by one could turn off customers that flock to Annie's for its unique qualities as a maker of natural and organic snacks, pastas and frozen foods, according to Zeuli, whose firm is long call options on the stock.
Consumers can be "finicky," Zeuli said in a phone interview. "You don't want to alienate those people who brought you there."
With the stock down as much as it is though, "Annie's is probably hoping to get bought out," he said.
Before it's here, it's on the Bloomberg Terminal.
LEARN MORE