Clegg Pledges to Borrow to Build Houses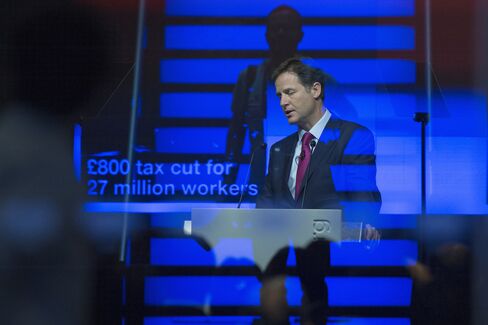 U.K. Deputy Prime Minister Nick Clegg pledged to borrow money to build homes as he sought to "break the taboo" over state support for housebuilding.
The money could be spent buying land or supporting construction by housing associations and local councils, Clegg said in an interview yesterday after a speech in which he outlined the first elements of his Liberal Democrat party's economic platform for next year's election.
"Let's break the taboo, certainly that exists in the Conservative Party, of doing the necessary to build the houses we need," Clegg said. "This is now emerging as one of the big long-term structural problems with the economy. Not only is it unfair because it prices young people out of the market altogether, it's actually a threat to the systemic stability of our financial system."
Clegg committed his party, the junior coalition partner of Prime Minister David Cameron's Conservatives, to reducing Britain's debt ratio every year if the economy expands and to eliminating the structural budget deficit by 2018. Balancing the budget will still allow for investing in areas such as infrastructure and housing, Clegg told his audience, made up of members of both the business community and his party.
With a national election slated for May and his party struggling in opinion polls, Clegg is seeking to differentiate his economic plans from what he called the Conservatives' preference for a shrinking state and the opposition Labour Party's "reckless borrowing." He is trying to regain support after placing fifth in last month's European elections and coming under pressure from some parts of his own party to resign.
'Sensible Rate'
"If this five-year parliament was about rescuing the British economy, the next will be about renewing it," Clegg said in the speech at Bloomberg LP's European headquarters in London. "So long as the economy is in a good state, we'll get debt down to safe levels at a sensible rate."
The U.K.'s debt will amount to 91.8 percent of output this year, according to European Commission forecasts.
While Clegg said future spending on public services should grow roughly in line with the economy, his party will make an exception in the case of investing in areas where national infrastructure is weak, such as railways and housing supply.
The U.K. needs as many as 300,000 new homes a year to meet demand, according to Clegg's estimates, and Bank of England Governor Mark Carney and IMF Managing Director Christine Lagarde have warned of the risk the strength of the housing market poses to the economy.
'Financial Stability'
"We will give ourselves permission to borrow for capital investment in infrastructure which boosts growth and maintains financial stability," Clegg said in the interview. "I'm incredibly clear, given the warnings we've had from Carney, Lagarde and others, we should count housing in."
In a survey of financial institutions by the BOE published yesterday, 40 percent of respondents said falling house prices were a key risk for the economy, up from 36 percent in the second half of 2013 and 25 percent a year ago.
Clegg denied his commitment to limit government borrowing to the amount needed for investment was the same as the "Golden Rule" pledged by the previous Labour administration under Tony Blair and Gordon Brown.
The Liberal Democrats would target investment that's "absolutely indispensable to spurring growth" such as roads, power generation and affordable housing, he said in answers to questions after his speech.
"It's quite different to the indiscriminate borrowing under Labour," Clegg said. "It's smart, it's new, it's distinctive and it combines responsibility with a commitment to investing in the kinds of things we need."
Mansion Tax
Clegg reiterated the Liberal Democrat plan to focus any fiscal retrenchment on "those with the broadest shoulders," such as by taxing the most expensive homes.
Just 7 percent of respondents in a YouGov Plc poll released June 1 said they would support the Liberal Democrats in the next election, down from 23 percent in 2010, while Clegg's net approval rating fell to minus 65, its lowest on record. Matthew Oakeshott, an upper-house lawmaker, quit the party last month after being condemned for commissioning and leaking polls aimed at pushing Clegg out of his job in favor of Business Secretary Vince Cable.
Before it's here, it's on the Bloomberg Terminal.
LEARN MORE