China's Export Gains to Cushion Growth as Imports Slump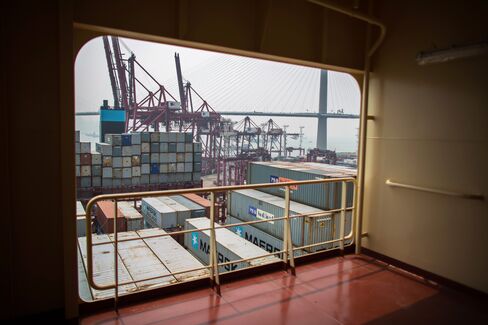 China's exports rose more than analysts estimated in May, helping to cushion the world's second-biggest economy from a deeper slowdown as an unexpected slump in imports highlighted risks to growth.
Overseas shipments gained 7 percent from a year earlier, the customs administration said yesterday in Beijing, exceeding the 6.7 percent median forecast in a Bloomberg News survey. Imports fell 1.6 percent, leaving a $35.92 billion trade surplus, the biggest in five years according to Bloomberg data.
Stronger exports may bolster Chinese leaders' confidence that a recovery in demand from the U.S. and Europe will support economic growth and reduce the need for stronger stimulus. On June 6, Premier Li Keqiang told officials from eight places, including Beijing, Guangdong, Zhejiang and Hebei, to be proactive in supporting their local economies, saying the government wants a "reasonable" rate of expansion.
"The export figures are positive news for policy makers and we expect continued solid export growth in the coming months amidst gradually improving global demand momentum," said Louis Kuijs, chief China economist at Royal Bank of Scotland Plc in Hong Kong. "The import data suggest a pretty subdued state of the domestic economy though and the dilemma for the government is how to balance the need to reduce growth in leverage with all the calls for support."
None of 42 economists had forecast a decline in imports. Their median estimate was for a 6 percent gain.
'Reasonable' Growth
The Shanghai Composite Index rose 0.2 percent as of 10:22 a.m. in Beijing. Yuan forwards were headed for the biggest gain in 17 months.
Li told the governors of places including Shanxi, Jiangsu, Sichuan and Heilongjiang that while the government doesn't put gross domestic product above everything else "this doesn't mean we don't want a reasonable economic growth rate," according to a statement on a government website today. The nation aims for a full-year expansion of 7.5 percent.
China's momentum has stabilized according to Bloomberg's nowcast of monthly GDP, an econometric model that points to 7.4 percent year-on-year growth in the first two months of the second quarter. That's in line with the 7.4 percent rate seen in the first quarter and suggests an end to the slide in growth that started in the third quarter of 2013, according to Bloomberg economist Fielding Chen.
The statistics bureau will this week publish data for May inflation, industrial output and retail sales and January-to-May investment, giving a clearer picture of the state of the domestic economy amid a property-market slump and government efforts to rein in credit growth. The People's Bank of China will release numbers for May money supply, new loans and aggregate financing, its broadest measure of credit.
Economic Support
The government has announced a series of targeted policies to support the economy after growth slowed to 7.4 percent in the first quarter from a year earlier, the weakest pace since 2012 and below the government's full-year goal of about 7.5 percent. Expansion may ease to 7.3 percent this year from 7.7 percent in 2013, according to the median estimate of analysts in a Bloomberg News survey last month, the least since 1990.
Measures have included help for exporters, tax cuts, accelerated investment in public housing and infrastructure, faster fiscal spending and a reduction in reserve requirements for some banks to spur lending to targeted sectors.
Downward Pressure
Li said last week that local and central governments must fully implement the policies and reforms set out by the leadership to achieve this year's targets, as downward pressure on the economy remains "relatively high,' the official Xinhua News Agency reported on June 6.
The State Council will dispatch eight inspection teams nationwide to check on implementation, Xinhua said in a June 7 report, citing a government statement. Many policies have not been fully carried out nor have they had the effects they should have, and officials who have not fulfilled their duties will be punished, according to the statement.
China's trade data have been distorted this year after figures in early 2013 were inflated by falsified invoices used to disguise capital flows. That triggered a government crackdown and led to a slump in year-over-year export growth in May of that year to 0.9 percent from 14.6 percent in April.
Trade numbers for May this year probably marked the first set of ''clean" data free of the impact of distortions, according to RBS's Kuijs.
U.S., Europe
In the U.S., China's biggest export market, hiring increased by more than 200,000 for the fourth consecutive month in May, and service industries expanded at the fastest pace in nine months, reports showed last week, signaling a broad-based rebound in the economy. The European Central Bank on June 5 announced a cut in deposit rates to minus 0.1 percent to stimulate demand.
"Improving exports reduce the downside risks to growth, making broad-based stimulus less likely," said Ding Shuang, senior China economist at Citigroup Inc. in Hong Kong.
The increase in exports last month followed an unexpected gain of 0.9 percent in April after two months of declines. Estimates of 43 analysts ranged from a drop of 1.8 percent to a gain of 10.4 percent.
China's steel exports have surged amid a domestic operating environment that Baoshan Iron & Steel Co. Chairman He Wenbo said in April is the harshest ever. Overseas shipments by Tangshan Iron and Steel Co. surged 35.5 percent in April from a year earlier and rose 39 percent in the first quarter, data from its parent Hebei Iron and Steel Co. show.
Metal Financing
May's drop in imports compared with a median estimate for a 6 percent increase in a Bloomberg News survey, with forecasts ranging from a gain of 0.3 percent to 13 percent. The trade surplus, which was projected to be $22.6 billion, was the largest since January 2009, according to previously released data.
The fall in imports may be partly due to the government's investigation into metal financing in China and to the lag in import orders made a couple of months ago when the economy slowed sharply, Larry Hu, head of China economics at Macquarie Securities Ltd. in Hong Kong, said in an e-mail.
Citigroup's Ding said that the use of commodity financing may have lost momentum because of a decline in the value of the yuan, contributing to the fall in imports.
— With assistance by Nerys Avery
Before it's here, it's on the Bloomberg Terminal.
LEARN MORE