Rio Bay Won't Be Clean for 2016 Olympic Sailing, Mayor Says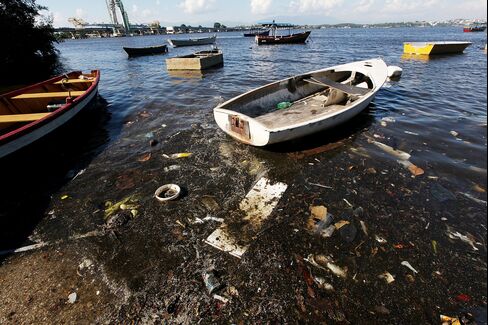 Rio de Janeiro Mayor Eduardo Paes said the iconic Guanabara Bay won't be clean in time for the 2016 Olympic sailing competition, breaking a promise made when the city won hosting rights in 2009.
"I am sorry that we didn't use the games to get Guanabara Bay completely clean, but that wasn't for the Olympic Games -- that was for us," Paes said on June 7. "That was something that we could not accomplish that was in the bid book."
Paes said the sailing competition will be held in unpolluted waters, either outside the bay or at its entrance. Athletes' health won't be at risk from debris and sewage that elsewhere drains into the bay, which skirts the so-called Marvelous City that is Brazil's largest tourist destination, he said. The bay can often be seen in photographs of Rio landmark Pao de Acucar, also known as Sugarloaf mountain.
Brazil is facing increased scrutiny before the World Cup opener on June 12 after delivery of almost all 12 new or refurbished soccer stadiums was delayed and over budget. Paes' comments come five weeks after John Coates, an International Olympic Committee vice president, said Rio's Olympic preparations are the "worst ever." Paes told reporters cleanup of the bay is one of few shortcomings in preparations.
The city has focused on legacy projects including a new metro line, bus rapid-transit lines that extend longer than Rio promised the IOC, and a handball stadium that will be converted into a public school. The Olympic Stadium is ready, Olympic Park construction is on schedule and private funding accounts for about 60 percent of the total budget, he said.
World Cup delays and cost overruns have reinforced international mistrust of Brazil's ability to deliver, and Rio is hoping to correct that perception, said Paes. The 36.7 billion reais ($16.3 billion) Olympic budget could rise by as much as 20 percent, he said.
"We really do believe that we are on time, and that we are going to deliver great games," Paes said. "Lots of public money is being saved to build the Olympic values and the legacy we want to deliver. We're not going to leave any white elephants."