Watching the NBA Finals Just to See LeBron James Lose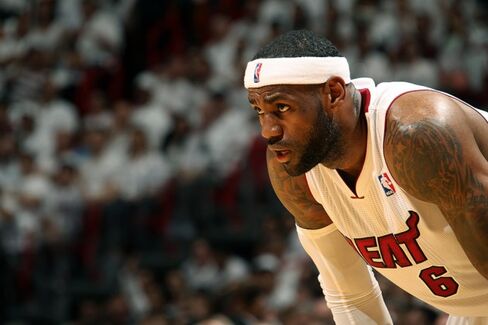 The NBA Finals, now under way, is remarkable in that it offers something for everyone: San Antonio Spurs fans cheer for a chance at redemption. Miami Heat fans hope for a chance to rub it in (again), though the two-time NBA champions got off to a rocky start in a sweltering game one that featured a malfunctioning air conditioning system at the AT&T Center in San Antonio.
And what of casual or unaffiliated fans? Well, they tune in hope of watching LeBron James lose.
This is what the latest poll from ESPN suggests, anyway. Despite multiple titles and Most Valuable Player awards, Miami's small forward is nowhere near Michael Jordan's peak popularity. In fact, among casual fans, James was more popular before he left Cleveland and won all those titles; the now-infamous 2010 Decision seems to have permanently tarnished the King's crown.
For TV networks, this dynamic is critical. It's the casual fans who may—or may not—actually watch the games, and it's these borderline viewers that ABC needs to tune in. They are to ratings what independent voters are to elections, and turnout makes the difference between a playoff series that's a hit and one that's a flop.
According to ESPN, its poll results suggest that these viewers are not tuning in to watch James win:
An interesting thing happened in last season's playoffs. Over the Eastern Conference finals and NBA Finals, ratings went down four of six times after Heat victories. That's tough to accomplish considering that ratings tend to go up as a series progresses.
They are tuning in to watch him lose:
In contrast, ratings went up five of six times after Heat losses. It would seem that much of the public isn't tuning in to live vicariously through the best player's accomplishments. The risk of a Miami Heat collapse animates much of the interest.
Ratings data from this year's just-completed Eastern Conference finals show a different pattern:
If the trend ESPN observed holds (and with the appropriate caveats about statistical significance, sample size, etc.), we would expect to see ratings go up after Heat losses. Instead, the ratings went down after each Heat loss. And the ratings went up after two of the three non-elimination Heat wins. It's too soon to tell if this pattern was an aberration, or an indication that rooting for LeBron to lose has lost some of its appeal.
Before it's here, it's on the Bloomberg Terminal.
LEARN MORE