Infiniti to Build China Plant Delayed by Japan Tensions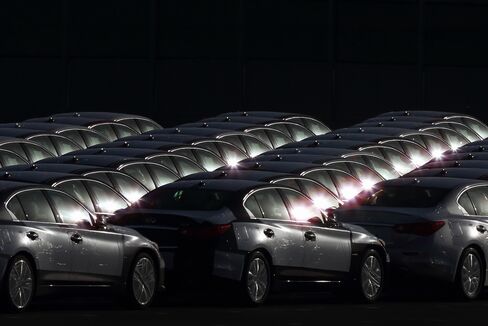 Nissan Motor Co.'s premium Infiniti brand has restarted construction of a plant in northeastern China after plans for the factory were delayed by rising Sino-Japanese tensions in 2012.
The factory in the city of Dalian, in Liaoning province, will take 12 to 14 months to complete and have an initial annual production capacity of at least 100,000 vehicles, according to Lu Feng, head of the legal and securities affairs department at Nissan's Chinese manufacturing partner Dongfeng Motor Group Co. Karin Zhang, Infiniti's Hong Kong-based spokeswoman, declined to comment.
"We had to slow the project down due to the Sino-Japan relationship," Lu said in a phone interview yesterday. "We have restarted the project."
Infiniti is preparing to start production in China as foreign automakers step up investments to increase their share of the world's largest auto market. Japanese-branded car sales slumped in the country in the aftermath of a Chinese consumer boycott in 2012 after tensions escalated between the two nations over ownership of a group of islands.
Infiniti is counting on further gains in China next year as it begins building the long-wheelbase versions of the Q50 sedan and QX50 crossover -- tailored for Chinese taste -- later this year at Nissan's Xiangyang plant in central China.
At the height of the Sino-Japanese tensions in 2012, Infiniti delayed plans for the Dalian factory and retooled a production line at the Xiangyang plant, according to Lu. The company will shift production to Dalian if the Xiangyang factory runs out of capacity, he said.
Infiniti President Johan de Nysschen last month forecast global deliveries for the brand, which has ambitions to capture 10 percent of the world premium market by 2020, will rise more than 10 percent to a record 200,000 units in the fiscal year ending March as sales in China jump at least 75 percent to more than 30,000 units.
The Q30 compact car could be the third model it produces in China, Andy Palmer, Nissan's chief planning officer, said in Beijing in April.