IMF Says U.K. Must Act to Curb Risk From House Prices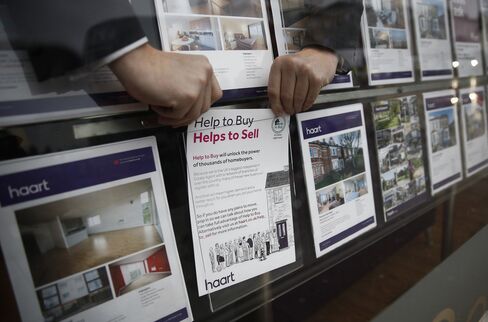 June 6 (Bloomberg) -- The U.K. must act to contain rising house prices as greater indebtedness may pose a risk to the economic recovery, the International Monetary Fund said.
While the British economy has "rebounded strongly," widening house-price inflation and an increase in the size of new mortgages has made households more vulnerable to interest-rate shocks, the IMF said, while adding there are "few of the typical" signs of a bubble. Action could include limiting the proportion of high loan-to-income mortgages lenders can issue, and modifying or even scrapping the government's Help to Buy program, the Washington-based fund suggested.
"In an environment where expectations of capital gains can quickly drive up household indebtedness -- and thus systemic risk for financial institutions —- more policy action is warranted," the IMF said today in its Article IV report on the U.K. "Macroprudential policies should be the first line of defense against financial risks from the housing market."
Today's warning on house-price inflation echoes European Commission recommendations made earlier this week that the U.K. should consider tax reforms and adjust Help to Buy to curb surging property prices. Chancellor of the Exchequer George Osborne said the Bank of England should use the tools at its disposal to curb property-price inflation if it posed a risk.
'Remain Vigilant'
"We need to remain vigilant for any risks that might emerge in the housing market," Osborne told a news conference in London to mark the report's publication. "That's why I have given the Financial Policy Committee new macroprudential tools should they see a risk to financial stability," including "recommendations to me on the parameters of the Help to Buy scheme."
The IMF suggested measures to curb house-price growth "should be introduced early and gradually" to allow the FPC to calibrate them to the risks. The BOE panel has said it's "alert" to risks and will review the housing market at its meeting this month.
Initial measures could include implementing rules on the level of loan to income, for example allowing lenders to make only a limited percentage of loans above a certain ratio, according to IMF officials.
U.K. house prices surged 3.9 percent last month as rising demand pushed values to the highest in six years, according to Halifax. Prices have risen 11 percent in the past year to an average 184,464 pounds ($309,000), the mortgage lender said yesterday.
Lending Restrictions
Rising demand and a shortage of supply have fueled prices, particularly in London. Royal Bank of Scotland Group Plc and Lloyds Banking Group Plc, the owner of Halifax, have imposed restrictions on mortgage lending to counteract the surge in the capital.
The number of homes bought with the support of a government mortgage guarantee under Help to Buy totaled 7,313 in the first six months of the program, equal to 1.3 percent of all loans completed, according to the Treasury. Eighty percent went to first-time buyers. The mortgage guarantees were made available in October, extending an existing program that provided interest-free loans for buyers of newly built homes.
IMF officials said the Treasury should examine whether there's still a need for the mortgage-guarantee plan as while volumes were still small, lending through the plan could pick up over time, and evidence suggested credit outside the program was becoming available to the kind of people it had intended to benefit.
Housing Supply
The government pledged to press ahead with Help to Buy in its legislative program for the next year, announced to Parliament by Queen Elizabeth II this week.
The fund also urged the government to make further reforms to spur housing supply.
"Key inefficiencies remain," the IMF said. "These include unnecessary constraints on brownfield and greenfield developments, tax policies that discourage the most economically efficient use of property, and underdeveloped rental markets with relatively short lease terms."
The fund, which previously criticized Osborne's budget-reduction program for being too aggressive, praised it in this report for its flexibility and predicted that growth will "remain strong" this year.
"The U.K. economy is firing on all cylinders," Osborne said. "Today's IMF report shows that our long-term economic plan is the right one."
Hold Rates
The IMF, while noting that "inflation has fallen rapidly," also recommended that monetary policy should remain on hold "for now."
"Policy might, however, have to be tightened quickly if costs run ahead of productivity growth, slack is absorbed, or financial stability concerns cannot otherwise be addressed," the fund said.
The BOE's Monetary Policy Committee held its key interest rate yesterday at a record-low 0.5 percent, the level it's been at since March 2009.
Investors are betting the benchmark rate will rise 25 basis points by next May, according to forward contracts based on the sterling overnight interbank average. Expectations of a rate increase in the coming 12 months climbed to the highest since 2011, according to the BOE's quarterly Inflation Attitudes Survey, published today.
To contact the reporter on this story: Svenja O'Donnell in London at sodonnell@bloomberg.net
To contact the editors responsible for this story: Craig Stirling at cstirling1@bloomberg.net Eddie Buckle, Andrew Atkinson