London Police Imperil Hussain's 3,900-Mile Karachi Grip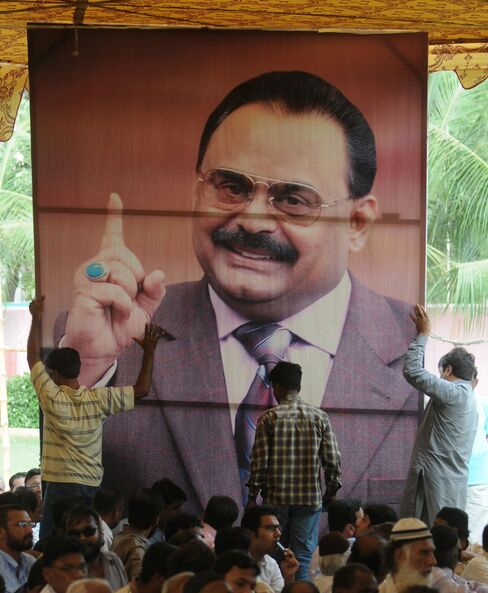 Altaf Hussain stood before a political rally in Pakistan's biggest city about three decades ago and raised his hand, telling tens of thousands of supporters he expected total silence on the count of three.
"Not a single man spoke, not a single man breathed -- you could hear the wind and the leaves flutter," said Syed Kashif Ali, recalling the event he attended when he was nine years old. "It seemed as if we were standing in a graveyard then."
Ali, now 35, is among thousands of supporters who have blocked one of Karachi's main roads since London police questioned Hussain on June 3 in a money-laundering case. The leader of the Muttahida Quami Movement, or MQM, fled 3,900 miles (6,300 kilometers) to the U.K. 22 years ago following death threats.
Hussain's legal troubles now threaten to loosen his grip on Karachi, which has endured even after he moved due to his efforts to unify the Urdu-speaking community that dominates the city of more than 20 million people. Other political parties may look to fill a perceived power vacuum, according to Kamran Bokhari at Stratfor, a risk advisory group.
"I can see more violence in places like Karachi," Bokhari, the Austin, Texas-based company's vice president for South Asia and the Middle East, said by phone from Canada. "We are at the beginning of a new dynamic in southern Pakistan."
'Quite Dictatorial'
Karachi, one of the world's fastest-growing megacities, generates about half of Pakistan's tax revenue and is home to the nation's stock exchange and central bank. The port and financial center is a transit point for everything from U.S. military equipment to Afghan opium, and has recently seen Taliban fighters taking control of parts of the city.
Hussain's MQM won 17 of Karachi's 20 seats in the National Assembly in last year's general election and is the country's fourth-largest party. It's also a coalition partner in the regional government of Sindh province in the nation's south, of which Karachi is the capital.
"He is quite dictatorial and the party's structure revolves around him," said Shaikh Mutahir Ahmed, head of the International Relations department at the University of Karachi, referring to Hussain. "It's an ethnic-based, non-ideological organization, and history shows that in parties that have these ingredients, personalities are more important."
Pakistan's benchmark KSE-100 stock index slumped the most in a month in Karachi after news of Hussain's arrest. Shops and malls closed within hours as gangs of armed men roamed the city, where billboards with Hussain's bespectacled, mustached face line the streets.
'Long Live Altaf!'
Karachi has a history of violence among armed wings of political parties and criminals linked to weapons suppliers and drug mafias. As many as 10,693 people were killed between 2008 and 2012, according to the Human Rights Commission of Pakistan.
Hussain has been released from the hospital and returned to the police station, according to a London police statement today that didn't identify him by name in line with departmental policy.
Hussain is in high spirits and getting the best possible treatment, Pakistan state-run channel PTV reported, citing Imran Mirza, the country's acting high commissioner in the U.K. Mirza met with Hussain yesterday for 20 minutes, it said.
Hussain doesn't have a personal spokesman and couldn't be contacted.
Hundreds of MQM supporters have gathered daily on one of Karachi's main roads for the past three days to show support for Hussain, sitting on red carpets laid across the pavement. Party workers speak amid intermittent chants of "Long Live Altaf!"
India-Pakistan
"I swear to God that in my 28 years of association with the party, I have never seen such tough times, never seen such a difficult time," Haider Abbas Rizvi, an MQM leader, told protesters on June 4.
The MQM derives its strength from Urdu-speaking migrants called Mohajirs who came from India and settled in Pakistan after the subcontinent was partitioned at the end of British rule in 1947. While scattered all over the country, many from the group settled in Karachi, including Hussain's parents.
"The prevalent perception inside and outside Pakistan is that Hussain is a larger-than-life figure on par with Ho Chi Minh and Mao Zedong," Rashid Ahmed Khan, professor of international relations University of Sargodha in Punjab province. "This was deliberately promoted to keep the Urdu-speaking community united."
Can't Climb
Hussain was born in Karachi on Sept. 17, 1953. His father was a station master at Indian Railways before moving to Karachi, according to the MQM website. His grandfather was a religious leader in Agra, India, home of the Taj Mahal.
Hussain became politically active in the 1970s while studying for a degree in pharmacy at the University of Karachi. He formed a group in 1978 to campaign for the rights of his fellow Mohajir students that would later give birth to the MQM.
Under the military regime running Pakistan at the time, Hussain received a nine-month jail term and five lashes after being accused of ripping the national flag from a flag pole during a protest in Karachi.
"I can't climb a pole, and I had clearly told the military court that I would not seek a pardon as I have not committed the offense," he said in a 1996 interview posted on the party's website.
Leaving Karachi
In 1992, Hussain fled Karachi after he fell out with Prime Minister Nawaz Sharif, who was in his first stint running the country and initiated a crackdown on gangsters in the region. The operation later focused on MQM leaders in Karachi, and the central committee decided that Hussain should leave the country due to threats on his life, according to Aminul Haque, one of its leaders.
Hussain is able to run the party from abroad, Haque said.
"This is a well-organized, well-disciplined political party, and we share day-to-day matters with him," Haque said. "Whatever we need his consent on, we get his symbolic approval for it."
Any prison sentence or prolonged detention may disrupt those channels. Since its formal establishment in 1984, the MQM has mostly played the role of a kingmaker in national politics. That changed last year, when Sharif's party won enough seats to run the government without the support of regional parties.
Anarchy Risk
Hussain's inability to communicate regularly with the MQM leadership may lead to divisions between various factions that have different strategies and don't get along, said Muhammad Waseem, professor of political science at the Lahore University of Management Sciences. Mohajirs could split between purists and those favoring interaction with other ethnic groups, as well as between Karachi residents and those from elsewhere in Sindh, he said.
"There will be anarchy in Karachi and Hyderabad," Waseem said, referring to the two largest cities in Sindh, the second most populous province in Pakistan. "Factions will be made, and lines will be drawn."
Ali, who remembers attending Hussain's rally in the 1980s and now works for a local bank, plans to sit on the road protesting in central Karachi until the U.K. government issues a statement about the MQM leader's health.
"We are here for the man who gave us a face, an identity," said Ali, munching on tobacco while sitting with his friends. "He gave us the will to walk and the confidence to stand tall. If he needs us, we will come and we will stand with him."