Can You Rock a Short-Suit? J.Crew Thinks So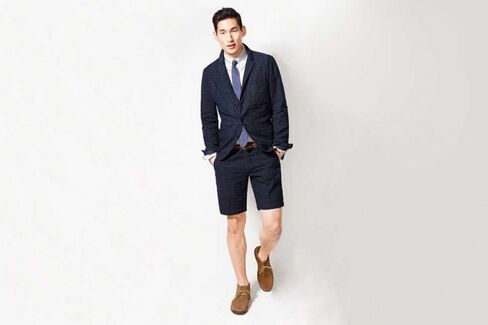 At this summer's weddings and white parties, the nattiest gentlemen will be wearing shorts with a corresponding suit coat. At least, that's what J.Crew would have you believe, along with a few other menswear companies that are giving the look a hard sell this season.
Those jumping on the trend include Topman ($390), Asos ($286), and Reiss ($500). And then there's this Comme des Garcons number at Barneys ($895), which looks more like a skirt-suit.
"It's definitely having a moment, particularly with younger guys," says Jon Patrick, creative director at J.Hilburn, a made-to-order menswear company.
From all perspectives, the short-suit is an odd pairing. Sartorially, the look is equal parts business and schoolboy. Functionally, it's both breezy and stifling, and socks are a no-no, unless they go up to one's knees. The list of people who can pull it off doesn't stretch much beyond professionals in Bermuda and street-style icons such as Nick Wooster and Pharrell.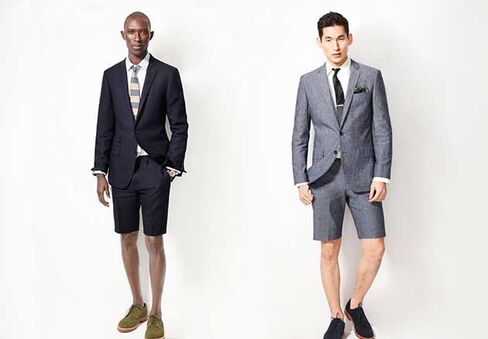 In other words, for most guys it's a gutsy decision. For retailers, however, it's not very risky at all. Most high-volume brands focus on staples, which is a great way to capture the everyman en masse. But staples generally don't go out of style and thus don't need replacing that often. The short-suit is something different. It may go the way of square-toed dress shoes next week.
In a best-case scenario, the short-suit takes off the way seersucker did in the Northeast a few years ago—expanding the menswear market as guys who already have plenty of suits scamper to buy yet another.
That outcome is probably a stretch for a few reasons. For one, seersucker still works in an office (and in Congress). Shorts? Not so much, even if the ensemble is all business above the belt.
That said, retailers will sell plenty of the shorts separately, and at the same time they are burnishing their fashion cred. A couple of products that push the boundaries of taste—either slightly ahead of a trend or behind it—are a must for any retailer's wardrobe. It's why one can buy a paisley-camo blazer ($298) and sweat shorts that cost $140.
And just because apparel giants are pushing the short-suit on their websites doesn't mean they are making that many of them. J.Crew, for example, is only offering them online.
"It's an easy and affordable way to kind of be in step with what's going on," Patrick says. "It's also a merchandising play, because guys will come in and buy ties and shirts and a bunch of other stuff."
J.Hilburn isn't offering any short-suits, primarily because its clients tend to be in their 30s and 40s. "But if someone asked for it," Patrick says, "it would be easy enough to make it happen."
Before it's here, it's on the Bloomberg Terminal.
LEARN MORE