'GM Nod' Fuels Deadly Defects Adding to Barra's Challenge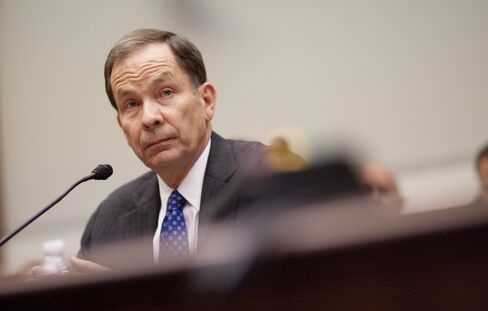 GM was for years a place where employees agreed to fix problems but never did, feared alerting superiors to car-safety concerns and avoided taking notes in meetings lest they be held liable for product shortcomings.
Those are some of the findings buried within the 325-page investigative report by General Motors Co.'s outside lawyer Anton Valukas, who led a three-month probe seeking to answer why it took the largest U.S. automaker more than a decade to recall 2.59 million vehicles with potentially fatal flaws. The report blamed a lack of urgency in the engineering and legal departments coupled with fundamental failures to understand how the company's cars worked, even as it didn't reveal any conspiracy to cover up facts. Chief Executive Officer Mary Barra herself was held blameless, and she dismissed 15 employees for their roles along with punishing five more.
"This should have never happened," Barra told about 1,000 employees yesterday at GM's technical center in suburban Detroit. "It is simply unacceptable."
The report underscores the enormity of Barra's challenge as she seeks to change the automaker's culture after the biggest legal and public-relations challenge since its government-backed bankruptcy in 2009. Congress and the Justice Department continue to investigate GM, and some critics asked whether the Valukas report -- commissioned and paid for by the company -- is sufficiently impartial because it spared the top leadership.
Lawmakers in the U.S. House and Senate said yesterday they planned to call another round of hearings.
'GM Nod'
"I won't be letting GM leadership, or federal regulators, escape accountability for these tragedies," said Senator Claire McCaskill, who presided over an April 2 hearing in which Barra declined to answer many specific questions about what happened because the Valukas report wasn't complete. "The families of those affected deserve no less."
Barra, who ran GM's human resources and product development departments before becoming the company's first female CEO, outlined in a town hall-style meeting with employees aspects of GM's culture that contributed to its inability to address product flaws. She described in the report what's known as the "GM nod," the phenomenon when everyone in a company meeting agreed to take a proposed action while leaving without any intention to follow through.
"It is an idiomatic recognition of a culture" that "does not move issues forward quickly, as the story of the Cobalt demonstrates," the report said.
Defective Switch
GM's crisis erupted in February with the recall of some vehicles no longer sold, including the Chevrolet Cobalt, that have a defective ignition switch that could be jarred into the "accessory" position, disabling power steering and preventing air bags from deploying.
The National Highway Traffic Safety Administration has already fined GM $35 million, the maximum allowed, after finding systemic problems throughout the organization in dealing with the recall. GM has already agreed with NHTSA to wide-ranging changes to how it reviews safety issues and decides on recalls.
The GM nod wasn't the only in-house affectation. The report also mentioned the "GM Salute," another phenomenon within the company when employees would sit with their arms crossed, pointing toward others, "indicating that the responsibility belongs to someone else, not me."
Said the findings: "It is this same cabining of responsibility, the sense that someone else is responsible, that permeated the Cobalt investigation for years."
Executives Ousted
GM's investigation confirmed Barra's previous claims that she was previously unaware of the flawed switch. It also cleared GM's top lawyer, Michael Millikin. Ray DeGiorgio, the engineer in charge of the flawed part, and Gary Altman, a program engineering manager, were ousted, said a person familiar with the matter.
Mike Robinson, vice president of sustainability and global regulatory affairs, was the highest-ranking GM executive dismissed by the automaker, said another person familiar with the matter. He left along with Bill Kemp, GM's top lawyer on recalls, Lawrence Buonomo, the administrative head of in-house litigation, Gay Kent, director of vehicle safety and crash-worthiness, and Carmen Benavides, director of safety, according to people.
Barra drew praise for candidly delivering the results that painted GM as a company hobbled by a pattern of incompetence and neglect.
'Brutally Honest'
"She was brutally honest in acknowledging GM failed, plain and simple," said Michelle Krebs, senior analyst for car buying website AutoTrader.com. "Her talk was a rallying cry to the troops that it is absolutely imperative to do better. It also sets the tone for a culture change."
It wasn't all rave reviews for Barra's performance. The CEO didn't offer enough specifics on why the delay in the recall and the fixing of the problem happened or on reassuring consumers that there aren't more defects lurking in cars from that era, said David Johnson, CEO of Strategic Vision LLC, a public-relations firm in Atlanta.
"When you are doing a press conference like that, you want to put a major portion of the story to bed," Johnson said. "This instead raises more questions than answers them."
One area that received lots of attention was whether GM would increase its count of deaths linked to the faulty part. So far, the company has said 13. Others, such as Clarence Ditlow, executive director of the Center for Auto Safety, a Washington-based advocacy group, have suggested the number is much higher.
Victim Compensation
The total will come into play as GM prepares to compensate victims. Barra announced a compensation program for victims and their families to be administered by Kenneth Feinberg, who ran similar funds for victims of the Sept. 11 terrorist attacks and the 2010 BP oil spill. GM expects the program to cover the almost 2.6 million vehicles recalled with a potentially defective ignition switch.
After GM side-stepped questions from reporters in the morning about whether the death total would rise, in an afternoon conference call with analysts, Barra reiterated the company's tally of 13 and added: "We are not saying the number of eligible parties will be limited to 13. Mr. Feinberg will review the facts and he alone will determine the final number of eligible individuals. We will make public the number of fatalities and serious physical injuries as ultimately determined by Mr. Feinberg."
The program plans to begin accepting claims on Aug. 1, the company said.
'Deeply Troubling'
A quick resolution will allow Barra and her team to capitalize on rebounding profits and the strongest industrywide sales since the collapse of Lehman Brothers. GM rose 1.6 percent to $36.55 at the close in New York. The shares have declined 11 percent this year.
Valukas's team interviewed more than 230 witnesses and collected more than 41 million documents. The volume of data was estimated at 23 terabytes, the report said.
The report found that GM selected a switch that was below the company's specification and that subsequent engineers tasked with fixing the problem didn't understand the most fundamental consequences of the failure, specifically that when the switch turned off, the air bags did, too. It also details numerous missed opportunities over the years to address the issue.
"From beginning to end, the story of the Cobalt is one of numerous failures leading to tragic results for many," the Valukas report said. "Throughout the entire 11-year odyssey, there was no demonstrated sense of urgency, right to the very end. The officials overseeing the potential fixes and investigations did not set timetables, and did not demand action."
December Delay
The report even noted that in December of last year, GM's recall committee deferred a decision to recall vehicles for six more weeks in order to gather more information "in part because the presentation provided to them failed to alert them to fatalities."
Outside attorneys warned the automaker as early as 2011 that failing to recall Cobalts could become a large liability, the report said.
Barra said it was "enormously painful to have our shortcomings laid out so vividly" in the Valukas report. Senator Richard Blumenthal, however, called Valukas's findings "the best report money can buy" and said it "absolves upper management, denies deliberate wrongdoing and dismisses corporate culpability."
Lance Cooper, a lawyer for crash victims, said the report can help draw out more details in civil cases.
"It was disappointing that the emphasis in the remarks was, this was a case of incompetence and neglect, this was negligence on the part of company employees, but then highlighting the fact that she says there was no evidence of a trade-off in safety and cost."
Unusual Moves
The Valukas report couldn't rule out the effect of the company's cost-cutting in early 2000s as the automaker headed toward eventual bankruptcy. While the investigation found no evidence that any employee made an "explicit trade-off between safety and cost," the investigators couldn't conclude that the atmosphere of cost cutting didn't play a role.
"When belts are tightened, most functions are impacted in some way and we cannot assume that safety was immune," the report said.
DeGiorgio, for example, held a position that was given added responsibilities to decrease engineering headcount, the report said.
"Witnesses stated that the reduction in force created a difficult environment in which people were overworked and the quality of work suffered."
Barra noted throughout the day that the report didn't find evidence that employees made a trade-off between cost and safety.
Crisis History
In February, GM recalled 778,562 Chevrolet Cobalt and Pontiac G5 sedans in North America. GM subsequently expanded its recalls to the Saturn Ion and other models, covering about 1.6 million small cars from model years 2003 to 2007 and about a million from 2008 to 2011 that were assembled with a better switch that could've been replaced with faulty ones. The company had linked 13 deaths and 47 crashes to the issue as recently as May 24. The Valukas report increased the crash total to 54.
The recalls came less than a year after GM settled a wrongful-death lawsuit by Cooper on behalf of the family of 29-year-old Brooke Melton, who died in 2010 when her 2005 Cobalt lost power in a crash linked to the defective switch. The lawsuit revealed that the faulty part had been changed at some point without the part number being changed.
Switch Change
Records released in April by the House panel investigating GM show that DeGiorgio signed off on changing the ignition switch in 2006 and didn't change its part number, effectively hiding the change and making it harder for future engineers to pinpoint the problem.
"To this day, in informal interviews and under oath, DeGiorgio claims not to remember authorizing the change to the ignition switch or his decision, at the same time, not to change the switch's part number," the report said. "DeGiorgio's deliberate decision not to change the part number prevented investigators for years from learning what had actually taken place."
While DeGiorgio hasn't publicly commented, the Valukas report found an e-mail of his dating back to 2002 as he struggled with the faulty part. He signed off as "Ray (tired of the switch from Hell) DeGiorgio."
Defending Car
The Valukas investigation found that GM lawyer Kemp had worked to blunt a report of an upcoming Cleveland Plain Dealer story in 2005 about the Chevrolet Cobalt stalling, suggesting they give the columnist a videotape demonstrating the remoteness of the risk of it occurring. Another lawyer responded that she wasn't optimistic they could come up with something compelling.
"We can't stand hearing, after the article is published, that we didn't do enough to defend a brand new launch," Kemp wrote in an e-mail timed 5:18 a.m. on June 23, 2005.
The investigation also found that former CEO Rick Wagoner may have viewed a presentation that included a description of stalling issues with the Cobalt about three weeks before he was ousted by President Barack Obama's automotive task force. The slide Wagoner may have seen focused exclusively on warranty costs and didn't characterize the matter as a safety issue, the report said.
GM, which has already announced about $1.7 billion in charges this year tied to recalls, yesterday said it may see further related costs this quarter. The charges, which could be material, will be "unknown until we have completed our work," according to slides posted on the automaker's website.
Senator Jay Rockefeller, a West Virginia Democrat, expressed admiration that Barra fired 15 people.
"Not just one or two people, but 15," he said. "She had to reach down into it."