Wal-Mart Is Family Friendly—at Least to Members of the Walton Family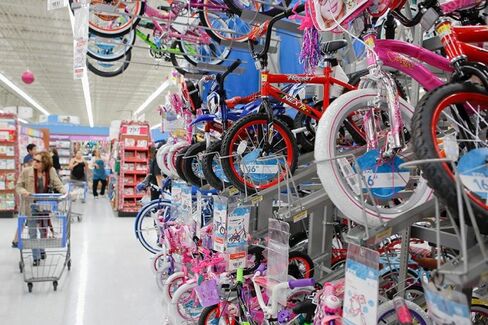 Sam Walton founded Wal-Mart Stores in 1962, and the company went public eight years later. It's now the biggest retailer in the world, with revenue last year of $476.3 billion. It employs 1.3 million associates, as Wal-Mart calls them, which also makes it the biggest employer in the U.S. after the federal government.
Yet in some ways, Walmart is still a family business. The Waltons own slightly more than 50 percent of the company, a share that's gone up in recent years. Rob Walton, Sam's eldest son, is chairman of the board of directors, a position he's held since 1992. His brother, Jim, and son-in-law, Gregory Penner, are also on the board. That's too many Waltons for some shareholders, who want a more independent board and plan to say so at the company's annual meeting on June 6.
Walmart's proxy statement makes for some fascinating reading, especially the "Related Persons Transactions" section. Doug McMillon, who took over as chief executive officer in February after more than two decades at the company, has family of his own at Walmart. His sister-in-law and her husband both work there. Nichole Bray is a senior manager in the information systems division (total 2013 compensation, $176,900); Greg Bray is a senior director in the finance department (total 2013 compensation, $238,640). McMillon's sister, Lori Haynie, is an executive at Mahco, a company that sold $13.4 million worth of sporting goods and other products to Walmart last year. The company expects to make similar purchases this year.
Walmart's former CEOs also have family connections at the company. Mike Duke, who joined Walmart in 1995 and retired as CEO earlier this year, remains on the board. His son-in-law, Stephen Weber, is a senior manager in Walmart's information systems division (total 2013 compensation, $175,700).
Duke's predecessor, Lee Scott, is giving up his spot on the board at the annual meeting. But his son, Eric, will still be connected to the company. Eric is chairman and "indirect equity owner" of Cheyenne Industries, which sold $32 million worth of home furnishings and other products to Walmart last year. Walmart expects that business relationship to continue this year.
In the introduction to these disclosures, Walmart states: "The terms of the transactions described below are comparable to the terms that would have been reached by unrelated parties in arm's-length-transactions." Randy Hargrove, a spokesperson for the company, adds that none of the executives have performance or supervisory responsibilities over their own family members.
As for the independence of its board, Walmart notes that it has kept the roles of CEO and chairman separate since 1988 and that it recently expanded the role of the presiding director, who isn't a Walton. Another eight of the 14 directors nominated to the board aren't Waltons, either. As Hargrove puts it: "Despite their stock ownership, the Walton family only holds three board seats."
Before it's here, it's on the Bloomberg Terminal.
LEARN MORE