One Chart That Shows U.S. Companies Still Fear Investing for the Future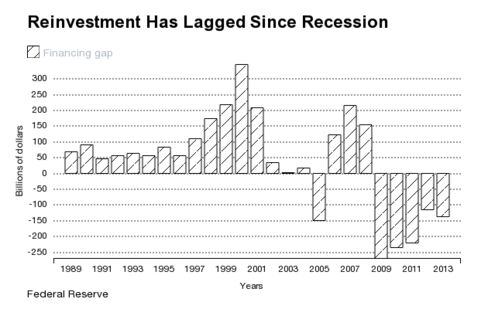 The people who run corporate America turned deeply pessimistic when the financial crisis struck. This chart shows that they still don't have their mojo back.
The chart is drawn from data released today by the Federal Reserve in a report known informally as the Z.1 and formally as the Financial Accounts of the United States. (The most recent quarterly data are on line 55 of Table F.102, if you want to see for yourself.) Numbers above zero in the chart show that corporate capital expenditures are greater than available internal funds from such sources as corporate profits, meaning that companies have to finance themselves partially with loans, bonds, and stocks.
This is the normal state of affairs—the level was above zero in every year but one from 1989 through 2008. As the chart shows, the so-called financing gap fell below zero in 2009 and has stayed there ever since. That means companies aren't reinvesting all their profits into research, equipment, software, and buildings for future growth.
The Fed data are "suggesting that corporations have remained cautious with their capital spending despite an improving economy," economist Cooper Howes of Barclays Research in New York wrote in an analysis today.
By the way, the chart shows annual numbers through the end of 2013. The financing gap was negative $77 billion in the first quarter of 2014, according to the Fed report—the smallest since 2009, but still negative.
Before it's here, it's on the Bloomberg Terminal.
LEARN MORE