BNP Executive Firings Are Sought by Lawsky Amid Probe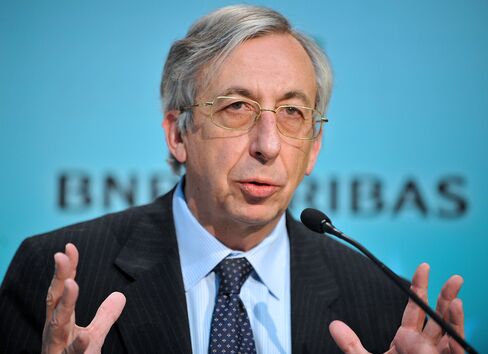 New York's top banking regulator Benjamin Lawsky is pressing BNP Paribas SA to dismiss one of its top executives as part of settlement negotiations with the U.S. over alleged sanctions violations, according to a person familiar with the matter.
Lawsky wants the bank to remove Chief Operating Officer Georges Chodron de Courcel, said the person, who asked not to be identified because the discussions are private. Lawsky is also seeking the departure of another senior executive and about 12 other bank employees, the person added. Chodron de Courcel and the others haven't been accused of wrongdoing.
"If the bank acknowledges a fault, someone should take responsibility and leave," said Francois Chaulet, who helps manage 400 million euros ($546 million) at Montsegur Finance in Paris, including BNP shares.
U.S. authorities are said to be seeking as much as $10 billion -- a record criminal penalty -- over BNP's dealings in sanctioned countries including Sudan and Iran. Lawsky has said that individuals, not just companies, must be held accountable to deter future wrongdoing. He also wants to suspend BNP's dollar-clearing operations in New York, which has become a sticking point in the negotiations, a person familiar with the matter has said.
Bertrand Cizeau, a spokesman for BNP, declined to comment or make Chodron de Courcel available for comment. Caitlin Ferrell, a spokeswoman for Lawsky, also declined to comment.
Strong Signal
A COO departure would be a "strong symbolic signal, while in practice the bank might still pay a tolerable fine and could keep functioning with access to the American market," said Anis Bouayad, founder of Strategie Alliance, a consulting firm in Paris.
Chodron de Courcel, 64, is one of three COOs at the bank and has overseen corporate and investment banking for more than a decade. He is also the chairman of BNP's Geneva-based unit, which has been a focus of the investigation, people familiar with the matter have said. His term as COO expires in the spring of 2016 at the latest, according to BNP's statute. The board of directors can remove a COO at any time, according to the statute.
Chodron de Courcel, a relative of former first lady Bernadette Chirac, started his career at Banque Nationale de Paris SA in the 1970s. He has been a senior executive at the bank since before the 2000 merger with Paribas SA.
Geneva Unit
BNP rose 1.1 percent to 52.02 euros by 4:43 p.m. in Paris trading, valuing the bank at 64.7 billion euros. The stock is down 8.3 percent this year, compared with a 6.2 percent gain in the Bloomberg Europe Banks and Financial Services Index.
Authorities in the U.S. first heard about possible wrongdoing by BNP around 2007, when an informant contacted the Manhattan District Attorney's office, according to two people with knowledge of the probe who asked not to be identified because the matter is private.
BNP's Swiss unit, based in Geneva, is home to a significant part of the bank's commodity finance operations. That business, one source of the alleged transaction violations, has fired, allowed to resign or relocated 30 people since 2012, people familiar with the matter have said.
Paris Dinner
A $10 billion fine could more than wipe out this year's earnings for BNP, estimated at 5.64 billion euros by analysts. It would also represent more than three times the combined fines paid by HSBC Holdings Plc, Standard Chartered Plc and ING Groep NV in 2012 for sanctions violations.
Prosecutors argue that a more severe penalty against BNP is justified because the misconduct was more egregious and the bank didn't fully cooperate with the investigation, a person with knowledge of the matter has said. The French bank has said it's cooperating and it has taken steps to change its practices.
Concern over the size of the fines under discussion for BNP and its potential impact on the French economy and financial system led President Francois Hollande to raise the issue with his U.S. counterpart Barack Obama at a dinner in Paris last night.
Obama had told reporters earlier in the day in Brussels that "the tradition of the United States is that the president does not meddle in prosecutions."
Before it's here, it's on the Bloomberg Terminal.
LEARN MORE