HSBC to Lloyds Banker Bonus Strategy Faces EBA Scrutiny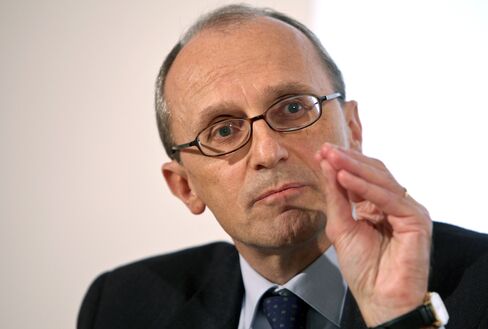 Bonus curb workarounds being developed by banks from HSBC Holdings Plc to Lloyds Banking Group Plc will be scrutinized by European Union regulators for possible breaches of the bloc's rules.
Banker pay limits approved by the EU last year that ban bonuses worth more than twice fixed pay are being put to the test by new remuneration structures at lenders. The approach pioneered by some U.K. banks entails paying staff partly through "allowances" that can vary year to year, and that aren't counted as variable pay.
"We'll have new guidelines that we'll issue by the end of this year that will also provide a framework for the treatment of this kind of pay," Andrea Enria, chairman of the European Banking Authority, said in an interview in Helsinki today. "We're not a supervisor, so we don't have sanctions that we can levy on individual banks. What we'll do is we'll monitor how the law is applied, and if it is not, the course of action is to open a breach of law investigation."
Lawmakers campaigned for the bonus curbs in a bid to clamp down on the gambling culture they blamed for triggering the 2008 financial crisis. The ban on bonuses of more than twice fixed pay is set to take effect next year. Michel Barnier, the EU's financial-services chief, has cited the emerging practice of banks granting allowances to staff as a cause for concern. In addition to HSBC and Lloyds, Barclays Plc and others have announced plans to introduce allowances.
"I am extremely watchful of all the risks of workarounds or get-arounds of the law," Barnier has said. "EBA has the power to act and the European Commission also so that the spirit and letter of the law is upheld," he said.
The EBA is "working very closely with the national authorities and they're as keen as we are to make sure that the law is applied correctly," Enria said.
"We've asked for information from all authorities on the pay structures being implemented and we'll analyze them," he said. "If they're fixed structures, they're compliant with the rule; if they're variable, the rule is triggered."
Before it's here, it's on the Bloomberg Terminal.
LEARN MORE