Gold Rally on ECB Stimulus Not Enough to Stoke Volatility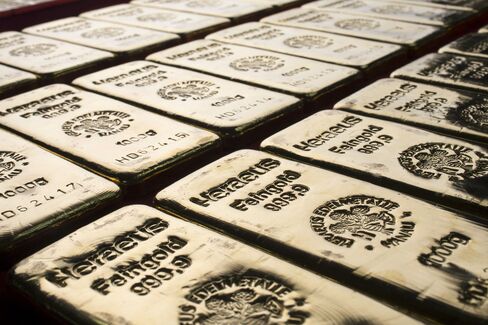 The prospect of unprecedented European stimulus that sent gold prices to the biggest gain in three weeks still wasn't enough to rescue bullion from the doldrums of sinking volatility.
The European Central Bank became the first major central bank to take one of its main rates negative as President Mario Draghi unveiled historic measures to fight deflation. Gold rose more than 40 percent since the end of 2008 as policy makers printed money at a record pace to boost expansion. Futures gained less than 1 percent today.
Bullion's 60-day historical volatility is at the lowest since April 2013, and the value of exchange-traded funds backed by gold shrank by $2.6 billion in May, the most this year. The metal's appeal as a haven diminished as U.S. equities surged and tension between Ukraine and Russia eased. More than $1.1 trillion was added to the value of global stock markets last month.
"The market is trained to react every time a major central bank makes a big announcement just as the Pavlovian theory states," Michael Gayed, the chief investment strategist at Pension Partners LLC in New York, said in a telephone interview. "Today's move may be temporary as the market remains lackluster and is caught in a range, waiting for a catalyst that could be instrumental in the breakout."
Today's Rally
Gold futures for August delivery rose 0.7 percent to $1,253.30 an ounce at 1:40 p.m. on the Comex in New York, the biggest gain since May 14. Prices climbed 4.2 percent in 2014.
The ECB today cut its deposit rate to minus 0.1 percent. Draghi said the ECB will introduce new, "targeted" offerings of liquidity to banks to encourage them to lend.
Prices reached a record $1,923.70 in September 2011 as global stimulus measures prompted investors to seek a hedge against rising consumer prices. The threat of inflation failed to materialize and the metal slumped 28 percent last year, the biggest drop in three decades.
The Federal Reserve has begun cutting its debt-buying program on signs of a stronger U.S. economy. The central bank reduced its monthly asset buying to $45 billion in April after the fourth straight $10 billion cut. Bullion slumped 3.9 percent in May, the biggest drop this year, as U.S. equities headed for record highs.
Narrow Range
Gold could fall to $1,150 by the end of the year, according to James Cordier, the founder of Optionsellers.com in Tampa, Florida. The recent narrow trading spread, coupled with declines in price swings, signal that the metal is poised to break out of its range, he said. Futures traded in a range of about $18 this week, compared with about $51 last week.
The 60-day volatility measure is at the lowest since April 11, 2013. In the next two sessions, prices tumbled 13 percent, entering a bear market. The annual decline in 2013 snapped 12 straight years of gains.
Holdings in global ETPs backed by the metal are near the lowest since 2009. More than $73 billion was erased from the value of the funds in 2013. Gold's open interest, the aggregate number of futures contracts yet to be closed, liquidated or delivered, dropped in April to the lowest since May 2009.
"It's apparent that some people are fleeing the gold market and find it boring," Lance Roberts, who helps oversees $600 million as chief strategist for STA Wealth in Houston, said yesterday. "People are more upbeat about the economy and stories about political turmoil are not hogging the headlines, so there is little demand for the safe-haven gold."
Before it's here, it's on the Bloomberg Terminal.
LEARN MORE