From Sports to Spoken Word, Transatlantic Rivalry Exposed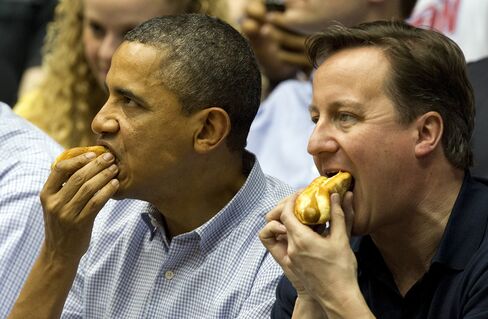 The leaders of the U.S. and Britain want the world to see them as allies marching in lock step. Just don't bring up sports or language.
President Barack Obama and Prime Minister David Cameron were deep into a joint news conference following a Group of Seven meeting in Brussels when a reporter asked about professional soccer -- "football" everywhere outside the U.S. Should Qatar be deprived of hosting the 2022 World Cup as the result of a bribery investigation, and if so, which country should host it?
Cue the smack-talk.
"On the issue of football, we should let the investigation run its course," Cameron said. "But of course, England is the home of football, as it's the home and inventor of many sports." He began to rattle off a list: "Tennis, rugby, golf, skiing, table tennis, cricket."
"I don't think we can lay claim to," Cameron, a fan of soccer and cricket and a cyclist, continued before Obama jumped in.
"Baseball, basketball," said the U.S. president, who annually makes a public show of picking teams in the biggest college basketball tournament and invites almost every sports' champion, from the NFL to NASCAR, to the White House.
"Well," Cameron conceded. "But we're always happy to provide a home for these sports."
The two leaders have a history with the topic. When Cameron made an official visit to the U.S. in 2012, Obama took him to see an NCAA men's basketball tournament game in Ohio.
In the spirit of allied cooperation, Obama offered Cameron this: "You did invent the English language, though."
"We did -- you've made a few changes," Cameron teased back.
"We appreciate it -- we have," Obama deadpanned.
The prime minister had the last word.
"You've made a few changes to it," he said. "But they don't hold us back."