Ex-Refco Finance Chief Trosten Avoids Prison for Scheme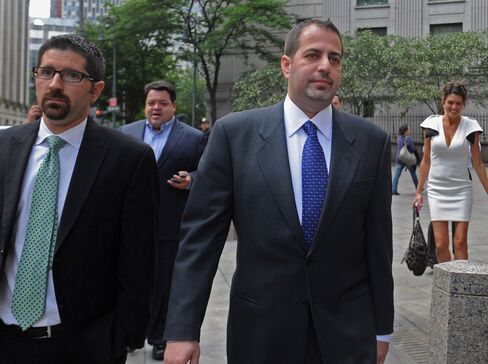 June 5 (Bloomberg) -- Ex-Refco Inc. finance chief Robert Trosten avoided prison for his role in a $2.4 billion scheme to cheat investors, six years after he agreed to plead guilty and help prosecutors.
Trosten, of Sarasota, Florida, pleaded guilty in February 2008 and was spared from a prison term that might have amounted to a life sentence. He testified a month later at the fraud trial of Tone Grant, a part-owner of Refco, once the biggest independent U.S. futures trader. He told jurors how he schemed with former Chief Executive Officer Phillip Bennett to deceive investors.
Bennett, who pleaded guilty in 2008, was sentenced to 16 years in prison, for what the U.S. said was an eight-year scheme to deceive banks, auditors and investors. Grant, who was convicted after a trial in Manhattan federal court, is serving a 10-year term. Trosten was released on bail the day of his arrest.
U.S. District Judge Naomi Reice Buchwald in Manhattan said she was sentencing Trosten to the day he served in custody after his 2006 arrest, citing his years-long cooperation with U.S. prosecutors, Austrian officials and the trustee who oversaw Refco's bankruptcy.
"I have concluded Mr. Trosten has paid his debt to society for the crimes he committed," Buchwald said today. "It is time to bring this phase of the aftermath of the Refco fiasco to an end."
False Accounting
While his 2008 trial testimony did little to implicate Grant, Trosten told jurors that it was Bennett who directed him to make years' worth of false accounting entries. Trosten outlined a fraud that began when he arrived at Refco in 1997 and lasted until 2005. Trosten said that after his boss, Stephen Rossi, quit, he agreed to conspire with Bennett to hide debt and inflate profit.
Trosten also testified as a government witness against Joseph Collins, Refco's former outside lawyer, and although he wasn't required to, assisted Austrian investigators in a related investigation.
Bennett received help in the scam from some customers and Vienna-based Bawag PSK Bank, which bought a stake in Refco in 1999, prosecutors claimed. In 2006, Bawag agreed to pay $675 million to avoid criminal prosecution. The payment also resolved lawsuits by the Securities and Exchange Commission and investors.
Assistant U.S. Attorney Harry Chernoff said because of Trosten's information, the U.S. was later able to obtain a forfeiture order of $437.5 million against Bawag.
Trosten Sobbed
Trosten sobbed today as he asked the judge for leniency, asking her not to take him away from his wife and young son.
"I've done everything I could to right the wrongs of my actions during my time at Refco," Trosten said. "I'm begging you for a term of probation so I can continue the new life I've created for myself, but most importantly so I can still be there to the one person who gives me life and strength."
"Mr. Trosten," Buchwald interrupted, "I'm not taking you away from your son."
The U.S. said that other victims of the scheme included Boston-based Thomas H. Lee Partners, which paid $507 million for a 57 percent stake in Refco in 2004.
Refco collapsed in 2005 two months after raising $670 million in an initial public offering. Refco Inc., as it was known after the IPO, filed one of the biggest bankruptcies in U.S. history after disclosing that it had transferred more than $1 billion in losses to a firm owned by Bennett.
The company, which provided clearing and prime-brokerage services, filed for bankruptcy after disclosing that a Bennett-controlled firm owed hundreds of millions of dollars to Refco.
Scott Morvillo, a lawyer for Trosten, said in an e-mailed statement that he was grateful to Buchwald for the sentence she imposed.
"There is no question that Robert made certain mistakes years ago, but since then, he has done everything he can to make amends for his conduct and rebuild his life," Morvillo said. "We believe that the court's sentence wisely takes into account Robert's attempts to right his wrongs and his efforts to become a productive member of society."
The case is U.S. v. Trosten, 05-cr-01192, U.S. District Court, Southern District of New York (Manhattan).
To contact the reporter on this story: Patricia Hurtado in Federal Court in Manhattan at
To contact the editors responsible for this story: Michael Hytha at mhytha@bloomberg.net Peter Blumberg, Andrew Dunn