Alibaba Buys Into Soccer Team After Billionaires' Drinks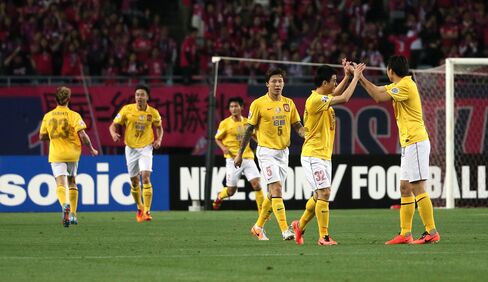 Alibaba Group Holding Ltd. agreed to pay 1.2 billion yuan ($192 million) for a stake in China's most popular soccer team in a deal struck over drinks between founder Jack Ma and fellow billionaire Hui Ka Yan.
China's biggest e-commerce operator will acquire 50 percent of Guangzhou Evergrande Football Club, winner of last year's Asian football championship, from Hui's Evergrande Real Estate Group Ltd., the companies said at a briefing today. More investors will be sought for the team, they said.
Alibaba, which is preparing for an initial public offering that may be the world's biggest, has been on an acquisition spree in the past year as it took stakes in logistics, media and retail companies. Ma and Hui agreed on the terms with a 15-minute phone call yesterday after first discussing it over drinks in Hong Kong the night before.
"I went back to the company, people at the company were having a meeting, I broke them off and said just give me five minutes, I said I hope we can make investments happily," Ma told the briefing today. "China's soccer industry needs somebody to help stir up things."
Ma joins other technology billionaires in running sports team, including Mark Cuban of the National Basketball Association's Dallas Mavericks, and former Microsoft Corp. Chief Executive Officer Steve Ballmer, who agreed to pay $2 billion deal for the Los Angeles Clippers. Masayoshi Son's SoftBank Corp., Alibaba's biggest shareholder, owns a baseball team in Japan.
Acquisition Spree
Alibaba recently announced deals in finance, online drug data services and entertainment. The Hangzhou, China-based company said in March it would invest about $692 million in Intime Retail Group Co., owner of department stores and supermarkets, as the operator of the Taobao and Tmall marketplaces integrates online and offline shopping.
Last month, Alibaba bought a 10 percent stake in Singapore Post Ltd. to develop its logistics in Southeast Asia in May.
The investment is part of founder Ma's ambition to transform society and China's soccer landscape, Ma said.
"A few days ago in Hong Kong, by accident I got him drunk, I told him my Evergrande soccer team is planning to issue shares and raise money to support strategic development, will you join? He said I will," said Hui. "We finished it in 15 minutes."
Guangzhou Evergrande has risen to fame in China as it became the country's first team to win the AFC Champions League last year. The title was much touted in China, where the national team has failed to qualify for the World Cup finals since 2002 and top officials have been imprisoned for bribery and match-fixing.
Additional Investors
Marcello Lippi, who guided Italy to World Cup victory in 2006, is the current coach of the club, which has won three straight Chinese Super League titles and is on top of the current standings. The team's average attendance for home matches last year was 40,467, the most among the nation's soccer clubs, the Xinhua News Agency reported in November.
The soccer club will issue another 40 percent stake to 20 investors, each holding 2 percent. Evergrande and Alibaba each will hold 30 percent of the enlarged share capital. Guangzhou Evergrande wants to conduct an IPO in the future, Hui said without being more specific.
"That one is the best team," said Victoria Mio, a fund manager at Robeco Hong Kong Ltd., which has about $290 billion of assets under management. "It's a good brand. If they can make a case for building a brand name and a customer base, or user base there, then there might be case for it."
Unconventional Ways
Evergrande rose 2.8 percent to HK$3.70 at the close of trading in Hong Kong, the highest since April 17. The stock has gained 25 percent this year, compared with a 0.8 percent decline for the benchmark Hang Seng Index.
Alibaba has been on a spending spree, announcing 25 investments worth $16 billion since 2012, according to data compiled by Bloomberg. Ma's unconventional behavior could strike investor concern though, said Paul Gillis, a professor of accounting at China's Peking University.
"He's going to do things unconventionally, already has and will continue to do so," said Gillis. "Inevitably there will be questions about the process, about the company."
Alibaba filed for a U.S. IPO last month. The company's market value is estimated at $168 billion according to analyst estimates.
The company is looking to sell about a 12 percent stake, people familiar with the matter have said, which would make the offer around $20 billion based on the estimated value and eclipse the IPOs of Facebook Inc. and Visa Inc.
— With assistance by Bonnie Cao, and Lulu Chen
Before it's here, it's on the Bloomberg Terminal.
LEARN MORE