Abenomics Spurs Most Misery Since '81 as Senior Scrimps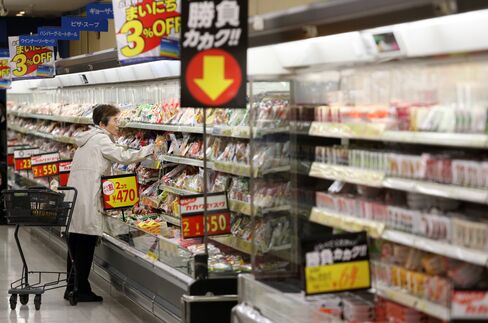 Mieko Tatsunami finds Prime Minister Shinzo Abe's drive to reflate Japan's economy hard to digest.
"The price of everything we eat on a daily basis is going up," Tatsunami, 70, a retired kimono dresser, said while shopping in Tokyo's Sugamo area. "I'm making do by halving the amount of meat I serve and adding more vegetables."
Tatsunami's concerns stem from the price of food soaring at the fastest pace in 23 years after April's sales-tax increase. Rising prices helped push the nation's misery index to the highest level since 1981, while wages adjusted for inflation fell the most in more than four years.
With food accounting for one quarter of the consumer price index and the central bank looking to drive inflation higher, a squeeze on household budgets threatens consumption as Abe weighs a further boost in the sales levy. The prime minister may be forced to ease the pain with economic stimulus, cash handouts or tax exemptions championed by his coalition partner.
"Price hikes without confidence that wages are going to rise will hurt appetite for spending," said Masamichi Adachi, senior economist at JPMorgan Chase & Co. in Tokyo. "Abe has to raise people's belief that the economy will improve."
Food prices rose 5 percent in April from a year earlier, with fresh food climbing 10 percent. Onions soared 37 percent, and salmon -- a staple of the nation's lunch boxes -- jumped 30 percent. Abe lifted the sales tax by 3 percentage points on April 1.
Greenhouse Vegetables
The yen's 5 percent fall against the dollar over the year through April boosted the cost of imports in a nation that is only 39 percent self-sufficient on a calorie basis and more reliant on inbound shipments of fossil fuels after a nuclear disaster in 2011.
The cost of imported beef rose to 230 yen ($2.24) for 100 grams at stores in central Tokyo in April from 187 yen a year earlier, government data show. Growing vegetables in greenhouses is more expensive as a result of increased energy prices, according to Naoyuki Yoshino, the Tokyo-based dean of the Asian Development Bank Institute.
Yasunari Ueno, chief market economist at Mizuho Securities Co. in Tokyo, said food inflation likely accelerated in May and will remain high.
As Abe aims to create a "virtuous cycle" of rising production, incomes and spending, the Bank of Japan is targeting 2 percent inflation -- stripped of the impact of the higher sales tax. Its key gauge of prices excluding fresh food rose 3.2 percent in April from a year earlier.
Tax Exemptions
Even so, the prime minister's drive to fatten paychecks more than inflation is at risk of stalling, with wages excluding overtime and bonus payments falling for a 23rd straight month in April.
Goldman Sachs Group Inc. sees base wages rising about 0.5 percent on year from May as salary gains from spring labor negotiations take effect -- lagging the median forecast for 2.6 percent inflation this year in a Bloomberg News survey of economists.
The misery index, which adds the jobless rate -- 3.6 percent -- to overall inflation -- 3.4 percent -- climbed in April to 7, a 33-year high.
The squeeze on households could damage support for Abe's administration, whose approval rating fell to 53 percent in a Nikkei survey in May from 62 percent when he took power in December 2012.
"The effects of Abe's policies are kicking in and very soon people will start to take notice," said Koichi Nakano, a professor of political science at Sophia University in Tokyo. Abenomics isn't really trickling down to their wallets, he said.
Economic Stimulus
As Abe considers corporate tax cuts, he faces pressure from his coalition ally New Komeito to exempt food should he go ahead with plans to raise the sales levy further to 10 percent in October next year from 8 percent.
Mizuho's Ueno said an option for Abe would be to provide more cash handouts to help low-income households, which would run counter to the government's effort to reel in the world's largest debt burden.
With higher food prices, people will cut back on durables, luxury goods and eating out as they did after the sales tax was last increased in 1997, the ADBI's Yoshino said. "A government stimulus package is needed to compensate for the consumption decline."
The elderly, many of whom are on fixed incomes, may be hit the hardest, said Hideo Kumano, executive chief economist at Dai-ichi Life Research Institute in Tokyo. Kumano estimates households headed by people over age 60 accounted for nearly half the nation's consumption last year.
"If prices keep rising, there is a risk that consumption by seniors may be damped as they don't enjoy the benefit of wage increases," Kumano said.
Kumano's concerns are reflected in Sugamo, an area of northern Tokyo bustling with elderly shoppers like Tatsunami.
"Abenomics may be helping the big corporations, but life's tough for people like me," said Tatsunami, who has seen her pension shrink. "We don't go out as much as we did -- we're having to cut back."
Before it's here, it's on the Bloomberg Terminal.
LEARN MORE