Venice Mayor Arrested in Probe of $7.5 Billion Flood Project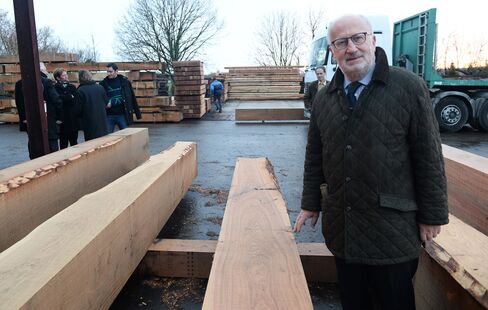 Venice Mayor Giorgio Orsoni was arrested in an investigation tied to the financing of a 5.5 billion-euro ($7.5 billion) flood-prevention system, a probe that touches two of Italy's biggest political parties.
Orsoni, a 67-year-old member of Prime Minister Matteo Renzi's Democratic Party, is accused of illicit party financing, Venice prosecutors, including Carlo Nordio, said today at a press conference broadcast by local television station Antenna Tre. Prosecutors also asked parliament for permission to arrest lawmaker Giancarlo Galan, who helped ex-Premier Silvio Berlusconi found his first party 21 years ago.
Galan denied the charges and Mariagrazia Romeo, a lawyer for Orsoni, declined to comment when called by Bloomberg News.
The raid comes less than a month after police in Milan arrested executives and politicians in a bribery probe tied to building contracts for the city's 2015 trade fair. More than 30 people were arrested in the the Venice investigation, which Nordio said reminded him of the so-called bribesville scandal that brought down the once all-powerful Christian Democrat Party in the 1990s.
"The political forces haven't learned anything and they haven't forgotten anything either," said Nordio at today's news conference.
The charges against those arrested included corruption, false invoicing and holding undeclared funds abroad.
Venice Project
The Venice construction project, begun in 2003, is a movable barrier to protect the lagoon city from flooding that regularly inundates the iconic Piazza San Marco. Known as Mose, or Moses in English, the system is designed to withstand 60 centimeters of rising tide over 100 years, according to its website.
Galan will defend himself "in every way in the proper jurisdictions," the lawmaker said in an e-mailed statement. "I ask to be heard as soon as possible in the certainty that I will provide unimpeachable proof of my innocence," Galan said.
The lower house of parliament must review the prosecutors' request and decide whether to permit the arrest of Galan. Orsoni is being held under house arrest, Deputy Mayor Sandro Simionato said in an e-mailed statement.
"We know another Giorgio Orsoni," Simionato said. The Orsoni that Simionato knows is "a just person, who made transparency and administrative coherence one of the distinctive styles of this administration."
Romeo and Daniele Grasso, another lawyer for Orsoni, said the charges "seem scarcely credible," newspaper Corriere Della Sera reported.
Galan, 57, was general manager of the advertisment agency, Publitalia, owned by Berlusconi's Mediaset SpA. He was recruited by Berlusconi in 1993 to help form the party Forza Italia and entered parliament in 1994. A year later, Galan became president of Veneto, the northeast region where Venice is situated, and went on to serve in Berlusconi governments as head of the Agriculture and Culture Ministries.