Top Thai Funds Use Foreigners' Coup Jitters to Buy Stocks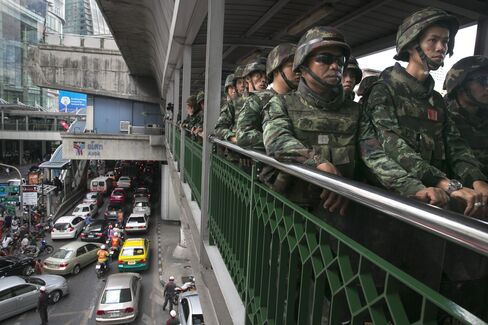 When Thailand's military coup spurred foreigners to pull money out of the equity market late last month, the nation's top-performing stock investors jumped at the chance to take the other side of the trade.
BBL Asset Management Co., the manager of Thailand's best-performing equity fund during the past five years, has been boosting stock holdings as a bet the junta will accelerate spending to shore up the economy. The Thai unit of Aberdeen Asset Management Plc, which runs the nation's second-best performing fund, is also buying amid inflows from local clients.
No other stock market in Southeast Asia has rallied more than Thailand's since the May 22 coup as local investors piled into shares at the fastest pace this year last month. While bears say the military takeover has failed to resolve conflicts that led to more than six months of political deadlock, Thai money managers are betting the junta will fast-track measures needed to bolster an economy that contracted by 0.6 percent in the first quarter.
"The military government's plan to restore business confidence and accelerate spending will revive the economy," Voravan Tarapoom, the chief executive officer at BBL Asset, which oversees about $13 billion, said by phone on June 2. The firm's BBL Bualuang Thanakom Open-end Fund has returned an annualized 29 percent in the past five years, the most among 165 Thai-domiciled stock funds tracked by Bloomberg.
Spending Plans
The SET index yesterday erased its losses since anti-government protests that led to the coup. The Oct. 31 demonstrations marked the start of an escalation in tensions between opposition politicians and the ruling Pheu Thai party that eventually led to Prime Minister Yingluck Shinawatra's ouster and spurred the army to take over power for the 12th time since 1932. The measure slipped 0.3 percent by the close today in Bangkok.
The Thai stock gauge's 3.5 percent rally from May 22 through yesterday compares with a 0.7 percent drop in the MSCI Southeast Asia Index. The SET is valued at 17 times reported earnings, versus 15 times for the regional measure, according to data compiled by Bloomberg.
The junta plans to speed up infrastructure spending, including a dual-track train project that was ruled unconstitutional under Yingluck's government. The military will boost investment in projects along the nation's borders with Malaysia, Myanmar and Laos, according to Air Chief Marshal Prajin Juntong, its head of economic affairs.
State Fund
Domestic individual and institutional investors bought about 34 billion baht ($1 billion) of Thai shares in May, the most since December, according to exchange data compiled by Bloomberg.
Violent political demonstrations in Bangkok haven't been reported since May 15, when grenade and gunshot attacks killed 3 and injured 22 anti-government protesters, according to the Bangkok Emergency Medical Service's website. The military has banned political gatherings nationwide, deploying troops to suppress anti-coup demonstrators.
"For Thai investors, they are here and know that the situation is much calmer, probably calmer than before the coup," Adithep Vanabriksha, a Bangkok-based money manager at Aberdeen Asset, which oversees about $541 billion worldwide, said by phone. The firm's Thailand-domiciled Aberdeen Small Cap Fund has returned an annualized 29 percent in the past five years. "This boosts their sentiment and confidence in the economy and stock market."
Political Conflict
Some local investors are joining foreigners in taking a bearish stance. The nation's Government Pension Fund has underweight holdings in local shares and doesn't plan to boost positions until political stability returns and the economy shows signs of recovery, its secretary general told Bloomberg News in a May 26 interview.
Foreign investors sold $1.1 billion of Thai shares in May, including more than $600 million of outflows in the six days after the coup. ABN Amro Bank NV cut its estimate for Thai economic growth this year to 2 percent from 3 percent on June 2, citing the lack of a visible democratic solution to the political crisis.
"The risk-reward of Thai equities is skewed to the downside," Hozefa Topiwalla, an analyst at Morgan Stanley in Singapore, said in a video on the firm's website dated June 2.
Baht, Bonds
While shares may get a short-term bounce as the coup provides stability, it hasn't solved the nation's underlying political conflicts, according to Credit Suisse Group AG's Dan Fineman. The analyst wrote in a June 2 report that returns from stocks may disappoint bulls over the next 12 months.
Thailand's baht has slipped about 0.8 percent against the dollar since the coup, while the yield on 10-year government bonds has increased four basis points to 3.84 percent, according to data compiled by Bloomberg.
The foreign outflows from Thailand contrast with Vietnam's stock market, where overseas investors have been buying shares amid riots against a Chinese oil rig in disputed waters. Foreigners have boosted holdings on the Ho Chi Minh City Stock Exchange for the past eight days, adding more than $34 million.
Sompong Cholkadeedamrongkul, a 61-year-old private investor in Bangkok, said he bought stocks when they retreated the first day after the coup was announced.
"The coup just shortens the crisis period," he said by phone on June 3. "A number of Thai stocks have strong fundamentals and outlook, but they were depressed by prolonged political turmoil and weak sentiment."
Consumer Confidence
An index of consumer confidence rose to 70.7 in May from 67.8 in April, the first gain in 14 months, according to the University of the Thai Chamber of Commerce.
Southeast Asia's second-biggest economy may expand between 2 percent and 2.5 percent this year, led by a recovery in local consumption and an acceleration of state spending following the coup, according to a private industry group that includes the Board of Trade, Federation of Thai Industries and Thai Bankers' Association.
"The overall outlook for the Thai economy and political situation is not as bad as what overseas investors see from outside," said Aberdeen's Adithep. "The coup has restored stability and resolved the policy deadlock in the short term."