Putin Offers to Meet Obama as East Ukraine Battles Rage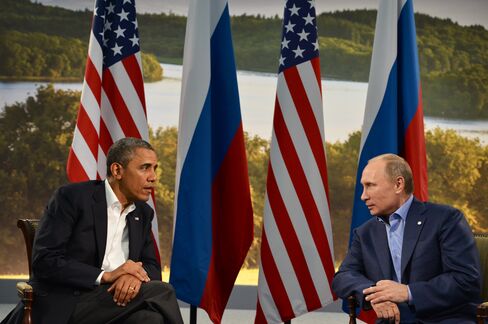 June 4 (Bloomberg) -- President Vladimir Putin offered the first face-to-face talks with Barack Obama since pro-Russian separatists unleashed an insurgency that's claimed almost 200 lives in Ukraine.
The Russian leader, who rejected accusations his military is present in Ukraine, said he's ready to meet Obama this week in France during 70th anniversary commemorations of the allied landings in the north of the country in World War II. Meanwhile, Obama met Ukrainian President-elect Petro Poroshenko in Warsaw, where he pledged to step up non-lethal military aid.
"That's his choice -- I'm ready for dialogue," Putin said, according to an excerpt of an interview with French radio Europe 1 and the TF1 television channel posted today on Europe 1's website. "I hope this isn't a new phase of the Cold War."
The White House repeated that there are no plans for the U.S. president to have a separate meeting with Putin, while not ruling out the possibility. French President Francois Hollande, German Chancellor Angela Merkel and U.K. Prime Minister David Cameron all have scheduled meetings with Putin while in France.
The U.S. and the European Union are at odds with Russia over Ukraine, where the government is reinforcing the nation's borders to stem an influx of fighters into its easternmost regions. Poroshenko, who'll be inaugurated on June 7, has said he'll bolster a military operation to counter the separatist groups that control swathes of the Donetsk and Luhansk regions.
Ukraine's hryvnia, this year's worst-performing currency against the dollar with a 31 percent drop, was 0.2 percent stronger at 5 p.m. in Kiev. Russia's benchmark stock index rose for a third day, adding 0.1 percent.
Tanks, Planes
Putin called on Ukraine's government to engage its opponents through negotiations rather than "tanks and planes." He said Russia has no intention of annexing its neighbor's territory after absorbing the Black Sea Crimean peninsula in March, a move the U.S. and the EU consider illegal.
In Warsaw, billionaire chocolate magnate Poroshenko told reporters he's committed to a "peaceful" process, while Obama pledged to step up non-lethal military aid to Ukraine, including body armor and night-vision goggles. A banner proclaiming "Solidarity with Ukraine" and Ukrainian flags were on display among the crowds in the Polish capital.
Russia's 'Provocation'
"The United States is absolutely committed to standing behind the Ukrainian people and their aspirations," said Obama, who yesterday warned Russia against further "provocation." Obama said he's been "deeply impressed" by Poroshenko's vision and experience as a businessman.
The U.S. leader, who began a four-day European trip yesterday, says Putin needs to use his influence with the rebels to convince them to stop attacking Ukrainian forces, free seized buildings and lay down arms. Russia says the U.S. and the EU should persuade Ukraine to call off its military campaign.
Ben Rhodes, White House deputy national security adviser, said Obama, who arrived in Brussels this afternoon, wants to discuss with Hollande, Merkel and Cameron, what they'll be telling Putin. "We all have to speak with one voice" and "we should be aligned in our support for Ukraine" and in urging Russia to cease support for separatists, he said.
10-Hour Battle
In Ukraine's troubled east, the National Guard said one of its units was attacked in Luhansk overnight in a 10-hour fight that involved machine guns, mortars and grenade launchers. Six militants were killed, it said on its website.
Insurgents killed two soldiers, wounded at least 42 more and shot down two helicopters in the mainly Russian-speaking eastern regions yesterday, Vladyslav Seleznyov, a military spokesman, said by phone. A large number of rebels were killed in Luhansk, acting President Oleksandr Turchynov said, ordering the cabinet to consider imposing martial law.
Turchynov arrived in the eastern city of Slovyansk today to help coordinate the military operation. Ukraine said yesterday that it's deploying heavy weaponry and armored vehicles to strengthen its border with Russia.
181 Dead
At least 181 people have been killed since unrest broke out in eastern Ukraine, Prosecutor General Oleh Makhnitsky said in Kiev. That includes 59 soldiers, one of them a general whose helicopter was shot down by militants on May 29. Another 293 people have been wounded and 220 kidnapped, he said.
Putin said yesterday during a meeting with his human-rights ombudsman, Ella Pamfilova, that he supports the creation of a "humanitarian corridor" to allow Russian aid to reach people in Ukraine affected by the fighting.
Russia still has thousands of troops on Ukraine's border, even after a partial pullback, North Atlantic Treaty Organization Secretary General Anders Fogh Rasmussen said yesterday before a two-day meeting of defense ministers.
"There has been steady pressure to destabilize and undermine the government in Kiev and challenges to Ukrainian armed forces as they attempt to bring order," U.S. Air Force General Philip Breedlove, NATO's top military commander, told reporters today in Brussels.
Military Fund
Obama announced a $1 billion fund yesterday to bolster military training and assistance for NATO allies near Russia. The U.S. will position more equipment in Europe and strengthen partnerships with allies such as Ukraine, Moldova and Georgia that aren't part of the alliance, he said.
Obama's trip offers a series of venues for possible talks on the Ukrainian conflict. He'll meet other Group of Seven leaders in Brussels starting today, though they won't decide on further steps to sanction Russia during the talks, according to a German official speaking on condition of anonymity.
The U.S. president will also attend a dinner with Francois Hollande June 5, the same day the French president hosts Putin, before they travel on to the D-Day commemorations in Normandy on June 6. Vice President Joe Biden is due to attend Poroshenko's inauguration in Kiev, according to the White House.
To contact the reporters on this story: Henry Meyer in Moscow at hmeyer4@bloomberg.net; Volodymyr Verbyany in Kiev at vverbyany1@bloomberg.net; Daria Marchak in Kiev at dmarchak@bloomberg.net
To contact the editors responsible for this story: Balazs Penz at bpenz@bloomberg.net Andrew Langley