Investing Abroad to Profit from Record U.S. Importing
They make it, we buy it.
Americans imported $47.2 billion of merchandise in May. This was significantly above forecast, and even well ahead of the highest estimate of $42.2 billion. Commerce Department data indicates the U.S. is now on track to set a new annual record level of imports.
Nearly two-thirds of the 232 countries tracked by the Commerce Department have seen shipments to the U.S. increase in 2014. Excluding oil and oil products, Germany and France posted the highest gains, followed by South Korea, China and Taiwan.
We are intrigued that Germany and France gained the most -- especially in light of tomorrow's European Central Bank policy announcement, which will likely include a lowering of the deposit rate to negative 0.10 percent, according to economists tracked by Bloomberg. Policy makers are concerned European GDP has slowed to 0.2 percent, and they want to stimulate growth by presumably penalizing saving. At the same time, today's U.S. trade data indicates there are at least some pockets of strength, however few.
We set out to find these pockets by screening the STOXX Europe 600 Index for companies that derive at least one-third of sales in the U.S. and are forecast to grow total sales this year by 10 percent. While not all companies report sales data by region, we identified seven companies meeting our criteria: ARM Holdings Plc (ARM:LN ), BTG Plc (BTG:LN ), Grifols SA (GRF:SM ), National Grid Plc (NG:/LN ), Pandora A/S (PNDORA:DC ), Sonova Holding AG (SOON:VX ), Wolseley Plc (WOS:LN ).
We shared three examples on-air.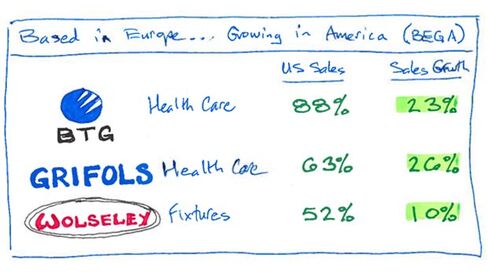 We admit these companies are not household names in the U.S., but maybe they should be. As a group, the BEGAs (Based in Europe and Growing in America) are up 9.2 percent year to date, well ahead of the S&P 500 Index. Not all of Europe is struggling. Some European companies are even prospering.