Euro Gets Carry Vote as Easing Bets Boost Profits: Currencies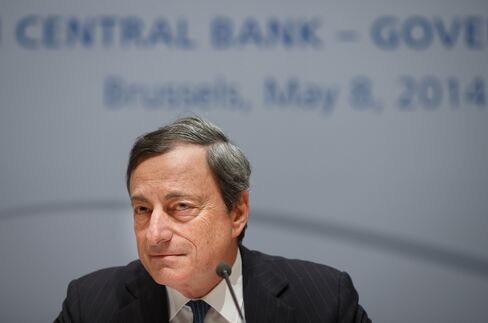 Mario Draghi's willingness to lower interest rates is turning the euro into the darling of investors seeking to exploit differences in global borrowing costs, aiding his efforts to weaken the currency.
Of 44 potential carry trades funded in euros tracked by Bloomberg, 36 made money in the past month, up from 21 in the first quarter and compared with 26 using the yen. The 18-nation currency tumbled 1 percent last month against a basket of nine developed-market peers, the most since it fell 1.7 percent in March 2013, as the European Central Bank president said he's "comfortable" with providing further monetary stimulus.
Banks from Barclays Plc to UBS AG responded by recommending carry trades where investors sell the euro to buy currencies of nations with higher interest rates. A weaker euro would help Draghi in his efforts to achieve the ECB's goal of boosting the inflation rate to 2 percent.
"We're looking at funding currencies where the costs of funding are not only low, but also where you should see those costs move even lower," Hamish Pepper, a foreign-exchange strategist at Barclays in Singapore, said by phone on June 2. "That's now the euro."
Rate Debate
ECB policy makers, who meet tomorrow, are debating a cut of 10 or 15 basis points in both the benchmark and deposit rates, according to two euro-area central bank officials who asked not to be identified. The benchmark rate was left unchanged at 0.25 percent at the last meeting on May 8, and the deposit rate was held at zero.
Officials will lower the 2014 inflation outlook from the 1 percent forecast in March, one of the people said. The new prediction doesn't include May data, which missed estimates and matched the weakest rate in more than four years.
After the May 8 meeting, Draghi also said gains in the euro, which that day reached its highest level in 2 1/2 years, were hurting the central bank's effort to boost consumer prices. A stronger currency makes the price of imported goods cheaper.
In carry trades, investors seek to borrow cheaply in one currency and convert the proceeds to buy another in nations where financial assets pay higher yields.
Ruble Boost
Buying Russia's ruble, where the benchmark rate was raised to 7.5 percent in April, with carry trades funded in euros generated a gain of almost 5 percent over the past month, the most profitable euro-financed carry trade. That's a reversal from the first quarter, when the trade generated the second-biggest loss as the euro's 0.2 percent gain versus the dollar sapped returns.
In carry trades, a drop in the funding currency or an increase in the target exchange rate adds to the return from the rate differential. A drop in a JPMorgan Chase & Co. measure of volatility to pre-financial crisis levels is helping the trades by reducing the chance they'll be upended by big price swings.
The median forecast in a Bloomberg survey of more than 60 strategists puts the euro at $1.32 by year-end, down 3 percent from $1.3618 as of 9:54 a.m. in New York and compared with a high of $1.3993 on May 8. Hedge funds and other large speculators boosted bearish bets on the euro to a net 16,633 contracts, the most since July, Commodity Futures Trading Commission data show.
UBS, the world's biggest wealth manager, recommends selling the euro to buy Mexico's peso and Malaysia's ringgit over the next three months. It predicts the euro will fall to $1.25 in 12 months, according to a May 28 client note.
Targeting Brazil
"We're telling our clients they've got to go with currencies that have reasonably sound fundamentals," while not recommending buying South Africa's rand or Turkey's lira, Bhanu Baweja, UBS's London-based head of emerging-market cross-asset strategy, said by phone yesterday.
On the same day as the last ECB meeting, Barclays advised clients to sell the euro against the Brazilian real, targeting a decline to 2.9360, from a level of about 3.11.
The euro's slide since that gathering is providing policy makers with a respite from the currency's almost 16 percent advance after Draghi said in July 2012 he'd do "whatever it takes" to save the euro. More recently, the currency has been buoyed by investor demand for higher-yielding Spanish and Greek bonds.
Of 50 analysts surveyed by Bloomberg News, 44 expect the ECB to cut its deposit rate below zero tomorrow, while all but two of 60 respondents in a separate poll said policy makers will lower the benchmark refinancing rate. Draghi has also indicated the bank is weighing measures to spur lending.
Disappointment Odds
With expectations so high, "there may be some room for disappointment," Manuel Oliveri, a London-based currency strategist at Credit Agricole SA, said by phone on June 2.
Deutsche Bank AG, the world's second-biggest foreign-exchange trader, said in a May 22 note that unless the ECB introduces a bond-purchase program, known as quantitative easing, the most it can probably do is stop the euro breaking above $1.40 in the coming months.
Draghi has been trying to talk down the euro for months, culminating in the May ECB meeting when he said the stronger currency is a "serious concern" at a time of slow inflation. It also makes exports less competitive and weighs on the economy, which is forecast to grow at about half the pace of the 3.1 percent seen for the U.S. next year.
"As the carry trade increases in popularity, euro could be vulnerable against higher-yielding currencies such as Aussie, kiwi and sterling," Todd Elmer, a Singapore-based strategist at Citigroup Inc., the largest foreign-exchange trader, said yesterday by phone. "If we do see easing from the ECB, it would give that trade a bit of a boost."
Before it's here, it's on the Bloomberg Terminal.
LEARN MORE