Does Russia's Global Media Empire Distort the News? You Be the Judge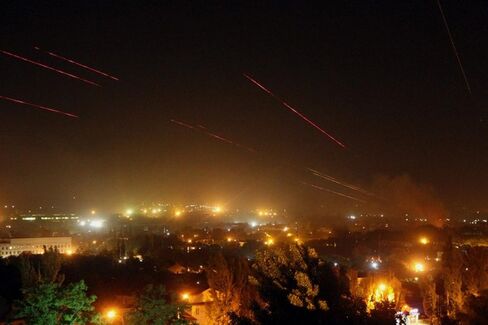 While Russia pulls its troops back from the Ukrainian border, a second instrument of Russian power remains firmly in place: a network of Kremlin-funded media outlets that is bringing news of the Ukraine crisis to millions of people worldwide.
RT, a state-owned multilingual television network that's Russia's answer to CNN and Al-Jazeera, made headlines earlier this year when one of its American anchors announced her resignation on the air, saying she did not want to work for a network that "whitewashes the actions" of President Vladimir Putin. RT says on its website that it has a staff of more than 1,000 in 22 bureaus worldwide and that more than 600 million people have access to its broadcasts.
But RT is only part of the Kremlin's global media empire. There's also the state-run Rossiya Segodnya International Information Agency, which includes the RIA Novosti news wire and the Voice of Russia radio service. RT also owns a Berlin-based video news agency called Ruptly. Separately, the Russian government also owns the ITAR-TASS news wire, which has some 130 bureaus around the world.
Rossiya Segodnya says on its website that it has more than 40 news bureaus worldwide and is rapidly expanding. The agency is headed by Dmitry Kiselyov, a veteran broadcaster who has been targeted by European Union sanctions because of his close ties with Putin.
According to the state-owned newspaper Rossiiskaya Gazeta, the government spends more than $1.6 billion annually on its media empire, which also includes TV, radio, and print outlets within Russia. According to the free-speech advocacy group Freedom House, the Kremlin directly or indirectly controls all six of the country's national TV channels, two national radio networks, and two national newspapers, as well as numerous local publications.
The U.S. spends about $713 million annually on international broadcast services such as Voice of America, as well as $445 million a year on domestic public broadcasting. (Other U.S. domestic news outlets are privately owned.) Britain's BBC has a much larger budget of more than $6 billion; unlike the Russian channels, the BBC offers a wide range of entertainment programming.
Are Russia's state-controlled media distorting the news about Ukraine? Or are they simply covering "international events from the Russian perspective," as Rossiya Segodnya promises?
In an article this week, the German magazine Spiegel says the Kremlin is using its news outlets "to reshape the way the world thinks about Russia. And it has been highly successful. Vladimir Putin has won the propaganda war over Ukraine, and the West is divided."
Is that right? Judge for yourself. Here are links to the websites of the leading outlets, as well as a summary of their top stories today about Ukraine:
RT
The top story, about President Obama and Ukraine President-elect Petro Poroshenko discussing planned U.S. aid to Ukraine's armed forces, is broadly similar to reports of the meeting by other global news outlets. A second prominent story quotes a speech by Russia's ambassador to the United Nations criticizing a possible NATO buildup in eastern Europe; based on a reading of Google News, non-Russian media largely ignored that speech.
Voice of Russia
The most prominent story on its website is about a Moscow press conference at which Russia's Foreign Ministry said it was recording "human rights violations" in Ukraine. No other news media, Russian or foreign, appeared to have covered this event.
RIA Novosti
Its top story covers a pre-recorded interview with Putin broadcast on June 3 by a French TV channel, in which the Russian president denied sending military personnel or "instructors" to southeastern Ukraine and said he did not want to push Ukraine to the brink of crisis. The interview received minimal coverage in French and other non-Russian media.
ITAR-TASS
Its lead story says: "Ukrainian troops kill more than 25 people in Krasny Liman hospital," in eastern Ukraine. The information was attributed to the leader of the self-proclaimed Donetsk People's Republic. No other source was given, and no other Russian or non-Russian news outlet reported the information.
Ruptly
The video news agency, unlike Russia's other global media outlets, doesn't feature any reports about Ukraine prominently on its site today. Ruptly has tried to cover the conflict in eastern Ukraine, but its footage has been far from dramatic. Two recent reports consisted of interviews with pro-Russian separatists who said they were preparing to fight, while another featured still photos of broken glass and bullet holes in walls.
Coverage of the Ukraine crisis by news outlets targeting Russian audiences is far less restrained. State-controlled Rossiiskaya Gazeta is reporting that the Rostov region in southern Russia faces a "state of emergency" as Ukrainian refugees flood across the border. Pravda, which is run by Russia's Communist Party, reports today that the Ukrainian military is using the conflict as an opportunity to test new weapons on residents of eastern Ukraine.
Before it's here, it's on the Bloomberg Terminal.
LEARN MORE