Zambia's Poor Pay the Price as Lake Kariba Fish Disappear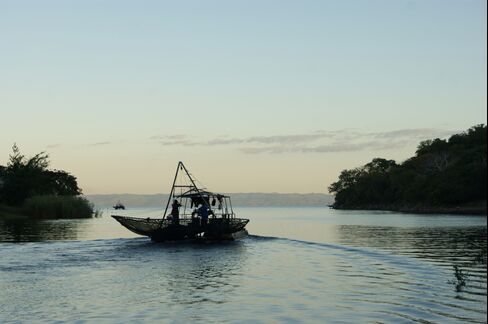 When Rafael Moonga started fishing on Lake Kariba six years ago, he would return at sunrise with as many as 15 crates of kapenta, also known as the Tanganyika sardine. Now he's lucky to catch a quarter of that.
"Each year it's becoming more difficult," Moonga, 30, said in an interview on the shores of the lake created by the world's biggest dam by storage capacity on the Zambezi River between Zambia and Zimbabwe. "If you have two or three kids, you can't survive nicely."
Overfishing of Zambia's lakes and rivers isn't only threatening livelihoods in an industry that provides an income for 300,000 people including traders and boatbuilders. Smaller catches and rising demand for fish, which accounts for almost a third of the landlocked nation's protein intake, pushed up kapenta prices 20 percent in May from a year ago.
With higher food prices and a weaker currency boosting inflation to the highest since November 2011, Zambia's central bank increased its benchmark lending rate to a record high in March. That's slowing growth in Africa's second-biggest copper producer as President Michael Sata's government struggles to lift many of the nation's 14.1 million people out of poverty.
"Rising fish prices will hit the poor the hardest," said Oliver Saasa, chief executive officer at Lusaka-based Premier Consult Ltd.
Inflation Target
Food accounts for more than half of Zambia's inflation basket, according to the nation's statistics office. Annual inflation was unchanged at 7.8 percent in May from a month earlier, with food prices rising 8 percent in the year, compared with 7.6 percent in April.
While the Bank of Zambia is targeting year-end inflation of 6.5 percent, consumer price growth may exceed this "by a decisive margin," Irmgard Erasmus, an analyst at NKC Independent Economists, said in an e-mailed note yesterday.
Production at selected fishery areas fell almost 17 percent to 29,657 metric tons last year, the Finance Ministry said in a March report, citing overfishing as a cause. Fish imports from countries including Zimbabwe and Malawi rose more than 82 percent to 28,666 metric tons in 2013 as food demand increased, according to the report.
"Most of the lakes we see we are already fishing at somewhere maybe beyond the maximum sustainable yields," Patrick Ngalande, director at the government's fisheries department, said in a May 12 interview in the capital, Lusaka. "It is very, very serious."
Fleet Size
The almost 1,000 fishing boats operating on Lake Kariba, which was built in the late 1950s to supply power to the now defunct Federation of Rhodesia and Nyasaland, is twice the number recommended in a government study, according to Ngalande.
The lake created by the 128-meter (420-foot) dam wall stretches 280 kilometers (174 miles) along the border between the two countries and is at one point, 32 kilometers wide. It covers 5,580 square kilometers (2,155 square miles) and can hold 185 billion cubic meters (653 billion cubic feet) of water, according to Water-Technology.net.
Moonga's boat leaves just before sunset with the rest of the fleet fishing for kapenta, which were introduced from Tanzania in the 1960s to boost fish production from the dam. They use fluorescent lights to attract the the silver-colored three-inch fish to the surface and then scoop them up in round nets.
They are then dried and sold at markets and shops around the country.
Fish Farming
To address a fish-supply deficit that totaled 40,000 tons last year, the government is promoting farming of fish such as tilapia, also known locally as bream. Fish produced in ponds and cages rose by more than 50 percent to 20,000 tons in 2013, and Zambia may see a similar increase this year by investing in fish hatcheries and educating farmers on rearing them, Ngalande said.
"The emphasis now on the part of government is to increase fish production through aquaculture," Ngalande said. "It is very profitable, if you do it at the right scale."
Still, a job shortage and higher prices -- bream increased by 29 percent in April from a year earlier -- are luring more people to catch fish in Zambia's rivers and lakes, said Ngalande.
Some of those fisherman are resorting to destructive methods, including using donor-funded mosquito nets, which trap all sizes of bream and damage the breeding cycle.
"The stomach is much more urgent than the mosquito bite," Ngalande said.
Job Search
While the increased number of operators has been good for his boat-repair business at Siavonga on the shores of Lake Kariba, Kenneth Sinyumenda thinks there are too many vessels on the water and said declining catches may force some companies to close.
"Even in this town, some will close because the catches are poor," he said as the sun set over the lake. "There are no other jobs in Siavonga apart from fishing. The land is rocky here, so there is no farming."
The options are limited, said Moonga, who earns from 50 kwacha ($7.43) to 150 kwacha a month, depending on catch sizes. Fewer than 850,000 Zambians have formal jobs, although about 4.7 million are informally employed.
"I'm still looking for another job," he said, speaking in the local Tonga language through an interpreter, as a fellow crew member fired up the boat's diesel engine for another night of fishing.