Krugman Condemnation of Sweden Triggers Riksbank Review Talk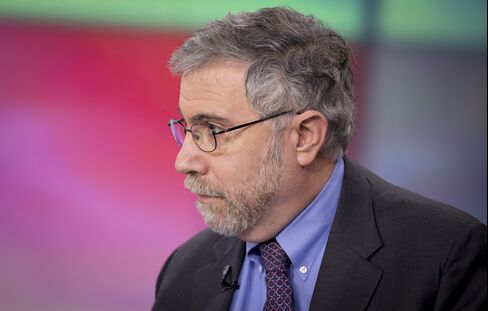 Sweden is considering a more rigorous oversight of its monetary policy two months after Nobel Laureate Paul Krugman lambasted the nation's central bank for failing to stave off the threat of deflation.
Finance Minister Anders Borg said it's "worth having a discussion" to explore whether an independent agency should monitor the central bank to address concerns about its failure to fulfill its inflation mandate. The bank is currently overseen by the parliament's finance committee.
Krugman in April described Sweden's use of monetary policy during the financial crisis as an example of "sadomonetarism" that was creating a deflationary spiral similar to that suffered in Japan. Sweden endured four months of consumer price declines through April, prompting members of the Riksbank's own board to criticize the bank's rate policies.
"Increased openness and more discussion I think is normally good," Borg said in an interview yesterday.
Lars E. O. Svensson, who stepped down from the Riksbank's board last year after criticizing its failure to meet its 2 percent inflation target, last week called for improved supervision of the bank. It hasn't reached its price target for more than two years while unemployment hovers well above 8 percent. He said the bank focuses too much on private debt.
Ingves's Power
"The Riksbank's monetary policy has in the last few years resulted in inflation far below the target and unemployment high above what is a sustainable long-term level," Svensson wrote in an opinion piece in Dagens Nyheter newspaper on May 28. Reasons for the failure include that Riksbank Governor Stefan Ingves has got too much power and that parliament's control of the Riksbank hasn't worked, Svensson said.
The central bank has been reluctant to cut its repo rate amid concern that doing so would fuel record household debt burdens. Still, chronic below-target inflation has led Sweden's five biggest banks to predict the Riksbank will cut the repo rate by a quarter of a percentage point to 0.5 percent in July.
"We're conducting monetary policy exactly according to the regulatory framework that exists today, Ingves told reporters today in Stockholm. ''We're as transparent as we think that it's at all possible to be."
Nordea Bank AB, Scandinavia's biggest lender, sees a rate cut next month, while policy makers will probably raise the rate to 1.25 percent by the end of 2015, it said in a report today. Unemployment will average 8 percent this year and 7.8 percent in 2015, it said.
Orderly Fashion
Borg said Sweden's independent body designed to monitor budget policy might be given an expanded role to also oversee the central bank.
"One way of doing so in an orderly fashion would be that the Swedish Fiscal Policy Council also examined monetary policy," he said.
Doing so would be "conditioned on that we can reach an agreement across party bloc lines to put the Swedish Fiscal Policy Council under the control of parliament" instead of the government, he said. We must "make sure that they will have an independent position because we can't have a government agency that's evaluating an independent Riksbank," he said.
The council was formed in 2007. It monitors Sweden's fiscal policy, including how the government meets a 1 percent budget surplus target of gross domestic product over an economic cycle.
Before it's here, it's on the Bloomberg Terminal.
LEARN MORE