InterContinental Boss Doesn't Need Deals to Keep Growing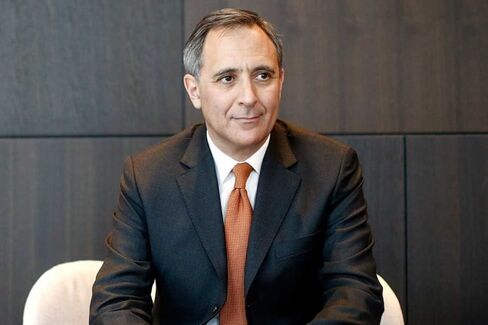 InterContinental Hotels Group has made its shareholders "a lot of money," Chief Executive Officer Richard Solomons says, and the company faces no pressure to sell itself or pursue another lodging chain.
He declines to discuss a Sky News report that the parent of Holiday Inn has rejected a $10.1 billion bid—not just once but five times—in the course of an interview on Monday. Solomons, 52, who is about to celebrate his third anniversary as InterContinental's CEO, dismisses the story as "speculative" and a distraction without directly calling it incorrect.
"We have a huge organic pipeline," he says of IHG's growth. "What's nice about this position is there is no necessity to do deals. Today, we've got some big companies and the new supply is predominantly from those few big players. We've all got great opportunities. We compete with each other, but there is no necessity for deals to happen."
Solomons, a 22-year veteran of the hotel company and its former chief financial officer, says there is no daylight between him and IHG's largest shareholders on the strategic course his team has plotted. "They're very understanding of what we're doing."
The major hotel operators were all created over the last 10 to 15 years through mergers and acquisitions, and Solomons sees his large rivals focused on forging new brands and markets around the world. IHG has developed a new luxury brand in China called Hualuxe, as well as a wellness brand for health-conscious U.S. travelers, dubbed EVEN.
The company is also revamping its loyalty program, already the industry's largest with nearly 80 million members. The name introduced last year, IHG Rewards Club, was intended to help travelers understand that Holiday Inn, Indigo, and Crowne Plaza have the same corporate parent. That, in turn, can keep customers from switching to rival hotels. Solomons referred to the loyalty program's previous generic branding as "leaving a big pile of money on the table."
InterContinental Hotels traces its history to 1946, when Juan Trippe, who founded Pan American World Airways, decided to break into the hotel business to complement his airline service. The first InterContinental property opened in 1949 in Belém, Brazil, followed by a larger hotel a year later in Santiago, Chile.
Today IHG is firmly focused on the middle-class traveler who chooses a mid-market brand such as Holiday Inn or Candlewood Suites—what the industry calls select service. "Mid-market is the most stable," Solomons says, calling Holiday Inn the core of his hotel giant: "That business doesn't really crash."
Before it's here, it's on the Bloomberg Terminal.
LEARN MORE