Germany Said to Consider Alstom Stake Via KfW for Siemens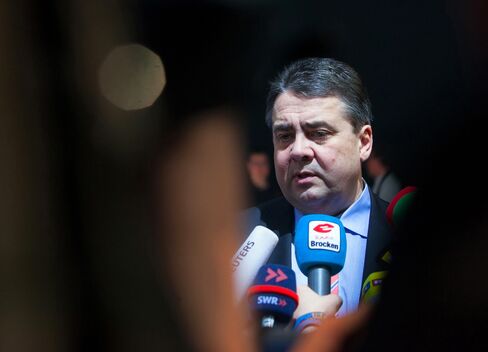 June 4 (Bloomberg) -- The German government is considering using its state-owned development bank to buy a stake in Alstom SA if Siemens AG's proposal to create two European champions in rail and energy succeeds, people familiar with the plans said.
Siemens, Europe's largest engineering company, is competing with General Electric Co.'s $17 billion offer to acquire the energy assets of Alstom, which built much of the French electricity grid. Munich-based Siemens has said it will decide whether to bid for Alstom, based near Paris, by June 16.
Under the German plans, Kreditanstalt fuer Wiederaufbau, the lender owned by the federal government and the states, would buy Alstom shares which Siemens would have acquired in the transaction, according to the people, who asked not to be named because the proposal is private and at an early stage. The plan is contingent on the French government buying an equal stake in Alstom from investor Bouygues SA, the people said.
The German government's strategy is that the unit would be akin to aviation and defense giant Airbus Group NV, in which the French and German states hold similar-sized stakes, the people said. KfW's statutes allow it to buy stakes in companies on the government's behalf "in the interest of the German and European economy."
As part of its initial April proposal, Siemens suggested exchanging its train- and metro-building assets for Alstom's signalling business and a stake of at least 19 percent in the remaining French-based rail company, people with knowledge of the plan said at the time.
'European Solution'
German Economy Minister Sigmar Gabriel said in early May that he favors a "European solution" for Alstom as Germany and France consider how to create European champions, including an "Energy Airbus" that was initially proposed by President Francois Hollande in January.
KfW holds government-owned shares in Deutsche Telekom AG and Deutsche Post AG and bought a portion of Daimler AG's holding in Airbus in 2012. Temporary KfW transactions such as the Daimler share purchase are financed by the bank, protecting federal budgets.
Adrian Toschev, a spokesman for the German Economy Ministry in Berlin, said he was was unable to comment on the proposal. A spokeswoman for Frankfurt-based KfW said she had no immediate comment, while Siemens spokesman Marc Langendorf declined to comment. Montebourg's office and Alstom failed to return calls seeking comment.
Montebourg's Choice
While French Industry Minister Arnaud Montebourg has said he favors the Siemens proposal, which would probably see Alstom receiving the German company's train-making business and cash in return, he has since acknowledged the GE offer is much improved after it promised to create 1,000 French jobs.
In its initial proposal, Siemens valued Alstom's energy business at as much as 11 billion euros ($15 billion), people familiar with the matter said at the time.
Combining the makers of Germany's ICE and France's TGV high-speed trains under the same roof would create antitrust challenges while the move would give Alstom the "critical size" required to get bank guarantees for large contracts, Christophe de Maistre, the head of Siemens's French operations, told lawmakers in Paris last week.
At the hearings, GE Chief Executive Officer Jeff Immelt and the Siemens executive both sought to allay French government concerns regarding Alstom's steam turbines and services for nuclear plants, a key issue for state-controlled power company Electricite de France SA and atomic-reactor maker Areva SA.
Job Guarantees
"I'm confident we can find the solutions needed to ensure our French customers they will have the most reliable supply of steam turbines for nuclear power plants anywhere in the world," Immelt said. "We remain open to an investment by the French government in the business alliance."
Siemens, which has said it would guarantee French jobs for three years from the completion of a deal, is in the midst of a strategy review which is eliminating a layer of administration, placing 11,600 jobs in question. Chief Executive Officer Joe Kaeser has said that a number of those employees will be reassigned, and is discussing with employee representatives how many people will be cut.
To contact the reporter on this story: Alex Webb in Munich at awebb25@bloomberg.net
To contact the editors responsible for this story: Simon Thiel at sthiel1@bloomberg.net; Alan Crawford at acrawford6@bloomberg.net