Dutch Caution Stalls Banks' $12 Billion Hybrid Debt Plan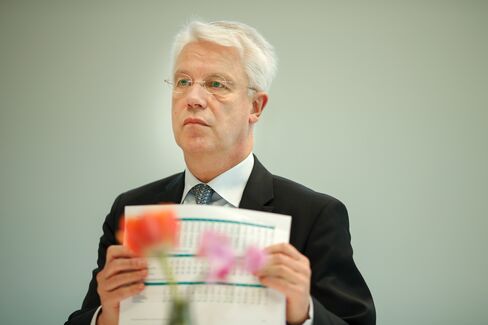 June 3 (Bloomberg) -- The Dutch government is holding up more than $12 billion in potential subordinated-bond sales by the country's largest lenders. That might make them late for the party in Europe's fastest-growing market for bank debt.
ABN Amro Group NV, ING Groep NV and Rabobank Groep already have leeway from the European Union to bolster their capital with debt securities equivalent to 1.5 percent of their combined 600 billion euros ($820 billion) of assets weighted by risk.
The Dutch state, concerned that non-financial firms may avoid tax, trails its European partners in deciding whether to change the treatment of additional Tier 1 securities, which combine elements of equity and debt. The hesitation may put Dutch banks at a disadvantage to competitors like Deutsche Bank AG, which raised about $4.5 billion from the securities on May 20 after Germany decided how to tax them.
"It's a pity that Dutch banks haven't been able to tap the market, because it's very cheap," ABN Amro Chief Financial Officer Kees van Dijkhuizen said in an interview.
In other countries, because the notes are treated as debt, issuers pay coupons out of their pretax profit, making them cheaper to issue than equity, whose dividends are paid from taxed income.
Tax Quandary
Issuers can't default on additional Tier 1 debt because the securities have no final maturity and payments to holders are at the discretion of the bank. The structure is designed to allow an issuer that gets into trouble to continue as a going concern without taxpayer support, avoiding the damage to the banking system that a collapse would entail.
"They don't want to open the door for all sorts of tax planning by non-banks which the finance ministry considers undesirable," said Eelco van der Stok, a tax partner at Freshfields Bruckhaus Deringer LLP in Amsterdam. "Yet if they limit it just to banks, there may be state aid questions, favoring one industry over others."
While the securities convert to equity, or are written down when the issuer's capital ratios drop to a pre-set amount, holders also lose payments if losses damage capital buffers before the conversion or writedown is triggered.
Big Coupons
In return, investors get coupons of as much as 11.5 percent, the interest Madrid-based Banco Popular SA had to pay when it issued 500 million euros of the debt in October. The average coupon on the contingent capital notes in Bank of America Merrill Lynch's High Yield Contingent Capital index is 7.45 percent. Average yields on the debt, which has returned 7.42 percent this year, have fallen to a record 6.14 percent.
By contrast, ABN Amro's 1.25 billion euros of 4.125 percent senior bonds due March 2022 yield 1.78 percent.
Additional Tier 1 securities "have characteristics of risk-bearing instruments, so our tax authorities have taken the position that it pays a type of dividend instead of interest," Van Dijkhuizen said. "A change in the law is needed so that it's tax-deductible."
The outsized coupons have stoked unprecedented investor demand for the securities, boosting the total market to more than $40 billion in the 13 months since issuance began.
The European Central Bank is preparing to take over supervision of the banking industry, which has prompted speculation that more lenders may bolster their capital with the securities.
Market Opportunity
"The issue is that if you wait say, three, six months, the market environment changes and you end up having to pay a lot more," said Simon Adamson, an analyst at debt researcher CreditSights Inc. in London. "Things are unlikely to get much better for issuers than they are at the moment."
Amsterdam-based ING, the nation's largest lender, sees additional Tier 1 debt as a "key piece" in calculating its leverage ratio, Chief Financial Officer Patrick Flynn said on a conference call with analysts on May 7. Its leverage ratio was 3.7 percent at the end of March.
The ratio, designed to prevent banks from bulking up excessively, divides total assets by capital, including additional Tier 1 securities, and must be higher than 3 percent. That's a figure that Dutch Finance Minister Jeroen Dijsselbloem wants to raise to at least 4 percent, with or without other European Union countries.
State Bailouts
A leverage ratio of 4 percent in 2018 would require an extra 7.8 billion euros in additional Tier 1 instruments, according to a Dutch central bank estimate last month.
The Netherlands is eager to avoid more bank rescues after taxpayers bailed out three of the nation's four biggest lenders since 2008. ABN Amro, fully state-owned since then, had a leverage ratio of 3.6 percent at the end of the first quarter.
Rabobank, based in Utrecht and Europe's largest cooperative lender, is also waiting for the Finance Ministry's decision, according to spokesman Rene Loman. "Additional Tier 1 debt could be an interesting instrument for us," he said.
The government last month said differences in the fiscal treatment of additional Tier 1 debt between Dutch banks and competitors in Europe are undesirable, and that it plans to ensure that's resolved.
A spokeswoman for Dijsselbloem said the ministry expects to provide more clarity on AT1 taxation soon.
In March, more than $16 billion of AT1 securities were sold, doubling the size of the market. That prompted negative returns of 20 basis points and boosted yields to 6.6 percent by the end of the month from as low as 6.32 percent on March 6.
"It appears to be frustrating them," Freshfields's Van der Stok said of the banks. "On the one hand they are told to increase capital buffers, while on the other hand it's made more difficult for them to issue securities and benefit from favorable market conditions."
To contact the reporters on this story: John Glover in London at johnglover@bloomberg.net; Maud van Gaal in Amsterdam at mvangaal@bloomberg.net
To contact the editors responsible for this story: Shelley Smith at ssmith118@bloomberg.net; Frank Connelly at fconnelly@bloomberg.net Keith Campbell, Rodney Jefferson