Draghi Said Ready to Keep Rate-Cut Option Even After June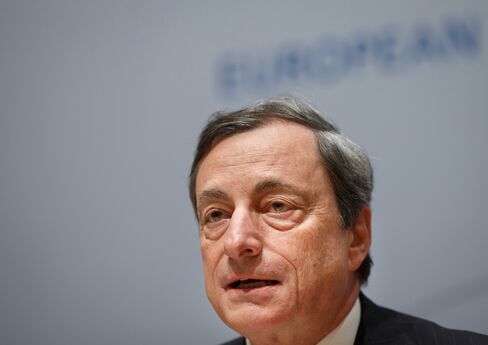 June 4 (Bloomberg) -- Mario Draghi is likely to signal that any interest-rate cut this week won't necessarily be the final one, according to two euro-area central bank officials.
The European Central Bank president will probably reiterate his commitment to keep borrowing costs at present or lower levels, the people said, asking not to be identified because the talks aren't public. While a final decision won't be made until tomorrow, policy makers are debating a cut of 10 or 15 basis points in both the benchmark and deposit rates, the people said.
The ECB is battling a prolonged period of low inflation that threatens to derail the euro area's nascent economic recovery. Policy makers have held out the possibility of a package of measures that could also include liquidity injections conditional on increased credit supply to companies.
A program modeled on the Bank of England's Funding for Lending Scheme is one option that officials have discussed. That proposal could see the ECB offering banks funding equivalent to 5 percent of their outstanding loan portfolios, one of the people said.
An ECB spokesman declined to comment on the policy discussions.
The interest-rate decision will be announced at 1:45 p.m. in Frankfurt tomorrow and Draghi will hold a press conference 45 minutes later, where he will present new macroeconomic forecasts and may announce non-standard measures.
Economic Projections
Officials will significantly lower the 2014 inflation outlook from the 1 percent forecast in March, one of the people said. The new prediction doesn't include May data, which missed estimates and matched the weakest rate in more than four years. The ECB will increase its 2016 growth forecast and keep all other projections broadly unchanged, the person said.
Growth in the euro-area economy will accelerate to 1.8 percent in 2016 from 1.2 percent this year, the ECB said on March 6. Inflation was seen averaging 1.3 percent next year and 1.5 percent the following year. Draghi said at the time that inflation would be close to the ECB's goal of just under 2 percent by the end of 2016.
The ECB left its benchmark rate unchanged at 0.25 percent at its last meeting on May 8 and kept the deposit rate at zero. Draghi told reporters then that the Governing Council was "comfortable" with acting in June.
In another sign of the fragility of the economy, a Purchasing Managers' Index for manufacturing and services in the euro area declined to 53.5 this month, London-based Markit Economics said today. That's down from an initial estimate of 53.9 and the April reading of 54.
The euro was little changed at $1.3614 at 11:51 a.m. Frankfurt time. The currency is trading near a three-month low and has dropped 1.7 percent since the last ECB meeting.
To contact the reporters on this story: Jana Randow in Frankfurt at jrandow@bloomberg.net; Stefan Riecher in Frankfurt at sriecher@bloomberg.net
To contact the editors responsible for this story: Craig Stirling at cstirling1@bloomberg.net Paul Gordon, Zoe Schneeweiss