Walmart Moms Make the Case for $25,000 a Year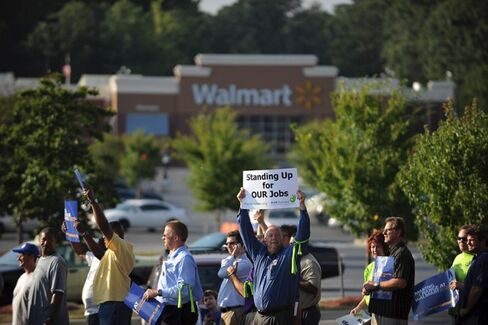 In the coming days, you will be hearing a lot about working women. Not the women leaning in, not the women opting out, but the working women living in or near poverty.
The retail industry alone employs about 1.3 million women who live close to the poverty threshold, according to a new report from the public-policy group Demos. Amy Traub, the author of "Retail's Choice: How Raising Wages and Improving Schedules for Women in the Retail Industry Would Benefit America," argues for an increase to $25,000 a year, or $12.25 an hour. The average hourly wage for saleswomen is now $10.58.
The report arrives as Walmart Moms head to the headquarters of Wal-Mart Stores for the retailer's annual shareholder meeting on June 6. The union-supported group is asking for $25,000 a year for full-time work. Traub says one of the reasons she chose to look at the effects of an increase to $25,000 is because that was the number the Walmart Moms had chosen. "Walmart is always the elephant in the room when talking about retail," she says. "But we're looking at all large retailers."
Traub notes that as of 2012 almost 93 percent of low-wage female retail workers are at least 20 years old and more than a third have children at home. Almost 40 percent contribute at least half of the family's income, and 19 percent are the sole source of income for their household.
She cites all sorts of convincing studies to show that companies could afford to pay workers more because doing so would improve employee productivity and give the workforce more money to spend at those same stores. Lashanda Myrick, a Walmart worker in Denver, said the same thing at a press conference to announce the upcoming protests: "If Walmart paid us at least $25,000 a year for full-time work, our stores and our economy would improve."
Kory Lundberg, a spokesman for Walmart, says that Myrick is "a great example of the opportunity Walmart provides associates." He notes that in less than 10 months she moved from being a temporary worker to a full-time employee and now earns more than $10 an hour. All true. It's also true that she's a single mom with a kid at home and she got full-time hours by taking the night shift.
Lundberg takes issue with the Demos report, citing Walmart employees' access to a retirement plan, health benefits, bonuses, and educational opportunities. "Walmart," he says, "provides associates with more opportunities for career growth and greater economic security for their families than other companies in America."
Before it's here, it's on the Bloomberg Terminal.
LEARN MORE