UBS Says CIO Friedman Leaving, Succeeded by Haefele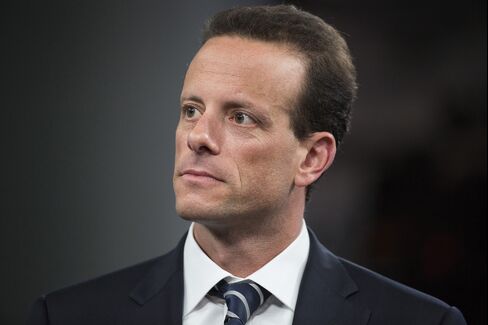 June 2 (Bloomberg) -- UBS AG, the world's biggest manager of money for the wealthy, said Global Chief Investment Officer Alexander Friedman is stepping down and will be succeeded by Mark Haefele.
Friedman, 43, who built up the investment office of UBS over the past three years, is leaving to pursue a new opportunity outside the firm, Zurich-based UBS said in an e-mailed statement today. Haefele, 43, joined UBS with Friedman in 2011. As the global head of investment, he has been responsible for monitoring, assessing and interpreting global markets to help form the bank's views, which are used to manage $1.97 trillion of wealthy clients' assets.
Friedman revamped the investment process at UBS to make advisory services more transparent and boost returns after clients pulled 228.8 billion Swiss francs ($254.9 billion) in three years through 2010 amid the financial crisis and an attack on Swiss banking secrecy. UBS reclaimed the title of the world's biggest manager of money for the wealthy in 2012 and last year attracted a net 53.5 billion francs in assets, the most since 2007.
"We are grateful to Alex for his exceptional leadership in creating a strong CIO team," Juerg Zeltner, who heads wealth management outside of the U.S. and Canada, said in the statement. "Mark is a highly qualified investment expert with a global track record. His management skills and ability to transform his deep market knowledge into relevant information that benefits our clients, make him the ideal successor."
Alternative Investments
UBS said today it plans to invest more in the chief investment office, focusing on capabilities in emerging markets, Asia and alternative investments and values-based investing offerings.
Huw van Steenis and Hubert Lam, analysts at Morgan Stanley, wrote in a February note that UBS's approach of putting the CIO office at the center of asset allocation and product selection would "add to its edge with clients."
Haefele has a bachelor's degree in history from Princeton University, master's degrees from Harvard University and the Australian National University, and a doctorate from Harvard. In 1999, he co-founded Sonic Funds, where he co-managed long-short funds until 2011, and was a managing director at Matrix Capital Management LLC between 2005 and 2007.
'Fluid' Process
UBS's clients have added to the funds they let the bank manage directly or where they pay for advice, reversing previous outflows. The mandates business is more profitable for UBS than the model where clients pay the bank fees for transactions.
Mandates, which accounted for about 190 billion francs in assets at the end of September, attracted net inflows of more than 20 billion francs in 2012 and the first nine months of last year after customers pulled about 15 billion francs in the previous two years, UBS said in December.
Friedman, who previously served as chief financial officer for the Bill & Melinda Gates Foundation, brought a sense of urgency into the organization when he joined UBS, which he compared to an Airbus A380 double-decker plane that had to become more agile. In an interview last year, he described the investment process he put in place as "fluid" and "thought-through" at the same time, "like the layout of well-designed emergency room in a hospital, organized to minimize costly errors."
No Stars
The CIO office's investment strategy is directly implemented for assets the bank manages on a discretionary basis, and passed on to other clients through their advisers. It relies on input from all regions and businesses of UBS and is not dependent on star managers, Friedman said in an interview in August 2012.
"The problem with most investment processes is that they look like an inverted pyramid, where you have some brilliant fund manager and everything kind of rests on him," he said at the time. "I intentionally tried to create the opposite. You need someone who's accountable, who reviews everything, who stands behind every position. But also you can take this person out and put somebody new in, and it works."
To contact the reporter on this story: Elena Logutenkova in Zurich at elogutenkova@bloomberg.net
To contact the editors responsible for this story: Frank Connelly at fconnelly@bloomberg.net Jon Menon