U.K. Mortgage Approvals Drop as Housing Boom Cools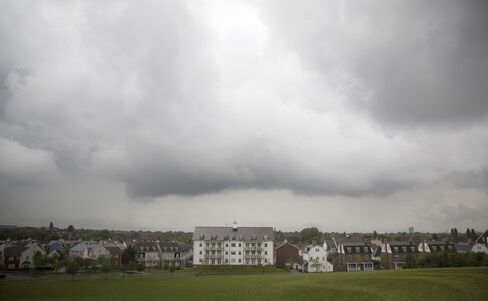 U.K. mortgage approvals fell more than economists forecast in April, dropping to the lowest in nine months as banks tightened lending rules.
Approvals declined to 62,918 from 66,563, the Bank of England said today. That's the third monthly decline after they reached a six-year high in January. Today's report also showed continued weakness in business lending, which fell 2.4 billion pounds ($4 billion) in April.
Britain's property market has surged in the past year, sending prices in London to a record and raising concerns that a bubble may be building. Banks have toughened lending criteria in recent months in response to new rules, and BOE financial-stability officials will meet this month to decide if they need to take action on potential risks from housing.
"Tighter mortgage regulations are more a speed bump than a road block," said Rob Wood, an economist at Berenberg Bank in London. "The fall in mortgage approvals exaggerates the change in the housing market. We expect approvals to return to a rising path in the second half of the year."
The decline in approvals in April was bigger than forecast by economists, who had projected a reading of 64,500.
Interest Rates
The BOE data showed that mortgage lending rose by 1.7 billion pounds in April, down from 1.8 billion pounds in March. Demand for property has been partly boosted by government aid for homebuyers and low borrowing costs. The BOE said today the effective interest rate on secured loans dropped to 3.23 percent in April, the lowest since the series began in 1999.
The BOE's Monetary Policy Committee will keep its key interest rate at a record-low 0.5 percent on June 5, according to a survey of economists.
"Housing demand is likely to keep growing while the central bank has its pedal to the metal on interest rates," Wood said. "While there is no credit boom now, there is a risk of one developing while house prices continue to rocket."
In the minutes of their May meeting, the MPC noted signs of a property slowdown. They said it wasn't yet clear if this was a temporary response to the Mortgage Market Review, which came into force in April requiring borrowers to prove they can afford repayments even when interest rates rise.
The credit data showed that business loans fell 4.1 percent in April from a year earlier. Lending to small and medium-sized companies dropped 3 percent on the year.
It also showed that consumer credit rose 666 million pounds in April, with credit cards accounting for 435 million pounds of that increase. M4, a broad measure of money supply, slipped 0.2 percent in April from March and was down 0.6 percent from a year earlier. An underlying measure rose 4.5 percent on a 3-month annualized basis, an acceleration from 3.4 percent.
Foreign investors sold a net 3.2 billion pounds of gilts in March, the central bank said. That followed net sales of 8.5 billion pounds in March.
Before it's here, it's on the Bloomberg Terminal.
LEARN MORE