Palestinians Swear in New Unity Government Including Hamas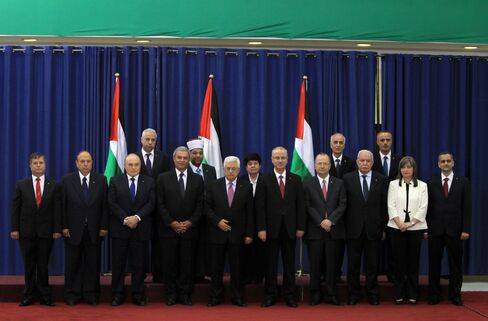 Palestinians formed a unity government, ending the seven-year rift between the West Bank and Hamas-ruled Gaza Strip and complicating any hopes for reviving collapsed peace talks with Israel.
Palestinian President Mahmoud Abbas oversaw the swearing-in of 17 ministers today in a ceremony in his West Bank headquarters in Ramallah. Since anti-Israel Hamas militants wrested control of Gaza from Abbas loyalists in 2007, the 4.5 million Palestinians there and in the West Bank have been governed by rival authorities.
"Today we declare an end to the split and regaining unity of the homeland," Abbas said in remarks broadcast after the ceremony on Palestine TV. "This black page in our history has been closed forever."
The unity government "starts working and performing today," said Sami Abu Zuhri, the Hamas spokesman in Gaza.
Israeli Prime Minister Benjamin Netanyahu urged the international community to shun the Palestinian government backed by Hamas, whose militants have killed hundreds of Israelis and barraged Israel with thousands of rockets. Such a government "doesn't bolster peace, it bolsters terror," Netanyahu said today in comments broadcast on Israel Radio.
"The agreement with Hamas put direct responsibility for any terrorism emanating from Gaza" on Abbas, the prime minister's office said later in a text message.
Won't Negotiate
An inner cabinet of Israeli ministers reiterated the country's refusal to negotiate with a Hamas-backed government and authorized Netanyahu to impose additional, unspecified sanctions on the Palestinians. The ministers also pledged to work to block militant groups from participating in Palestinian elections that are to take place later this year.
Abbas has said the new government, which doesn't include official members of Fatah or Hamas, will support conditions laid down by international mediators -- honoring past agreements with Israel, renouncing violence and recognizing Israel. Hamas has refused to accept those terms.
U.S. Secretary of State John Kerry, who led the last round of peace talks, told Abbas in a phone call yesterday that the U.S. will "monitor the situation closely and judge any government based on its composition, policies and actions," State Department spokeswoman Jen Psaki said in an e-mail.
Talks Collapse
The deal to form a unity government and hold elections six months later was announced April 23, as peace talks between Abbas' West Bank-based Palestinian Authority and Israel verged on collapse. Israel officially broke off negotiations to protest the reconciliation with Hamas, classified as a terrorist organization by the U.S. and European Union. Abbas blames Israel for the failure of the talks, in part because it continues to build on land the Palestinians seek for a state.
While two previous unity deals since 2011 fell apart, circumstances were more favorable this time because both parties are under pressure. Hamas has been hurt financially by the ouster of Egypt's Muslim Brotherhood-backed government, and Abbas could claim no progress toward achieving statehood through peacemaking.
Hamas "had no choice because the situation has grown unbearable" since the change in Egypt, Mukhemer Abu Sada, a political scientist at Al-Azhar University in Gaza, said in a telephone interview. "There was no money to pay their employees."
Late Wrangling
The latest effort to end the division almost derailed at the last minute after Hamas said it wouldn't join the government if it didn't include a ministry that oversees Palestinian prisoners held in Israel for security offenses. Abbas didn't want a prisoner affairs ministry in the cabinet, to avoid complications with foreign donors who don't want funds diverted to Palestinian militants, Palestinian officials said. A compromise was later reached.
The unity government will probably prove an unstable pact, according to Shaul Bartal, a former Israeli army major who liaised with the Palestinian Authority security forces and now lectures on Palestinian affairs at Bar-Ilan University outside Tel Aviv. Continued tussling over the prisoners ministry, Hamas objections to Foreign Minister Riad Malki as being too sympathetic to Western interests, and militant violence from Gaza will remain divisive issues for the Fatah-Hamas alliance, Bartal said.
Financial Penalties
Abbas' decision to share power with Hamas may carry a heavy financial price. Western powers and Israel have already threatened to withhold more than $2 billion a year -- half of the Palestinian Authority's budget -- if the deal went through.
Without the aid, the PA may struggle to keep writing paychecks for its 170,000 employees, undermining 20 years of government-building efforts.
Under U.S. anti-terrorism law, there's a risk the annual $440 million that American taxpayers contribute to Palestinian society will be frozen, and similar constraints govern the European grant of 426 million euros ($584 million), the European Union has said. Israel has warned it will withhold at least some of the $1.2 billion it collects annually for the Palestinians in customs tariffs and other payments.
The Arab League has pledged to make up for any aid cut over the reconciliation agreement, though it has reneged on financial commitments to the Palestinian Authority in the past.
Before it's here, it's on the Bloomberg Terminal.
LEARN MORE