NYC Woolworth Tower Condo Priced at Record $110 Million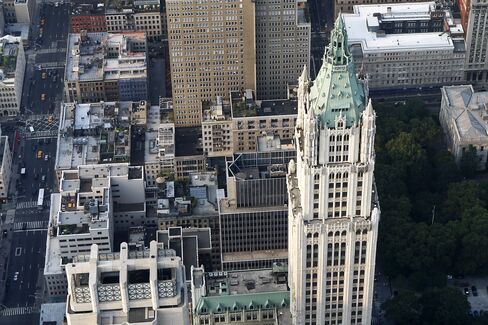 Lower Manhattan's landmark Woolworth Building, once the tallest skyscraper in the world, is setting another record.
Developers are seeking $110 million for the penthouse apartment in the pinnacle of the 58-story tower, a proposed offering plan filed with New York State Attorney General Eric Schneiderman's office shows. That's the highest-ever asking price for a condominium in downtown Manhattan, according to Jonathan Miller, president of appraiser Miller Samuel Inc.
"The price is more reflective of the unique historical nature of the property" than its location or the heated luxury market, Miller said. "We've seen rapid absorption downtown, but this project is unlike anything that's come online."
The upper floors of the building at 233 Broadway, with its neo-Gothic spire rising above City Hall, are being converted into 34 luxury apartments with prices rivaling those at Midtown skyscrapers fringing Central Park. The tower, designed by Cass Gilbert for five-and-dime-store pioneer Frank W. Woolworth, was completed in 1913. At 792 feet (241 meters), it was the world's tallest skyscraper until 1930.
Plans call for "spacious, super high-end homes" with ceiling heights of 11 to 14 feet on average, according to a statement by developer Alchemy Properties Inc. in 2012, when it led an investor group that bought the top 30 stories of the office building. Residents would have a separate lobby and elevators, according to the statement.
2016 Opening
Sales are scheduled to begin in the fall, with buyers moving into apartments in 2016, according to Kenneth S. Horn, president of Alchemy Properties. The developer is incorporating the architectural integrity of the tower, designated a national historic landmark in 1966, into the design for the residences, he said.
"There is nothing like the Woolworth Building in the entire world," Horn said in an e-mail. "It is an iconic landmark and it cannot be duplicated."
Prices for the condos start at $3.5 million for a 1,209-square-foot (112-square-meter) unit on the 44th floor, according to the proposed offering plan, which is under review by the attorney general's office. Three units in addition to the penthouse are listed at more than $20 million, including a 6,084-square-foot full-floor apartment with a terrace on the 31st story for $24 million.
Nine Floors
The $110 million penthouse is about 8,975 square feet with a 584-square-foot terrace. The four-bedroom condo with a private elevator spans nine stories, with the primary living space on the 50th and 51st floors, according to the offering plan. A great room and wine cellar make up the 53rd floor, and the 55th through 58th levels in the cupola include a library or media room and an observation deck at the top, the plan shows.
"It's being priced consistent with top-of-the-line units in Midtown," said Miller, whose firm is based in New York. "This will be the first at this price point downtown, so it's not clear whether the market will support it."
The Woolworth Building penthouse isn't the most expensive new condo listing in Manhattan's history. Two units at Extell Development Co.'s One57 were once priced at $115 million. Penthouses at One57 and Harry Macklowe and CIM Group's 432 Park Ave. are under contract for more than $90 million, a record for Manhattan.
Those projects, both skyscrapers with views of Central Park, have been marketed toward ultra-wealthy investors seeking New York real estate as a haven. The developers have touted their sales to buyers from around the world, including South America, the Middle East, China and Russia.
Billionaire Buyers
The price record for downtown was set in January with the $50.9 million purchase of a 5,955-square-foot full-floor penthouse at the Walker Tower in Chelsea.
"Downtown, the challenge is you tend to have less interest from foreign buyers," Miller said. "In the last development boom, in the last three years, they've concentrated more in Midtown or in the Upper East and West sides, near the central business district."
Developers asking more than $100 million for apartments are going after billionaires, and "that's a small market to target," said Donna Olshan, president of Olshan Realty Inc. and author of a weekly newsletter on the New York luxury market.
On a per-square-foot basis, the asking price for the Woolworth penthouse is more than triple the average for new luxury condos downtown, which is $3,000, she said.
"This is fantasy pricing and you cannot trick the market," Olshan said in an interview. "They would have to demonstrate why this is the most unusual property ever seen downtown."
Downtown Demand
Demand for condos in the area has soared. Contracts signed at newly built properties between 34th Street and the Financial District almost doubled last year to 1,222, according to brokerage Corcoran Sunshine Marketing Group. Buyers agreed to pay an average of $5.7 million in the fourth quarter, up 49 percent from a year earlier and a record. The price per square foot of those deals rose 20 percent to a high of $2,915.
Developers downtown have more than 4,000 units planned for construction or delivery within the next two years. Projects such as the planned conversion of a Verizon Communications Inc. office building in Tribeca and Greenwich Lane, a complex under construction at the site of the shuttered St. Vincent's Hospital, are aimed at local buyers with prices starting at about $2 million.
At 56 Leonard, a planned 60-story tower in southern Tribeca, a 7,800-square-foot penthouse sold for $47 million.
"Downtown has been the hottest market the last couple of years," Olshan said. "Nothing has been hotter."