Mumbai Jostles With Jaipur in India Metro Push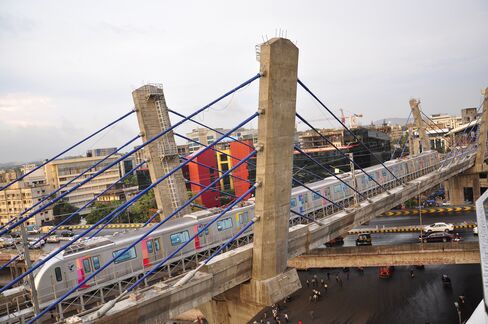 Add up all the metro-rail track in India -- population, 1.2 billion -- and it's still less than in New York City.
Now, after decades of neglect, local leaders have embarked on India's most ambitious urban construction project: 22 cities plan to build or extend subways at a projected cost of about 2 trillion rupees ($33 billion), according to Bloomberg News calculations based on official estimates.
Newly elected Prime Minister Narendra Modi, who has promised bullet trains and reduced dependence on cars, is set to give a push to infrastructure investment. The need is urgent in a country already choking on emissions and congestion. The Asian Development Bank estimates that overloaded roads shave at least 2 percent off the economic output of India and every other Asian nation.
By 2031, the population of India's biggest cities will almost triple to 277 million -- more than the current population of Indonesia, the world's fourth-most populous nation -- from 108 million in 2001, Barclays Bank Plc projects.
"We are way behind," said Rajeev Jyoti, head of the railway business at Larsen & Toubro Ltd., which is building the metro in Hyderabad. "Mass-transit systems have to be thought of 30 years in advance. In India, it is always about just playing catch up," said Jyoti, who previously headed Bombardier Inc.'s transport unit in India.
New Delhi Track
The country now has about 225 kilometers (140 miles) of metro rail lines, almost all accounted for by New Delhi's 190 kilometers. That compares with about 1,700 kilometers in China and New York City's 1,062 kilometers of passenger track.
India needs to increase its total more than 10 times to at least 2,500 kilometers by 2031 to accommodate the expected surge in intracity commuters, reduce pollution and cut road fatalities, according to Venugopal Garre, Manish Agarwal and Saurabh Mishra, Barclays Bank analysts in Mumbai.
"We definitely see a major push for growing and developing metro-rail projects," said Bharat Salhotra, managing director at Alstom SA's India transport business. "India is really on the cusp of urban transformation."
The city with the most at stake is Mumbai, which has a population of more than 18 million and only a 12-kilometer metro that is yet to open. Mumbai Metro One Pvt., the Reliance Infrastructure Ltd.-controlled venture that will operate the metro, plans to open the elevated line linking the northwestern suburb of Versova to Ghatkopar near the airport "seven days" after it receives the approval pending from the country's Railway Board.
Jaipur
Jaipur, gateway to the tourist destination of Rajasthan, will begin operating a 12-kilometer stretch of its $1.6 billion, 33-kilometer metro later this year.
Kolkata, the first Indian city to open a metro -- in 1984, more than three decades after it was conceived -- runs service on about 25 kilometers of underground, elevated and surface-level track.
"In the three big metros -- Delhi, Mumbai and Kolkata -- metro transit systems were planned when the city was already choking," Larsen's Jyoti said. "The tier-two cities have taken the cue and are planning ahead. That is the only good news. Hopefully, they will also find funds for financial closure and have strong project-management skills."
Two other southern Indian cities also are building: Chennai, a port that has become a hub for car manufacturing with Ford Motor Co. and Hyundai Motor Co. plants, and Hyderabad, where Microsoft Corp. has a development center. Operations are projected to commence between 2015 and 2017.
Planning Stage
Close behind are Kochi in southern Kerala state, Pune in the west and Lucknow, the capital of India's northern Uttar Pradesh state, according to the Barclays Bank report. Among those at the planning stage are Guwahati in northeastern Assam state and Ahmedabad, in western Gujarat state.
Kolkata, Bengaluru, which was earlier known as Bangalore, and New Delhi are all expanding their networks.
Others planning or building their first metro services are Vishakapatnam, Surat, Bhopal, Nagpur, Raipur, Indore, Kozhikode, Patna, Gurgaon and Navi Mumbai.
"The success of Delhi Metro, particularly its financial sustainability, has brought about a virtual metro revolution in the country," said E. Sreedharan, principal adviser to the Delhi Metro Rail Corp. who is known as India's "Metro Man" in the local media. "The key factor for taking up metro construction is the availability of funds, particularly soft loans, which have now become scarce. Neither the state governments nor the central government have the capacity to fund metro projects."
Land Acquisition
Perhaps the biggest hurdle they all face is acquiring land for the projects. Mumbai Metro said it received its last "constructible right of way" in February, after a delay of more than six years from the original schedule.
"Acquiring land in smaller cities is a very politically sensitive subject," said Harsh Dhingra, chief country representative at Montreal-based Bombardier's India transportation business. "That is why, if you leave out Delhi, all other metro projects are delayed by six months to two-to-three years. This is mainly because of the land."
The third-biggest maker of train equipment, which spent more than 30 million euros ($41 million) to build a railcar plant in Vadodara in 2007, has supplied more than 600 cars and almost a third of the signaling systems for the Delhi metro, according to Dhingra. With the operator set to lengthen the individual metro trains from four cars to six- and eight-car units, Bombardier expects more business in the country's capital.
CSR, Hyundai
China's CSR Corp., Hyundai Rotem Co., Mitsubishi Corp., Thales SA, Siemens AG and India's BEML Ltd. are among companies that have won orders to supply equipment ranging from rolling stock to communications and power systems.
Larsen shares rose 0.5 percent to 1,635.35 rupees at the close in Mumbai trading, the highest level since at least 1991. The stock has climbed 54 percent this year, making it the best performer on the benchmark 30-company S&P BSE Sensex Index, which has gained 17 percent in the period.
The metro push still will be far from adequate to meet its future urban transportation needs, according to Shirish Sankhe, Mumbai-based director at consulting firm McKinsey and Co.
Several Corridors
"It's only a beginning," Sankhe said. "In any global city, 60 to 80 percent of trips have to be through public transport. And metro is a very important piece of public transport."
Cities like Mumbai will need several criss-crossing corridors to make the network effective, he said. A city with a population of about 15 million to 20 million would ideally require at least 10 corridors.
"Considering that 70 percent of the GDP will come from the cities, it is very important to very quickly insert transport systems," Alstom's Salhotra said. "Those transport systems could be tramways, heavy metro, light metro, and there needs to be regional trains and high-speed trains. I do hope that the new government will start to look at some of these problems and act on them really fast."
(Corrects spelling of Dhingra's first name in 19th paragraph of story originally published June 3. For a map, click here. Click here for Cities columns.)
Before it's here, it's on the Bloomberg Terminal.
LEARN MORE